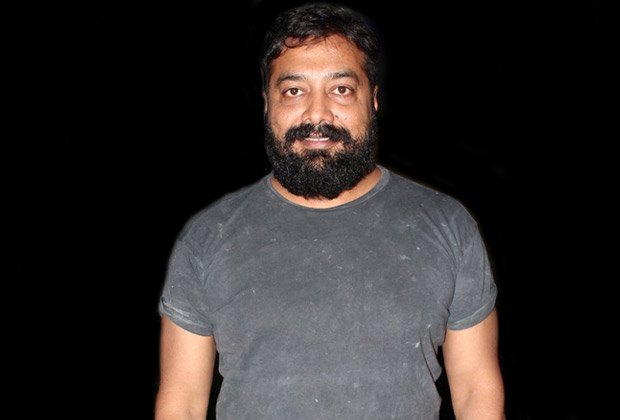 Self-styled revolutionary filmmaker and Bollywood's resident renegade's latest tweet rant, drunken or otherwise, doesn't surprise me. I've been at the receiving end of some of his vilest mail and tweets. I've kept them all for use at a later date.
Kashyap usually picks harmless victims for vilification .If you hit back he recoils. If you don't he gets more aggressive. Just like the army from Pakistan. This time he has taken on a formidable adversary. By asking the Prime Minister Narendra Modi to apologize for his sudden unexpected visit to Pakistan in December, Kashyap displays not only a characteristic arrogance but also an embarrassing naiveté.
Kashyap's logic, for whatever it may be worth, is his logic. He shows a sneering disdain for convention, even at the risk of sounding dangerously unbalanced. He thinks the Prime Minister's visit to Pakistan is in hindsight a condonable act of generosity only if Kashyap's friend Karan Johar gesture of signing a Pakistani actor for Ae Dil Hai Mushkil is overlooked as a blast from the past.
Just what gives Anurag Kashyap the right to equate a grave cross-border crisis with a casting faux pas in a Bollywood film?
Anurag Kashyap and the other champions of KJo's right to work with the enemy country's talent bank argue that Karan Johar did not know relations between the two countries would deteriorate by the time he completed his film. Kashyap forgets that the Prime Minister's December visit to Pakistan was a move to slow down the deterioration in the relations between the two countries. If it wasn't for gestures of goodwill from this side, the two countries would have been at war long ago.
Kashyap's brand of artistry presumes that filmmakers like him are exempted from rules of politics and governance simply because his work is somehow more refined and aesthetic than, say, a soldier's duties at the border or a banker's responsibilities towards the Indian economy. Kashyap's style of arrogant functioning is evident in the quality of his films: dark subversive contumacious, obstinately non-conformist.
His is a cinema of isolation and non-assimilation, and in sharp contrast to the cinema of inclusiveness that Mehboob Khan and Sunil Dutt so beautifully practised. Sunil Dutt not only made extremely nationalistic films like Mujhe Jeene Do and Reshma Aur Shera he also took his artistes to the border to entertain jawans.
Forget about entertaining soldiers Kashyap's films can't entertain anyone. Not one of his films so far (barring maybe Dev D) has made any money. Yet his heart bleeds for a fellow-filmmaker whose money is likely to be lost in the cross-border crisis. Kashyap can only think of playing the Angry Outraged Artiste at a time when we are facing the worst crisis in Indo-Pak relations. He thinks its okay to overlook the Pakistani presence in Karan Johar's film because it happened in the past. Kashyap doesn't get the point. The current deadlock in Indo-Pak relations is not about a Karan Johar or a Fawad Khan.
It is about the nation's dignity. But a self-obsessed filmmaker drunk on the power to revolutionize Indian cinema cannot be bothered with anything beyond self-interest. Jai Hind.
BOLLYWOOD NEWS
Catch us for latest Bollywood News, New Bollywood Movies update, Box office collection, New Movies Release , Bollywood News Hindi, Entertainment News, Bollywood News Today & upcoming movies 2020 and stay updated with latest hindi movies only on Bollywood Hungama.