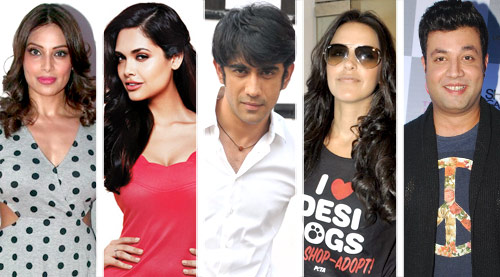 Bipasha Basu: "This year, I am making a very strong resolution of having sugar (dessert) only one day in a month, and then go on to make it into a lifetime resolution.

It's for general health. It's my biggest and only vice."



Esha Gupta: "I want to be happier and positive. This isn't a New Year resolution per se but something I wish to follow in general. I would also love to spend more time with my family."





Amit Sadh: "Guess what, my resolution is to find a girl to get married to!"



Neha Dhupia: "My resolution is to hopefully have digital detox, especially when I am around people."



Varun Sharma: "This year I plan to take a resolution of learning at least two musical instruments, which is Piano and Saxophone, as I love music and did not get too much time this year to

learn it properly. I will surely try and take out time and be an expert by 2016 end (smiles)! Also, I am a very strong believer of resolutions as last year I took it on me on leaving non-vegetarian

food, which I did and feel really glad about!"



Rajniesh Duggal: "My resolution is to being 'beiimaan' in love by doing 'direct ishq'. I wish we can paint the entertainment world with 'yeh laal rang' and then go 'ud ud ud udanchhoo'...."





Avani Modi: "For this year my resolution is to wake up early and avoid late nights as much as I can. My professional resolution is to utilize my time in learning new art forms which can

help me to be a good performer."



Pulkit Samrat: "No resolution at all, they never work. That's 30 years of wisdom for all! (smiles)"



Satarupa Pyne: "Love your enemies and pray for yourself and all, don't harm anybody, don't let anybody harm you, and by the end of the coming year just be the brightest shining Star!"





Sonnalli Seygall: "I haven't taken a holiday in a loooong time and this year I definitely want to! Now that's gonna be my resolution for 2016. In fact not one but at least 2 holidays - one

with my friends (or may be even alone) and the other with my babies i.e. two dogs - Candy and Bounty."



Anushka Ranjan: "My New Year's resolution is to be able to stay happy in every situation, and most importantly in those situations where it is most difficult to see the light. I want to

continue to believe and make things happen for myself. I want to shine bright, just like the sun."



Aditi Rao Hydari: "I don't make resolutions. I just put my energies into living the best life possible! (smiles)"



Kyra Dutt: "2015 was amazing and I am super excited for 2016. Every year I try and culminate it with a new hobby or skill during my spare time. I have already bought myself a beautiful

Spanish guitar & I have been learning Spanish, so I wish to continue with that. I have body goals which I wish to achieve through Yoga & Dance. Also, I want to travel. Work keeps me busy, so I

hardly get the time. I haven't been on a holiday in 5 years! Most of my travel is due to work. So hopefully this 2016 summer I can fly off to some exotic island. I also want to get a new tattoo. I

am an extremely spiritual person & I believe in Karma. So I want to welcome the New Year with a positive attitude and do my bit of good in whichever way I can through the year. That's it. Pretty

simple. Rest is Eat*Pray*Love!"



Sophie Choudry: "My resolution is to work even harder, make each day count and live every day to its fullest. I already travel a lot, thanks to my live shows, but I want to explore new
places and I want to release lots of songs in 2016!!"


Zoa Morani: "My resolution is to try and lead a balanced life and get over my extremist type of nature. I also want to remain positive and soar ahead towards my goals with full focus
(smiles)."


Priya Banerjee: "I want to get back into a regular practice of yoga and meditation. I used to do a lot of yoga the year before but last year because of work and not getting enough time, I
haven't been able to focus on it. I think yoga and meditation is very important for mental peace and sanity, especially because of the chaotic world we live in."


Shraddha Das: "I have no bad habits, so there is no such resolution I can really make. But maybe I want to utilize my highest potential as an actor, singer and artist in this field next
year. I mainly want to focus more on my professional life. I also want to spread Buddhism and chanting to as many people as I can!"


Mugdha Godse: "My resolution? Well, fitness, diet and discipline all the way!"


Evelyn Sharma: "My resolution for the New Year is to be a good role model. As my fan following is increasing and my career is going amazing, I feel the responsibility to convey a message of
love, peace and gratefulness to the ones who look up to me. In 2015, I started my charity foundation 'Seams For Dreams' that uses the universal love for fashion to give back to humanity. In 2016, I
want all my fans to become a part of it!"


Kabir Sadanand: "My resolution is to share more love and less anger."


Tanuj Virwani: "For the past few years I ended up making resolutions which didn't last even the end of January. So this year I hope to change that trend by having a healthier life style,
more sleep and less partying so that next year, instead of turning 30, I start ageing backwards just like Benjamin Button (laughs)."


Divya Khosla: "I want to take more holidays. I have been so busy with Sanam Re and not taken a good holiday since a year and a half. I really want to take more breaks."


Amyra Dastur: "Honestly my resolution is to just go with it. I am not going to hesitate and I am just going to have as many adventures as possible, even if it gets me in trouble. Actually I
hope, I get into lots of trouble (winks), nothing illegal though. Basically my resolution is to stop over-thinking and just go with the flow."


Sasha Agha: "My resolution is to bring is as much positivity in me as possible, and charge myself up for this coming year. That's because I strongly believe that your energy speaks for you
even before you say a word. So yes, 2016 is to positivity and good energy!"
BOLLYWOOD NEWS
Catch us for latest Bollywood News, New Bollywood Movies update, Box office collection, New Movies Release , Bollywood News Hindi, Entertainment News, Bollywood News Today & upcoming movies 2020 and stay updated with latest hindi movies only on Bollywood Hungama.