Kangana Ranaut may be enjoying the praise for her latest release Manikarnika – The Queen Of Jhansi but the controversies surrounding her and her film don't seem to stop. Director Krish has revealed how he was removed from the film after the completion without any reason. Now, Simran writer Apurva Asrani has come forward to support director Krish and those who are going through the same problem what he went through two years ago.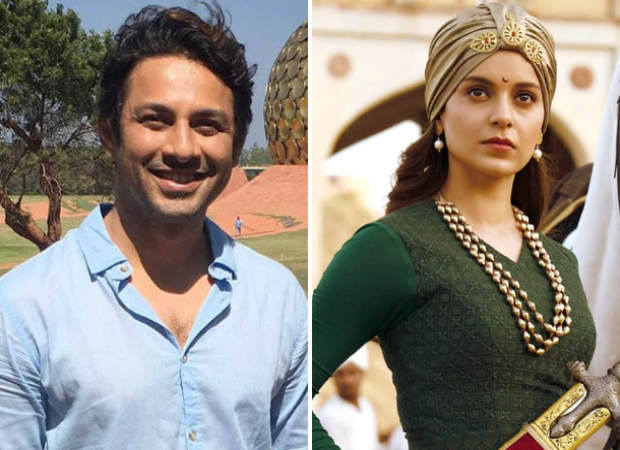 Apurva Asrani LASHES OUT at Kangana Ranaut for throwing director Krish out of Manikarnika, chopping off Sonu Sood scenes
For the uninitiated, Hansal Mehta's Simran was written by Apurva Asrani but after the trailer release, Kangana Ranaut was also given co-writer credit for the film. This started war of words between the two colleagues. Similar situation occurred during Manikarnika when Krish could not give dates for patchwork and reshoots and Kangana took the batton and decided to direct the film herself. While Krish was given the directorial credit, it has been a painful experience for him. Apurva Asrani, who saw Krish's interview with Bollywood Hungama, spoke at length about his issues with Kangana and how the same thing Krish is going through.
"It feels bad to say cathartic when you can see somebody going through so much pain and humiliation. I could see humiliation on his face and voice. It almost feels like his confidence is kind of taken a little beating. I know exactly what it feels like because for two years I went through that. When he talked about how he did not see it coming and how he was shocked because till some point everything was going so beautifully. You think you are making the best film of your life, you know you are so infused that you say no to every other project that comes your way, you have given more blood, sweat, and tears to your film than you wouldn't do for anything else. And you really believe that you are all working together." Apurva said.
"One fine day, you learn that you have been thrown out. Your work has been the same work that people were loving until one day ago. And suddenly, overnight, it changes into something that they are not even telling you, they are giving an interview about how pathetic your work is. It crushed me."
Apurva talked about how Kangana Ranaut discredited him during Simran interviews. "I have been in the business for 23-25 years. My work, whether it has been Satya, whether it has been Aligarh, whether it has been Shahid, whether it has been CityLights, whether it has been Waiting, they were all offbeat films. I don't run after box office. I want to tell good stories. That's the choice. The public doesn't know who I am, I don't have that kind of a reach especially as an editor and as a writer. I am okay with that. But, when a big star of the caliber as Kangana goes to town to say such negative things about me - she is going to Rajat Sharma's show Aap Ki Adalat and she is saying 'Apurva has not done any of the films he claims, he is good for nothing', it really damaged by reputation. I fought my battle there but I did not get support from my very own director who I considered my friend. In fact, they started a whole smear campaign against me, trying to discredit me for my work together. It was a very difficult phase."
"And I could see what this man is going to go through now because this woman (Kangana Ranaut) and her team are going to discredit him and going to try and run this awful campaign against him. And I felt bad because I saw so much passion in the man's eyes and it was truthful. So, that's why I felt, you know, the catharsis comes from the fact that people can't say anymore that 'Apurva was lying'. Because she is a beautiful star. I loved her as an actor. But, today, I can see right through those eyes, they are fake," he added.
Talking about hijacking the project Manikarnika, Apurva further said, "Today, you can't say 'Ketan Mehta ke saath joh kiya woh jhoot tha.' Ketan Mehta's film is this Jhansi Ki Rani which he signed her up in good faith. When the man was in the hospital, I think for an operation, she colluded with the producer and took the film and threw him out. Then, she got this man in Krish, she waited for him to complete the film and she has thrown him without telling him why."
Speaking from his experience during Simran, Apurva revealed how the roles were edited out. He said, "And she did that with me also. She waited for me to complete the edit of the film. I worked so hard for two years. I was the editor and after I finished the edit, she hugged me during the edit and told me how wonderful it was. We were so happy. We were doing something nice. Ofcourse, there was 30% patchwork left and that's the time she strikes. Because that's the time that she is like 'Chalo, main isko complete karti hoon because these people don't know what they are doing'. And overnight the phone calls began like 'Hey boss, you know I had this thought ki yeh nikalte hai, yeh change karte hai.' But, this is the DNA of the film. And if you disagree then she goes to the producer. And he throws you out of the editing of that film. I have edited for Hansal Mehta since the year 2000. His best work whether its Chhal, whether it is Shahid, whether it is CityLights, whether it is Aligarh - has been edited by me, some of them co-written and some are written by me. They threw me out of the company I have built."
When asked how whether just like what happened with Sonu Sood and others, were characters chopped off by Kangana in Simran as well, Apurva revealed, "You know, it did not start immediately. That's what I am trying to tell you. Immediately, the reaction was extremely positive. I can still remember her eyes and energy, it was wonderful. It's crazy that I go through either loving and respecting her or completely sheering her and hating her. There is something in her which is almost like two personalities. I can't explain. She has actually loved most of it. Then, she goes home and comes up saying 'Isko change karo, isko aisa karo.' To be honest, the script that I wrote and what they shot, when I saw the rushes, I saw a lot of changes. When I say changes, I don't mean story, and I don't even mean screenplay. Basically, taking out dialogues from other actors. You are cutting down the mother's role in Simran. So, there was a very close emotional bond with her mother which was written. You had to feel sympathy for Simran and that was I felt in the writing. You have to feel sympathy for the character. Who is she? She is somebody who is lying, robbing banks, gambling away all her money. Why would you root for such a character? You had to write a character who you root for. She had reasons. She was under pressure from her family to succumb to get married. She had already been divorced. She was trapped in a job, in a house, she wanted to break free. But, the main thing what I had written was that she wanted to buy a house so that she could live there with her mother. Because her mother and father are fighting all the time and she loved them dearly. She felt her father did not appreciate her and he was a patriarchal person. So, the emotional driving force is the opening of the film where they go to see an apartment together which she wants to buy for her mother. But when I saw the rushes, the mother is missing from that scene. The mother is not there. She, herself, is going and looking at the apartment and she says 'I'd love to live here' and that kind of a thing. It's nicely done and there is no doubt about it. The dialogues are the same but there's no mother. So, yeah, this kind of things happened on the set and how they transpired and all of those things, I don't know exactly. But, yes. Things happened eventually."
BOLLYWOOD NEWS - LIVE UPDATES
Catch us for latest Bollywood News, New Bollywood Movies update, Box office collection, New Movies Release , Bollywood News Hindi, Entertainment News, Bollywood Live News Today & upcoming movies 2022 and stay updated with latest hindi movies only on Bollywood Hungama.