The recent super success of URI: THE SURGICAL STRIKE has proved that when true stories of brave people are told well cinematically and in an entertaining manner, the sky is the limit. Just two weeks after this film based on the 2016 surgical strike released, Kangana Ranaut is now all set to unveil the long-in-the-making and much talked about flick MANIKARNIKA – THE QUEEN OF JHANSI. It is based on a warrior known and celebrated throughout the country. So does MANIKARNIKA – THE QUEEN OF JHANSI manage to leave a mark and emerge as a winner? Or does it fail to do so? Let's analyse.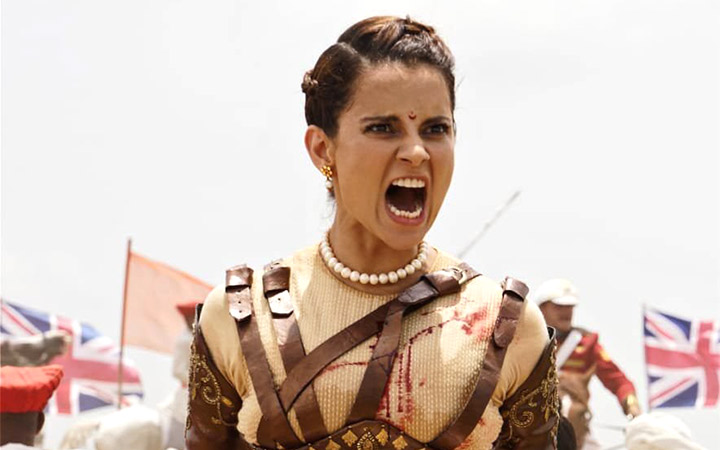 MANIKARNIKA – THE QUEEN OF JHANSI is the story of the brave Rani Laxmibai. Manikarnika (Kangana Ranaut) lives in Bithoor and is a favourite of the Peshwa (Suresh Oberoi) and he has brought her up with lot of love. One day Dixit Ji of Jhansi (Kulbhushan Kharbanda) spots her facing a ferocious tiger fearlessly. Impressed, he asks Peshwa for her hand in marriage with Jhansi's king Gangadhar Rao (Jisshu Sengupta). Dixit Ji is aware that the British is eyeing Jhansi and wants to annexe the kingdom at any cost. He realises that her brave persona would play a crucial role in giving a tough fight to the British. The marriage takes place and the king gives her a new name – Laxmibai. All these developments upset Gangadhar's brother Sadashiv (Mohd. Zeeshan Ayyub). He is friendly with the British and wants to usurp the throne by hook or by crook. Laxmibai, after a few years, gives birth to Damodar and she is unable to contain her happiness. Her joy however is short-lived as Sadashiv surreptitiously poisons Damodar. Gangadhar, at the same time, falls ill too. Knowing that his end is near, he and Laxmibai adopt a son. Gangadhar passes away and the British attempt to annexe the throne. However, Laxmibai surprises everyone as she decides to take over the reins. She proclaims herself as the queen of Jhansi and challenges the British openly. What happens next forms the rest of the film.
K V Vijayendra Prasad's story is simple and tries to be as historically accurate as possible. K V Vijayendra Prasad's screenplay is very effective and impactful. He tries to ensure he sticks to the facts and dramatizes it convincingly. The first half is however slightly weak due to slow proceedings. The second half however picks up as the story moves fast with lot of twists and turns. Prasoon Joshi's dialogues are sharp, clap worthy and acidic and add to the impact.
Radha Krishna Jagarlamudi and Kangana Ranaut's direction is quite good and both manage to more or less do justice to the film's scale and historical importance. It's important to note that more than half of the film has been reshot by Kangana. But except for a few places, it doesn't seem like that the film has been helmed by two different directors with very different sensibilities. Some scenes are exceptionally helmed and stand out like Manikarnika's entry, the demise of her son, the intermission point, Laxmibai's dramatic entry at Gwalior Fort etc. besides the action scenes. On the flipside, the direction is inconsistent at times and it hampers the impact. Also, this is a time when viewers have already seen films like BAAHUBALI [2015, 2017], BAJIRAO MASTANI [2015], PADMAAVAT [2018] and these films had more impactful executions. MANIKARNIKA – THE QUEEN OF JHANSI lacks that at a lot of places.
MANIKARNIKA – THE QUEEN OF JHANSI is 2.28 hours long with the first half being just around an hour in duration. The makers use this first hour mainly for establishing the characters and other minor developments. This portion is interesting but is slow. The intermission point is clapworthy and gives an indication of what the second half has to offer. And sure enough, the film does go on a high. The action scenes are entertaining and watch out for the sequence where Laxmibai kills multiple British soldiers single handedly near the idol of Goddess Kali. The cinema halls would thunder with whistles and claps at this point! Also, emotionally, the film connects beautifully and hence, viewers root for Laxmibai constantly. The climax could have been better but nevertheless it is moving. The factual details mentioned in the end also add to the impact.
Kangana Ranaut delivers a terrific performance and owns this challenging character. The Rani of Jhansi has a lot of significance and the actress ensures she does complete justice to it. In the action scenes, she is great but watch out for her performances in the emotional sequences as well! Jisshu Sengupta is likeable in the supporting role. Mohd. Zeeshan Ayyub is a bit of a caricature but doesn't ham. Suresh Oberoi is impressive. Danny Denzongpa (Ghulam Ghaus Khan) has a sudden entry but performance wise he is dependable. His voice and personality adds a lot to his character. Ankita Lokhande (Jhalkari Bai) is excellent and leaves a tremendous mark in limited screen time. A fine debut! Atul Kulkarni (Tatya Tope) is good in his introduction scene but later he doesn't have much to do. Mishti Chakravarty (Kashi) has a good screen presence but is hardly there. Kulbhushan Kharbanda is quite appropriate for his role. Tahir Mithaiwala (Sangram Singh) has a badass character but is arguably wasted. Unnati Davara (Mundar), Suparna Marwah (Rajmata), Nihar Pandya (Rao) and Pir Ali (Anil George) are okay. Talking of actors playing British officers, Edward Sonnenblick (Gordon) is over the top. But Richard Keep (Hugh Rose) is genuine. Others are fine.
Shankar-Ehsaan-Loy's music is not of chartbuster variety but works very well in the film. 'Bharat' is like the theme of the film and lingers in one's mind. 'Vijayi Bhava' and 'Bolo Kab Pratikar Karoge' also add to the theme and mood of the film. 'Rajaji' doesn't work and 'Shiv Tandav' is hardly played. 'Dankila' lacks the energy of a 'Malhari' but is entertaining. Sanchit Balhara and Ankit Balhara's background score is exhilarating.
Gnana Shekar V S and Kiran Deohans's cinematography is spectacular and captures the various moods of the film well. Murlidhar J Sabat, Ratan Suryawanshi, Sukant Panigrahy, Sujeet Shubhash Sawant and Sriram Kannan Iyengar's production design is grand and helps in giving the film a big screen feel. Nick Powell, Todor Lazarov and Habib Riyaz's action is not too gory but makes for a nice watch. At a few places however it could have been better. Neeta Lulla's costumes are appealing, especially the sarees worn by Kangana Ranaut and Ankita Lokhande. Prime Focus, Prana Studios, Drishyam VFX and Future Works's VFX is quite good but certain shots could have been better. Rameshwar Bhagat's editing is praiseworthy considering that he seamlessly merges the works of two different directors. But the jumps in the narrative were avoidable.
On the whole, MANIKARNIKA – THE QUEEN OF JHANSI is a well-made historical with the right scale, emotional quotient and battle sequences as its highpoint. Also, Kangana Ranaut's performance is the icing on the cake. At the box office, the film comes at the right time as the Republic Day period will further add to the film's prospects.