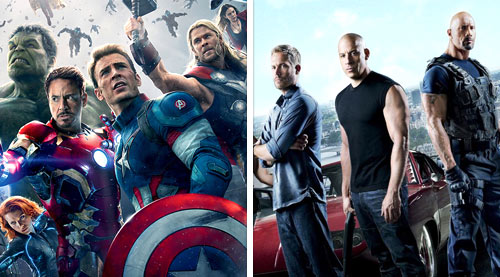 This year we have seen a multitude of films hitting the screens, from big ticket releases to others that have faded without mention. However the year 2015 has so far proved pretty profitable for Hollywood releases in India with the audiences readily accepting not just the content but eagerly anticipating the next release. Thanks to this sudden revival of Hollywood action flicks taking center stage, Bollywood releases seem to have taken a back seat. In the wake of mega releases like the recently released Avengers: Age of Ultron and Fast And Furious 7, Bollywood Hungama decided to take an analytical look at whether our lovable Bollywood industry faces some stiff competition from its western counterpart.



1. Breaching the 100 croremark

Looking at the box office numbers, specifically the opening day, Avengers: Age of Ultron collected Rs. 10.95 crores and Fast And Furious 7 managed Rs. 12.11 crores, which is surprisingly higher than other Bollywood releases like Roy - Rs. 10.4 cr, and Baby - Rs. 9.3 cr. Explaining a bit about why the new Hollywood releases have been faring better Suniel Wadhwa - Independent Distributor and Box Office Analyst says, "Sooner or later it was going to breach 100 cr mark as distribution strategy widens, films get dubbed into local languages, increase in ticket prices and 3D, Imax Screens helps the movie to cross big numbers. Now with Studios tapping Non-DCI screens, penetrating into smaller centers gives a wide distribution platform to reach in first run key centers that helps the box office to capitalize in opening week and conquering great numbers in opening weekend. Besides the audience is always hungry to watch Hollywood films, especially if they are released before the US because then, the fans are more excited."



2. Penetration of small centers

A point brought up by Wadhwa that holds much interest is the fact that Hollywood production houses have begun penetrating the more regional markets with films being dubbed in multiple languages and non-DCI prints being made available. So is Avengers that opened to packed houses even in a small center of Bihar like Hajipura worrisome sign for Bollywood? "Not really as Avengers is a franchise and its earlier part collected Rs. 56 cr at the box office across India. On the other hand, in the recent phase, Bollywood films are not doing well, so audiences have kept away from the theatres. Besides, Avengers has high octane action that is liked by the mass audience. So it is bound to take an opening in smaller centers. Another key important issue is its well market driven promotions keeping the target audience in mind and focusing on dubbed version in local language", comments Wadhwa.


3. Quality matters

With multiple releases today, we the audience at times experience a sense of déjà vu while watching a Bollywood film, especially when a particular concept has been recreated before. Apart from this, with a rise in the number of remakes, has the era of original scripts and stories faded away, or is it just that filmmakers prefer to swim in tested waters using the same old formulae that have over the years delivered multiple hits? "Yes I do agree, quality movies make a huge difference, but there is difference of opinion between quality films you can describe as commercial mainstream, that has huge potential at the box office, whereas other art house quality films which are critically acclaimed and can walk away with awards. But the latter's rewards at box office window are too limited. If these quality art house films made on a shoe string budget, then there are chances it can do wonders at the box office", says Wadhwa.



On a similar note, Amit Khanna adds, "Last year we made over 1200 films in India, of which only 900 released, so you can imagine the losses the industry suffered. Now the problem here is that we have been concentrating on putting films in theatres, which is wrong. It's not about the number of films we make and release, it is not about the cost of stars, it is not about number of shows, it is in fact about the consumer, his ability to spend and his want to dedicate a certain amount of his time to visiting a theatre."



4. Favouritism by exhibitors

With Hollywood films finding a new found acceptance among the audience, the others who seem to be overjoyed (apart from the film producers) are the exhibitors. In fact, with an increase in footfalls at theatres, exhibitors are certainly on cloud nine with the sale of edibles going up drastically. "Exhibitors were bleeding before these 2 Hollywood flicks. It is a good time for exhibitors and I hope it continues with the ongoing box office status with too many movies coming with a mix bag of action, romantic and regional flavor. This should be compensated by reducing the gap compared to last year's box office in the first quarter year-on where we saw a decrease of more than 30%", states Wadhwa.


5. Globalization of cinema

A fact that we all know of is that Bollywood is going global and western cinema is finding audiences in relatively new locations thanks to globalization. But does this really affect the overall business of the industry with the Indian audience exposed to world class cinema. "It already is changing, though on a rather minuscule scale. In fact, films like The Lunchbox did a decent business in India with approx Rs. 21 cr at the box-office. However, if you compare it with International business, it has earned Rs. 80 cr gross box office with US alone and the market closing at Rs. 23 cr which is more than the box office in India. Which again proves that the audiences are hungry for good content and they are ready to spend on quality films", answers Wadhwa.


Echoing a similar thought, Amit Khanna adds, "Hollywood movies currently hold a share of around 7-8% of the Indian box office, however the audiences who are strained for time and money are taking conscious decisions on what to watch and what not to."


6. Higher entertainment value

Hollywood is delivering paisa vasool flicks while Bollywood is making movies for the weekend and to break records rather than create long tail footfalls, a trend we have begun to notice in the recent past. "Technology and budgets of Hollywood films gives the makers a chance to make their films larger than life. Add to this a novelty quotient with high octane action, Hollywood films have an added advantage for audience to enjoy. On the other hand, in Bollywood films, though they are getting better in action, they still have a long way to go." Further elaborating on Bollywood where filmmakers aim at breaking records rather than please the audience, Wadhwa adds, "It is a very debatable question. Unlike West, our revenue terms with multiplex in the first week is 50% and you don't have an option to go for phase wise release as marketing cost doesn't justify to take that risk. Hence, most of the producers want to have a wide release. Like for example, in the West, the Clint Eastwood film American Sniper for its first three weeks was running in 4 screens and in the fourth week they added 3880 screens approx and did a fabulous business. If such strategy is adopted in India then the success ratio can go higher but for that it takes time and everyone has to be united and on the same page, and most importantly, your film should release as per genre and target audience."


With the above reasoning, we wonder whether it is high time for Bollywood to wake up and smell the coffee, especially with Uncle Sam waiting to take over the audiences. Here again Wadhwa proves insightful saying, "Bollywood is following a bearish trend while Hollywood is enjoying the Bull run, as this year more big films franchise like Mission Impossible, Ant-Man, Jurassic World, Mad Max, Spectre and many more tentpole films will prove to be competition for Bollywood. Times are tough and are going to become tougher with competition of Hollywood films, regional films etc. It's not only time to focus on content but also cost which is the real economics of the films, as satellite prices are going down drastically. Shift of revenue load is on theatrical window which is variable so content plays an important role for monetizing revenues as you can see huge upside at box office window. If content is really great then you can command on other ancillary rights and it can fetch higher revenues and case will be vice-versa if the content is a failure at the box office."


In conclusion we ask, 'What can Bollywood learn from Hollywood?' to which the answer is rather as simple as Wadhwa puts it, "Budgets for Hollywood movies are too high, their tentpole film, the biggest grosser of the year is equal to the business of the entire slate of Bollywood movies releasing at the box office in a year, so we shouldn't compare to Hollywood films. Instead we should focus on content and within the economics of budget and return of investment. Also, marketing spend should be focus and quality driven rather than quantity. Unnecessarily spending too much is a pure waste and its giving room for increase in costs of investments and decreasing profitability or increasing losses."
BOLLYWOOD NEWS
Catch us for latest Bollywood News, New Bollywood Movies update, Box office collection, New Movies Release , Bollywood News Hindi, Entertainment News, Bollywood News Today & upcoming movies 2020 and stay updated with latest hindi movies only on Bollywood Hungama.