On January 25, Padmaavat completed 5 years. Directed by Sanjay Leela Bhansali, this period drama, starring Deepika Padukone, Ranveer Singh and Shahid Kapoor, is remembered not just for its grandeur, scale, performances and impactful climax, but also for getting embroiled in a major controversy. An incident that shocked one and all took place on January 27, 2017, on the sets of the film in Jaipur, Rajasthan where Sanjay Leela Bhansali was attacked by the members of Karni Sena. Their grouse was that the film allegedly insults Queen Padmavati, on whom the film is based. Despite repeated assurances by the makers, the protests continued and the film was banned in a couple of states. Yet, the film was a blockbuster, earning Rs. 302 crores at the box office.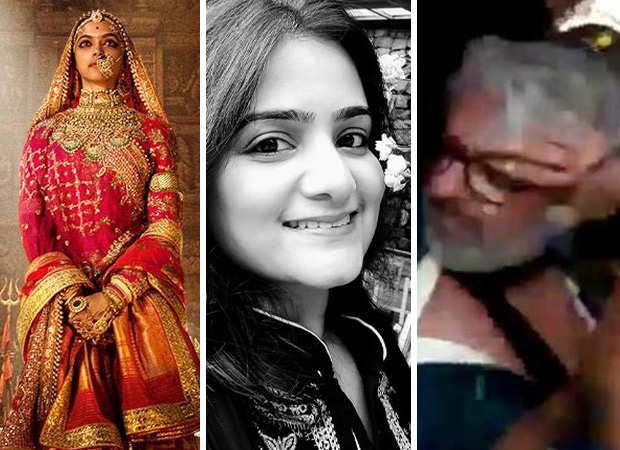 5 Years of Padmaavat EXCLUSIVE: Associate director Shailey Sharma talks about the SHOCKING attack on Sanjay Leela Bhansali by Karni Sena members: "One goon rose his hand and slapped Sanjay sir. I took the first blow. I had black and blue bruises on my arm"
On Padmaavat's fifth anniversary, Bollywood Hungama exclusively spoke to the film's Associate Director, Shailey Sharma. She recounted the January 27 horror and how the team was caught unawares by the attackers.
Shailey Sharma began by saying, "We were excited to go to Rajasthan to shoot our war sequences, large scale scenes etc. It was the first day of the shoot. We were enjoying the hospitality and warmth of the people there. The weather was nice and the conditions were favourable to shoot. On the morning of the attack, we were running all through our scenes and doing shot breakdown. We had installed a jimmy jib on top of a terrace. And there was a huge wall. So, half of the scene was to be shot on one side of the wall and then the crane would pan on the other side of the wall. Typically, the crew can only be on one side. The scene was that of around 200 junior artistes doing namaz and then the soldiers of the Rajput enter the fort and attack. For a few seconds, when the chaos of the attack started, we thought it was a part of the scene. After all, it was difficult to believe that what we were shooting was indeed happening to us in some way!"
Shailey Sharma continued, "The sardar in the scene is supposed to say, 'Qile ke saare darwaze bandh karwa do. Dushman qile ke andar hai. Dhokha hua hai'! I was sitting with sir next to the video assist (video monitor). Meanwhile, one of the EPs, Arvinder Gill, came running and said on similar lines, 'Sir, pack up karo. Niklo yahan se. Kuch problem ho raha hai'. We didn't even get a few seconds to process it and the Karni Sena members barged in. This is the area where our camera lenses were kept and also the food was arranged since it was going to be lunch time. There was a room adjacent where we quickly put the camera equipment, sound trolley etc. The script was paramount and I hid it, along with all the scene copies handed to the crew with me. The Karni Sena members, meanwhile, had no material and based on baseless rumours, they concluded that we are not showing Queen Padmavati in a good light. That's definitely not what sir ever intended."
Shailey Sharma then said, "The Karni Sena goons threw all the food and dishes on the ground. The boom trolley was vandalized while the video assist was thrown away. Whatever they could lay their hands on, they were damaging it or tossing it around. Then this one man came up to Sanjay sir. Sir was trying to speak to the person to understand what is the problem. I was standing next to Sanjay sir and I realized it was unsafe for him. In that man's eyes, I could sense that he has an impulse to attack him physically. He rose his hand and slapped him. I took the first blow. I held Sanjay sir. Still, the guy didn't stop. Later, I realized I had black and blue bruises on my arm. We took Sanjay sir and locked him inside."
Shailey Sharma stated, "We were bewildered as to why were we being attacked. We had no idea. Sir, meanwhile, was not ready to be in the room. He was worried that the crew was outside. But we made sure he didn't move out of the room for his safety until the cops came in."
Thankfully, the cops reached out soon to mediate. Shailey revealed, "It was only after it was dark that we were able to leave. Imagine, we had started on a beautiful note in the blissful weather. But by the time it was evening, the mood had turned quite gloomy. It was thanks to the police that we were able to come out."
She also said, "The Karni Sena members were shouting slogans and shooting videos while attacking. They even got the media to speak to them. It was a very organized affair."
Despite this incident, Shailey Sharma revealed that Sanjay Leela Bhansali was open to shooting Padmaavat in Rajasthan, "But realizing that a similar incident can happen again, the entire crew left for Mumbai immediately. It was a terrible incident. I don't think we have ever seen a National Award filmmaker being insulted like this. There was no evidence or fact about the content of the film. They created an issue that there is a dream sequence between Khilji and Queen Padmavati. We wondered where these rumours came from."
What about the film's lead actors - Deepika Padukone, Ranveer Singh and Shahid Kapoor? Were they present when the ruckus happened? Shailey Sharma said, "Thankfully, the leading actors were not there. Ranveer Singh was scheduled to join us the next day. After the incident, we asked them not to leave and security was provided to them."
She also shared, "Another fact I'd like to share is that the shot we have used in the film is the rehearsal take! Luckily, we had recorded it and it was kept in the film as we could not shoot that sequence again."
A few months before Padmaavat's release, Sanjay Leela Bhansali gave a clarification through a video that his film doesn't hurt any sentiments. On this, Shailey Sharma said, "The saddening moment of my life was to see him give that clarification. He asked everybody to leave the room. I stayed back and switched on the camera. My heart broke seeing him having to explain. He did this closer to the film's release. Otherwise, he never spoke about it and only focused on completing the film."
And that's not all. The censor process also took a lot of time. The associate director said, "We had to keep showing research and informing the Censor members about the sources and from where we have adapted. It's understandable as the Censor Board then had an important role to play as they were under scrutiny."
Padmaavat became a smashing hit and the filmmaker moved on from this bitter episode. Sanjay Leela Bhansali's next film, Gangubai Kathiawadi (2022), recently completed a year and was a rare hit last year.
Also Read: Ranveer Singh reminisces about prepping for Allaudin Khilji in Padmaavat; says, "I was eating red meat three times a day"
BOLLYWOOD NEWS - LIVE UPDATES
Catch us for latest Bollywood News, New Bollywood Movies update, Box office collection, New Movies Release , Bollywood News Hindi, Entertainment News, Bollywood Live News Today & Upcoming Movies 2023 and stay updated with latest hindi movies only on Bollywood Hungama.