Suspense thrillers and murder mysteries have become rather common in today's times. But 30 years back, in the pre-Gupt era, Khiladi had achieved cult status. The wholesome entertainer, starring Akshay Kumar, Ayesha Jhulka, Deepak Tijori and Sabeeha, had music, drama, romance, comedy and suspense in ample doses. Its climax was quite nail-biting and viewers were shocked to know that Ananth Narayan Mahadevan is the murderer.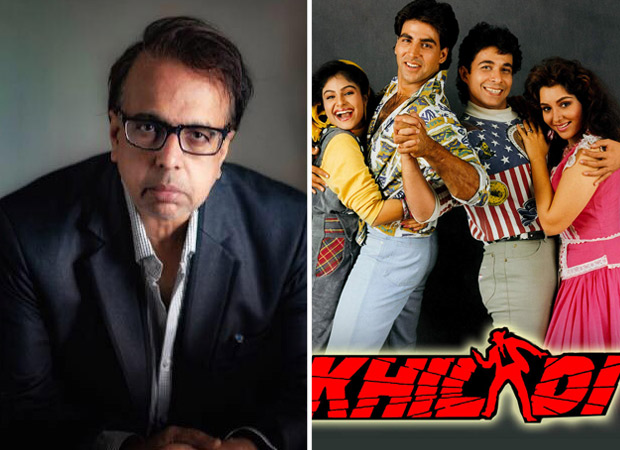 30 Years Of Khiladi EXCLUSIVE: "After the premiere in Satyam cinema, Prem Chopra came up to me and jokingly said, 'Kyun hamare pet me laath maar rahe ho?'!" – Ananth Narayan Mahadevan
As Khiladi completed 30 years on June 5, Ananth Narayan Mahadevan spoke exclusively with Bollywood Hungama how he bagged the role and a lot more.
How did you bag the film? After all, you were not known to do negative roles at that point, right?
The credit goes to director duo Abbas-Mustan as they were able to picture me as a killer. It's very difficult to take a face like that of mine and unveil him as the killer. I think it was very clever of them to have written the character that way. After all, killers don't have to look menacing or frightening. They could be the man next door. It's common now but it's amazing that they did 30 years ago. I was quite surprised when they told me that they wanted me to play a killer as they wanted a face that no one would suspect. Also, they wanted a face that would give out good vibes rather than dangerous ones!
You had very limited screen time. Do you have any regrets about it?
I didn't really have any regrets. I asked them, 'Why doesn't this character appear more, maybe for 2 or 3 more scenes?' They said that they want to keep me innocuous. Otherwise, viewers might get a hint that this guy could be the killer. However, they gave me the main chunk of the entire climax. Before that, the other characters don't even notice my character. That also took the suspicion off my character.
Interestingly, Prem Chopra wrote similar clothes as you. So I guess many felt he was the killer…
After the premiere in Satyam cinema, Prem Chopra came up to me and jokingly said, 'Kyun hamare pet me laath maar rahe ho?'! I told him, 'It's not like I am playing the villain all my life. This is just a one-off thing. I am lucky to have got this role. I promise you that I am not going to step onto your toes'!
Shakti Kapoor told you that you should market yourself aggressively after Khiladi. You said once in an interview, "I wish I had taken his advice seriously then maybe I could have done the roles that later went to Anupam Kher and Gulshan Grover." However, you did bag plenty of roles after Khiladi…
Yes, Shakti Kapoor did say that. But you won't believe, till date, I haven't paid for an article in Bombay Times. I have not spent a single rupee on marketing myself. I believe my work speaks for myself. I know, it's not enough and people want to see and hear you. Yet, I have always underplayed myself. I have always kept a low profile. That's the way I wanted to live. Maybe Abbas-Mustan did find some merit in me and they repeated me in Baazigar (1993) and Baadshah (1999). The roles in these films were totally different from what I had done in Khiladi. So, there was a certain versatility that was attached to me later. Moreover, I was doing television those days which also kept me busy. Nevertheless, if I had followed Shakti Kapoor's advice, I would have landed more roles and would have made more money. Nevertheless, no regrets!
In the climax, you had to be on the tiled roof and I believe you did it yourself. You also performed the scenes in which your face was kept hidden…
We were shooting in Juhu for the climax. I told Abbas-Mustan why do they need a duplicate walking around with a knife. I reasoned that I'd do the shoot. They argued, 'Lekin inn shots mein aapka chehra nahi dikhne waala'. I, however, put my foot down that I'll be doing everything except breaking that window and falling out. That is something the duplicate had to do as it was a dangerous stunt involving the breaking of the glass. Then I went down the slope and came up. It was 3 am in the morning when energies were at an all-time low and it was not one of the best times to do that. Yet, I felt that I'll give it all to the shot. So, I went out, sat down on that tiled roof, ensuring that I didn't fall down and then on cue, I came up with that scary face. I thoroughly enjoyed it.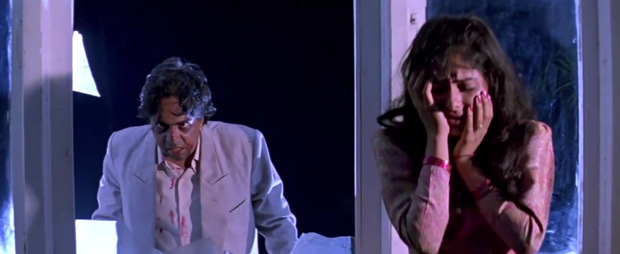 Were you not scared to be at that height?
Not at all. I would have been scared and shameful had I not done it myself!
How was it working with Ayesha Jhulka?
This was among her earliest films. We struck it up very well. Our camaraderie continued even after the movie. She also produced a play which I directed. It's called Mujhe Rang De, featuring Divya Dutta.
Tell us about working with Abbas-Mustan…
I call them my godfathers along with the Jains of Venus. Just like angels who are dressed in white, even Abbas-Mustan are angels for me who are dressed in white and they have blessed me! Recently, I did a role in their upcoming film, Three Monkeys. So it's always a pleasure to work with them. They are humble, down-to-earth people and they have faith in me.
How was it to work with Akshay Kumar? He had just started his career at that point…
He calls me his lucky mascot. He'll tell me, 'You have to be in my films as you bring luck'! In fact, we'll be shooting together for a film in July, produced by Pooja Entertainment.
Did you visit cinema halls to see audience reaction, especially in the scene when you are unveiled as the killer?
I have never done that as I feel very nervous. The only time I did that was during the release of my first directorial, Dil Vil Pyaar Vyaar (2002). I went for a night show at the then Fame Adlabs theatre. I had the joy of someone coming and asking me, 'Do you have an extra ticket?' I told him, 'I don't need a ticket. I am the director'! He got excited and said, 'Then you can get me tickets'! I told him, 'I am sorry. But I am also happy that people are asking for tickets'. Then I went inside and saw the reactions for a few minutes. Otherwise, I feel very nervous, whether as a director or an actor. It leaves me on an edge. I'd rather not have that experience. So, I wasn't scared of going down that sloping tiled roof but I am scared of going to the cinema hall to see the reactions!
If a remake of Khiladi is to be made, who should be cast?
I totally detest remakes. Please don't talk about it! It has taught me a bad lesson. I should not have remade Victoria No 203 (2007). Although a lot of people felt that I had hit a jackpot by bagging that film, including Naseeruddin Shah. Anupam Kher literally told me, 'I'll kill you if you don't cast me in the remake as Rana or Raja'. But some films are in a certain time and space and should not be touched. In the original Victoria No 203 (1972), the Victoria was not there in the second half. So we felt that we should change that and feature the carriage in the second hour as well. However, we ended up in no man's land. A lot of people said that this is not the same Victoria No 203. If I had remade it the same way, they would have complained that I had simply copied the original film! Hence, remakes are a catch-22 situation.
You had spoken exclusively to Bollywood Hungama in December 2020 about not being paid by Aksar 2 (2017) producers for not paying you your fees. They were supposed to pay you Rs. 35 lakhs and they ended up paying only Rs. 20 lakhs. In these 1 ½ years, did they pay the balance amount?
No, and I don't think I'll ever get paid for it. I do not blame them. I blame myself for my naivety and my over-passionate approach to cinema. They have made me learn a very bitter lesson for life and I thank them for it. I guess they never had the intention to pay. Even at the cost of losing credibility, they would put money above everything in life. I have forgiven Mr Shyam Bajaj and Mr Narendra Bajaj. I have written off Rs. 15 lakhs to them. They can use it in their next film.
BOLLYWOOD NEWS - LIVE UPDATES
Catch us for latest Bollywood News, New Bollywood Movies update, Box office collection, New Movies Release , Bollywood News Hindi, Entertainment News, Bollywood Live News Today & upcoming movies 2022 and stay updated with latest hindi movies only on Bollywood Hungama.