Some films are considered classics at that time they release but over the years, they begin to seem dated. Then there are classics that remain as good later on as when they came out and are evergreen in the real sense of the term. In the second category, most moviegoers would list greats like Mughal-E-Azam, Mother India, Sholay, 3 Idiots, Baahubali etc. But if seen with all fairness, even Koi Mil Gaya can be included in this category. After all, except the tacky VFX for today's standards, the film looks as fresh, is made well and is one of the few sci-fi films of Bollywood and a rare film of this genre that got acceptance. Also, it was the first step towards one of Bollywood and Indian Cinema's most successful film franchise.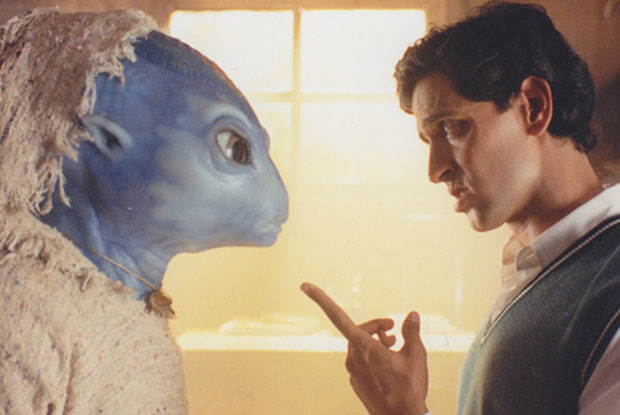 Prior to Koi Mil Gaya, the sci-fi genre in Bollywood produced very few films. Out of these, Mr X In Bombay and Mr India were probably the only two films that were memorable and successful, with the latter considered as a cult flick. The rest of them like Elaan, Wahan Ke Log, A Trip To Moon etc. had failed. Thankfully, Koi Mil Gaya didn't repeat the mistakes made by these films. The film was easy to understand despite dealing with aliens and UFOs. And entertainment was there in abundance. The special effects were decent for that era and correctly used. Hence, the film got a pan Indian acceptance.
Koi Mil Gaya dealt with a developmentally disabled young man whose life changes when an extra-terrestrial with magical power descends on Earth and changes his life for the better. In this 2.44 hours long film, the alien makes his entry only when it crosses the halfway mark! But no worries as the film is excellent from the word 'Go'. The protagonist Rohit (Hrithik Roshan) is an endearing chap and viewers instantly fell for him. As a result, one can feel the pain when he's humiliated by the computer teacher and especially by the antagonist Raj Saxena (Rajat Bedi) and his pals. Viewers and experts might not have realized it then but the romance between the mentally disabled Rohit and the young and petite Nisha (Preity Zinta) was quite sensitively handled, since Rohit was like a child. Hence, it would have looked quite odd if the makers had not dealt it well. But kudos to director Rakesh Roshan and screenwriters Rakesh Roshan, Honey Irani, Sachin Bhowmick and Robin Bhatt for getting it just right!
But the best part of the film definitely is Jadoo the alien! I distinctly remember the curiosity of the film when it was to release. The makers had hinted that the film has an alien but they didn't reveal its appearance till the release. This was the pre-social media and pre-smartphones era and hence, there was no way the look could have got leaked. I was 13 then and was not able to see the film till its 5th week. But after 3-4 weeks, the makers unveiled Jadoo in newspaper ads and I still remember I was pleasantly surprised by the way they had conceptualized him. But I got to experience his real charm when I finally saw the film and like lakhs of other viewers, I fell in love with him. The look was quite interesting because he does look a bit menacing. Hence, it seems absolutely justified when Rohit's friends (which also includes Hansika Motwani) see him for the first time and run for their lives! But take a closer look and one realizes that he's super cute. The way he walks, makes those expressions when he speaks in his mechanical electronic voice, hugs Rohit in the end when he's terrified etc. is heartening and your heart instantly goes out to him. As a result, one can feel the pain when the cops forcibly take him away like a dangerous wild beast. The finale when Rohit bids goodbye to Jadoo is extremely moving but thankfully, the film ends on a happy note.
Performance wise, Hrithik Roshan steals the show and still it could be considered as one of his finest acts. Koi Mil Gaya was an important film for him as he had given a string of flops and underperforming films after his blockbuster debut in 2000. Kabhi Khushi Kabhie Gham was the only movie that worked but since it was a multi-starrer, he didn't get the sole credit. Koi Mil Gaya reminded everyone that he has a huge fan following and that he's here to stay. He brought life and soul into his character and hence not just kids, but adults alike loved him and hooted for him when he gets the powers and teaches the baddies a lesson. Even today, the scenes of him being harassed and his scooter being broken can bring tears and a major credit goes to him. One of his best scenes in my opinion is when Preity kisses him. Watch out how he blushes – it's brilliant! Also notice that once he gets his powers, his transformation is gradual and this bit is also nicely done. And how can I forget – his dance in the songs 'It's Magic' and 'Idhar Chala Main Udhar Chala' is remarkable!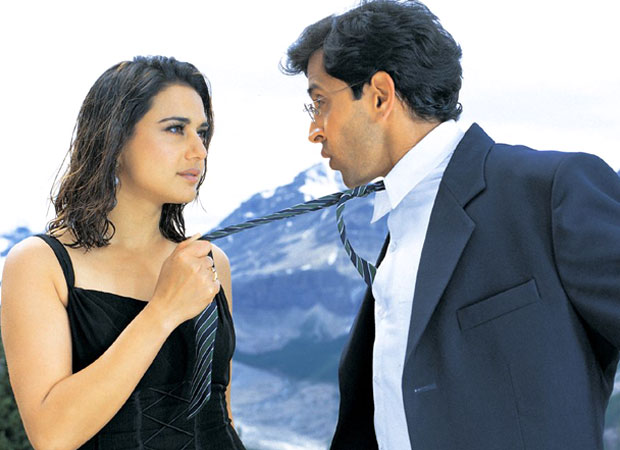 However, the album isn't as memorable as the film but the songs were appropriate for the various situations. The best picturised one obviously is 'Jadoo Jadoo'. The kids dancing around this cute alien who keeps doling out his magic took the film to another level. Rajesh Roshan's background score however is quite entertaining with the evil theme used for Rajat Bedi giving a nice 90s vibe! And notice how in two sequences he has used the tune of 'Pyar Ki Ek Kahani', the song that was used in Koi Mil Gaya's sequel Krrish!
And this brings us to Koi Mil Gaya's next installments. Surprisingly, its two next films – Krrish and Krrish 3 – became superhero sagas! However, the transition was seamless. When you see Krrish, it very much looks like the sequel to this classic despite being drastically different in terms of scale, milieu etc. But the ethos and mood remained the same and kudos to director Rakesh Roshan for managing to do so. Krrish was a bigger success than Koi Mil Gaya while Krrish 3 was the biggest of all. The sequels, just like the first part, were family-friendly, easy to comprehend and had some great visual effects that made it mandatory for big screen viewing.
A kid-friendly film replete with VFX is a huge branch of films. In the West, many such films are made every year and most of the times; they earn the maximum as these films are complete family entertainers, catering to everyone from the ages of 6 to 60 and even beyond. The humongous success of Koi Mil Gaya had made many in the industry and trade believe that more such films would be made. Shockingly, this genre never really took off. Taarzan: The Wonder Car, Rudraksh, Alag, Jaane Hoga Kya, Naksha, Love Story 2050, Drona, Aa Dekhen Zara, Action Replayy, Ra.One, Joker, Mr X, A Flying Jatt etc were made but none of these films managed to entertain the viewers like Koi Mil Gaya and were forgettable. 11 years after Koi Mil Gaya, there came one more film on an alien abandoned on earth – the Aamir Khan-starrer PK – and that was the only film to have scored with the viewers. There was also Shirish Kunder's Joker but the less said about the film, the better!
Koi Mil Gaya is not a perfect film. It has its loose ends. It's bewildering to see Rajat Bedi carrying his beloved basketball everywhere – even when he goes to the bar! The basic plot reminds one of Steven Spielberg's legendary film E.T. the Extra-Terrestrial (but those who diss Koi Mil Gaya for this reason should also be ready to accept that E.T. the Extra-Terrestrial was heavily inspired by Satyajit Ray's screenplay The Alien). The sequence where Rohit realizes that he doesn't need his glasses anymore seemed like a rip-off of a scene from the 2002 flick Spider-Man. The opening credits gave a déjà vu of the crawling text of Star Wars. There were many such similarities from other flicks. Product placement was done on another level – in one emotional sequence involving Rekha, the focus is also on an 'Emami Naturally Fair' ad placed on a structure behind. But the mention of Bournvita was nicely done and also added to the fun. Nevertheless, despite its flaws, Koi Mil Gaya turned out to be a complete entertainer that worked for most audiences. As the film completes 15 years today, our Bollywood makers need to ask themselves what's stopping them from making a pan-India sci-fi or fantasy flick. If Koi Mil Gaya can work so well, imagine what a well-written and executed film can do in today's times, especially when we have progressed in terms of VFX matching global standards. Wake up makers, smell the coffee and unleash the 'jadoo'!
Also Read: Whoa! Hrithik Roshan starrer Super 30 to get a sultry number by Ragini MMS 2.0 actress Karishma Sharma
BOLLYWOOD NEWS
Catch us for latest Bollywood News, New Bollywood Movies update, Box office collection, New Movies Release , Bollywood News Hindi, Entertainment News, Bollywood News Today & upcoming movies 2020 and stay updated with latest hindi movies only on Bollywood Hungama.