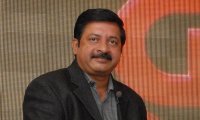 Hollywood's visual effects extraordinaire Jim Rygiel has teamed up with N Madhusudhanan's GEON studios (a Sahara India Pariwar division). Jim, well known in Hollywood for his contribution in visual effects in all three of The Lord of the Rings segment's, has received three Academy awards, three BAFTA awards, three VES awards and one AFI award for the trilogy. Besides LOTR, he has done numerous other films such as Cliffhanger, Alien 3, Night at the Museum and The Last of The Mohicans.


This is Jim's first visit to India and Bollywood Hungama brings to you an exclusive one-on-one session with the legend and the VFX supervisor and CEO of GEON studios.


How did your association with GEON come about?

Jim: I'm in India because of Madhu. Our relationship goes back 10 years, I've worked with him in The Lord of the Rings; we have done the movie Click. So, when Madhu opened GEON and asked me to be a part of it, I didn't hesitate at all.


Why Jim and nobody else?

Madhu: (Laughs) Maybe because I've worked with him in so many films. I remember what Jim told me once, "Don't worry, don't be scared … just do it. Have fun." That's something that changed my views. We started small and didn't do big complex composite sequences overnight. When we started out, we were honest and I was eager to learn from him. One can't get three Academy awards out of the blue.


During this time we started thinking of doing much bigger and more meaningful films. I've always looked up to Jim as my mentor. Here's an opportunity to do something much more than what's been done in the past 10 years.


How is Jim's suggestion going to be helpful to the Indian entertainment industry?

Madhu: We are looking at Jim for guidance and advice. It's a marriage of the artistic and technical values, and cannot be understood overnight. I'm not trying to market ourselves by using Jim Rygiel's name; he is helping us to perform better. In the meantime if we get a project which requires Jim's expertise and involvement and if it excites him, then we're going to be doing something together.


Jim: One of the main things I see him helping out in is, bringing in the Hollywood sort of sheen. I've been talking about marketing in Hollywood, to studios like Universal, Paramount and FOX. It's very tough to break that barrier but once you do it, then the floodgates open. I won't be necessarily involved with everything that GEON does but will be there when required.


Why are Indian films still not very VFX-centric?

Madhu: There is a huge film market; and it has nothing to do with visual effects. The one thing that may not work is science-fiction. For example, if you want to make Armageddon, people here might not appreciate it because there is a psychological barrier.


Besides, visual effects are always meant to be for the story and not the other way around. It doesn't work that way in the west as well. Besides, when our audience is mature enough to accept that, they will look forward to many visual effects driven films.


But will VFX-heavy movies inherently work?

Madhu: It's our responsibility to make sure that the effects are not seen on the screen. One should consider two things, do you want to be creative house, or do you want to be just a service oriented house. We want to push ourselves into something different. We want to be a creative studio, I would like to get involved in the script stage where I could ask for the script to do the vfx shot breakdown by myself instead of somebody else; that way I will understand the film and the story and what the character is thinking.


All these things help me plan to make wonderful effects in the movie. If I work on the shots and I don't even know what the story is about, it is going to be noticeable.


What's your take on the Indian VFX and animation markets?

Jim: Other than what Madhu's told me in terms of the growth of Bollywood films which leads to increased requirement for vfx as well. All films will have some vfx in it whether you see it or not and companies will be needed to do those jobs. It's all about the talent and infrastructure at those studios; it's not the market that matters, but the people who are doing that work.


Technologically do you see any difference between India and the US, is there any difference in the work culture?

Jim: Technologically it's the same. The aesthetics still needs to mature. It's a part of that process, because you've been seeing Bollywood films for your whole life and it is ingrained in your head, you will tend to go down that road more subconsciously. Our standard for western films is different and that's the standards we have to set.


It's a little bit of that education between the two aesthetic cultures, which I think is closing quickly because of YouTube and the entire Internet that you can watch instantly. Bollywood is everywhere on television and that's what people think it should be. On the other hand we're bombarded with western aesthetics.


When do you think we will evolve to Hollywood's standards in terms of sheen and quality?

Jim: That's happened now, working with GEON I know they can deliver the shots without much briefing. According to me this is the perfect working experience where I don't need to worry about it too much. That's what I've been doing with all the little companies that I've been associated with. I give the shots with an intention of getting it finished and it's the same globally.


We have seen a couple of projects that are coming from GEON, but we haven't seen anything coming out of Bollywood? Is Bollywood going to benefit from this association?

Madhu: We are very receptive of any scripts that are coming in from Bollywood. We don't think we are a big Hollywood studio, the difference is that we want to be involved creatively. There are some scripts that have come now that are quite interesting, but again the economics should work. When I talk about the economics I mean is that we have to spend a lot of time in pre-production, the more time you spend in pre-production the better the finalized output. Last year there was an interesting project that came our way with an appealing subject, they wanted us to deliver it in six months but that wasn't enough time because it is difficult to do. So we did one Hollywood film and now we're doing a second film as well which is set to release post Christmas. But I would be doing a film with my favorite matinee idol Kamal Hassan. Which is a cool subjet.


Jim: We aren't supposed to talk about it yet, but we are talking about an Indian film which could not be classified as a typical Bollywood film. This will change people's views of what's happening in the industry. Right now we're still discussing about it...


Madhu: We've designed a few things at a very basic level, and the basics have created a lot of excitement among the producers and investors. It's going to be a live-action film and not animated.
BOLLYWOOD NEWS
Catch us for latest Bollywood News, New Bollywood Movies update, Box office collection, New Movies Release , Bollywood News Hindi, Entertainment News, Bollywood News Today & upcoming movies 2020 and stay updated with latest hindi movies only on Bollywood Hungama.