Terrorism is a global menace and its impact is felt more in the world now than ever before. Kamal Haasan tackled this issue head-on with VISHWAROOP [2013] and tried to give the film a nice, novel touch and matched it with international standards in terms of scale and grandeur. The veteran multi-talented performer is now back with the sequel, VISHWAROOP II. So does it manage to entertain viewers as much as the first part or does it fail? Let's analyse.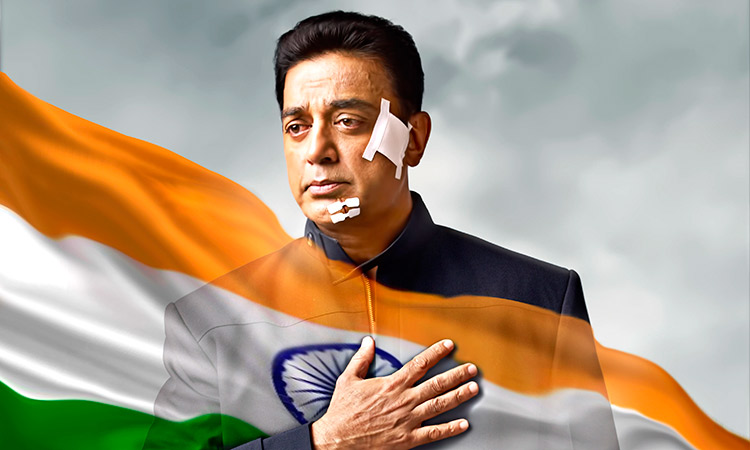 VISHWAROOP II continues from where the first film ended. After the plan of Al-Qaeda terrorist Omar Qureshi (Rahul Bose) to attack New York City is disrupted by RAW Agent Wisam Ahmad Kashmiri aka Vishwanathan aka Vis (Kamal Haasan), the former and his aide Salim (Jaideep Ahlawat) escape. Wisam's wife Nirupama (Pooja Kumar) slowly begins to accept the fact that her hubby is a dashing secret agent and not an effeminate dancer that she loathed. Wisam, Nirupama, Wisam's protégé Ashmita (Andrea Jeremiah) and Wisam's boss Colonel Jagannath (Shekhar Kapur) then head to United Kingdom where they get ambushed and they suspect that it's the handiwork of the expat Rajesh Mehta (Ananth Narayan Mahadevan). Soon Wisam discovers that Omar has planned to explode the bombs situated under water since the time of World War 2 and thereby destroy the city of London. He also finds out about another shocking terror attack planned by Omar in Delhi. What happens next forms the rest of the film.
Kamal Haasan's story has some promise and it could have made for a nice, espionage action thriller. But Kamal Haasan's screenplay is very weak and disjointed. The sequences are not stitched together well. There are some individualistic scenes involving Wisam and Nirupama and even Wisam and his mother (Waheeda Rehman) that stand out. But these scenes have no connection as such to the main plot and that's not good for a film that's actually an action entertainer. Atul Tiwari's dialogues are simple and aren't memorable.
Kamal Haasan's direction is very poor and he completely lost the opportunity of taking this franchise forward nicely. The film doesn't involve or move viewers at all and there are too many tracks running simultaneously and none of them leave an impact. What works are the few scenes that are helmed well like Ashmita and Wisam finding the bug in the room in UK, the action sequence in the beginning, the underwater action madness and Wisam's heroic entry in the finale.
VISHWAROOP II's opening credits are splendid and you expect the fireworks to begin right from the first scene and continue till the end. There's an intense action scene in the first 15 minutes itself when the car topples after being attacked by a terrorist. From here on, the film goes downhill. The film then depicts some portions of VISHWAROOP (when Wisam goes undercover in a terror camp) in a fast-forward manner and at the same time, some extended sequences are also added. The manner in which it's done is very bland and disinteresting. Also, VISHWAROOP doesn't have a recall value and the first half wasn't a critical or commercial success. Moreover, it had come 5 ½ years ago. As a result, most of the moviegoers will have no clue of the events that unfolded in part 1. But Kamal Haasan and team assume that viewers very well remember what all happened in VISHWAROOP. Even after the recap portions get over and the film comes back to present day, nothing much happens in the story. The intermission point is random but in the second half, a new chapter begins with no connection as such to the underwater sequence that happened before the interval. This bit too takes a lot of time to come to the main point and once it does, it is very abruptly and hurriedly done.
As for acting, Kamal Haasan is decent and tries to give his best shot. But due to faulty writing and execution, his performance gets affected. Also, some of his dialogues are difficult to decipher. Rahul Bose has a very short role this time since the film goes off track and hence he gets limited scope. He hams all the way like never before. See it to believe it! Pooja Kumar makes her presence felt more in the sequel and gives a fine performance. Also she adds the required sizzle in few scenes. Andrea Jeremiah too has a better fleshed out role and she's confident. Shekhar Kapur is dependable. Ananth Narayan Mahadevan is memorable but his track doesn't serve much of a purpose and it was flawed. Jaideep Ahlawat gets some scope only towards the end. Waheeda Rehman is endearing but again, her track is just forced in the film. Yusuf Hussain is okay while Rajendra Gupta is disappointing and it was frustrating to see how he kept on hammering the importance of 'collateral damage'.
M Ghibran's music is completely forgettable. None of the songs – be it the title song or 'Ishq Kiya Toh' or 'Tu Srotu Hai' - are good enough. But the background score is quite dramatic. Shamdat and Sanu John Varghese's cinematography is eye-catching. Stefan Richter, Parvez Feroz, T Ramesh's action is too gory and bloody and would surely put off a section of audiences. Lalgudi N Ilayaraja's art direction is authentic. Mahesh Narayanan and Vijay Sankar's editing is nothing great.
On the whole, VISHWAROOP II is a highly avoidable flick. The film has too many tracks and the narration and execution is flawed and weak. Also at the box office, the film will have a tough time.