Uunchai Review {4.0/5} & Review Rating
Lyrics: Irshad Kamil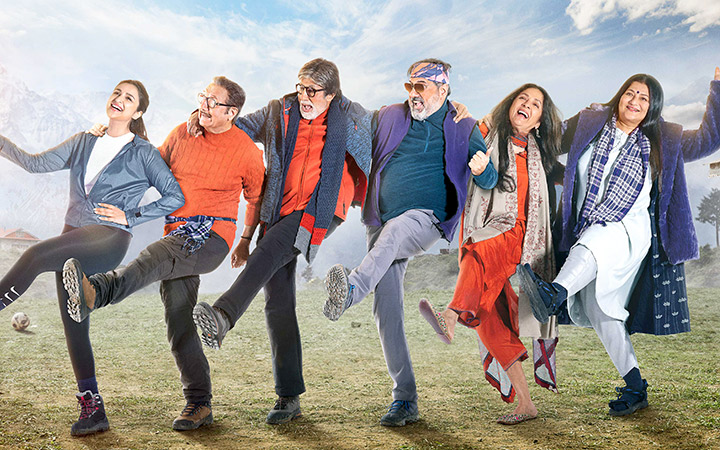 When the director is old-school (as in 1989 onwards) with a commitment to storytelling, his songs will be a reflection of how music has always been used for a movie story. It is thus designed, created and recorded with songs tailored to the film's needs and singers fitting the song's needs. And Uunchai is no exception.
Amit Trivedi gets into the kind of high mode and mood that we last heard from him in Queen (2014), Fitoor (2016) and AndhaDhun (2018) to fashion an all-good score with some exceptional songwriting by lyricist Irshad Kamil. How lyrics can be inspired, simple yet trendy and very meaningful with some ingenious touches is proved in this album. Indeed, Irshad is the twinkling star of this album.
What's more, the excellent wordplay and the memorable music help boost each other. Take the prime song that is in three versions, 'Ladki Pahadi'—one by Abhijeet Srivastava, a bonus track also by him and an upbeat version by Mohit Chauhan. Abhijeet feelingly and rousingly renders this finest song in the Uunchai soundtrack, with his vocal tenor (calculatedly, perhaps) resembling that of Amit Trivedi's. Mohit's version seems designed to have an extra element of euphoria, but Abhijeet scores higher.
The words are brilliantly thought of, and refer as much to the character's love for the mountains as well as for his beloved ('Mere Ishq Ki Uss Mein Nadiya Chadhi Hai / Agar Na Gaya To Utar Jaayegi Woh') and the passionate need of the 'lovers' to unite ('Mere Saath Jeene Ka Waada Hai Usska / Agar Main Na Gaya To Mar Jayegi Woh').
The mass-friendly 'Keti Ko' is a easy rendition by Nakash Aziz and this time the lyrics go full-on into a catchy, flowing mode of alliteration ('Kanchan Kaanchi Kori / Natkhat Naami Chhori/ Jabran Jora Jori') and more. Even here, there is a subtle undercurrent of passionate love in the words for the object of adoration as well as the hills ('Ho Usski Choti Chandi Ki / Chumoon Kaise Bolo Ji / Mujhse Badi Door Hai Woh / Usske Baalon Mein Ghata / Dhoop Ka Hai Ghoongta / Jaise Koi Hoor Hai Woh').
Amit Trivedi himself sings the inspirational 'Zindagi Ko Haan Kar De', a beautifully orchestrated and, of course, written ('Dard Agar Jo Hota Hai / Yeh Samajh Tu Zinda Hai') track with a retro Western flavour in its orchestration and exemplary use of the trumpet in creating an elevated mood.
As for demonstrating the pure craft of writing lyrics, nothing works better than the fun track 'Arey O Uncle' (sung with terrific gusto by Divya Kumar and Devenderpal Singh). The song, which actually celebrates older people living as exuberantly as the youth, is written with a rare understanding of how the current generation looks at such breezy optimism.
It makes use of brands like twinkle, wrinkle, Fiat, Ferrari and Crocin to stir up reluctant admiration felt for these older, cheery souls who should be on a different trip than that of matching the young! Hear the lines, 'Kacchi Si Umar Ke Armaan / Dekho Dekho Pakki Si / Umar Mein Jaage Re' to understand the crux of this genuinely humorous song that is set to a breezy tune. In case, we still don't get the message, we have the direct remark, 'Japni Thi Mala / Kasrat Ko Lo Chala'!
'Savera' is low-key compared to the rest of the music. Sung by Javed Ali, Deepali Sathe and Madhubanti Bagchi, it is another succinct expression of where the heart wants to go, as shown by the words, 'Ho Dekho Savera Pooche Jaana Hai Kahaan / Kaise Bataaye Jaana Khwabon Ke Jahaan'.
In today's times, it is rare for a soundtrack to jell completely with a film's needs and narrative. But this time, the music almost matches the uunchai (heights) of the parent film. There is heart, there is art and there is core strength, and each hearing sounds better than the previous.