The state of Gujarat is considered quite vibrant and colourful but surprisingly, very few films are based there. Out of these films, most of the movies based in this state have failed to do justice to its USP. Only select ones like KAI PO CHE [2013], RAEES [2017] and the recently-released MITRON [2018] have captured the essence well. Now, Aayush Sharma's long impending debut flick LOVEYATRI is out and it promises to show Gujarat at its best. Moreover, the film is set during the much-talked about festival of Navratri. So does LOVEYATRI manage to succeed in its endeavour? Or does it fail? Let's analyse.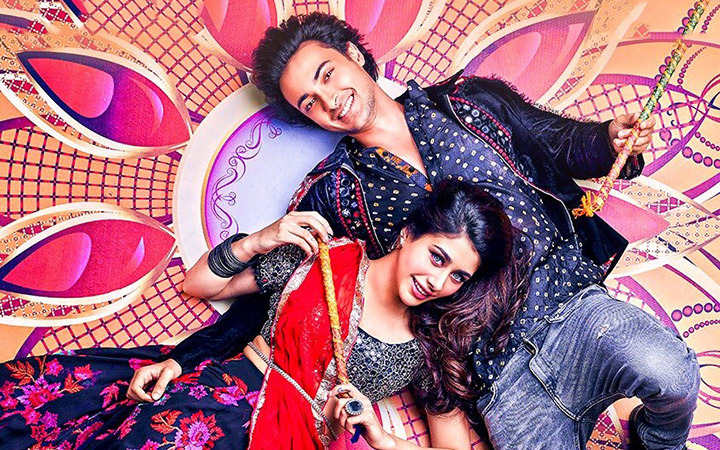 LOVEYATRI is the story of romance that blossoms during a course of nine days. Sushrut aka Susu (Aayush Sharma) is a good for nothing guy in Vadodara, Gujarat. He is poor in studies and gives garba lessons to kids in his neighbourhood. Meanwhile, Manisha aka Michelle (Warina Hussain) is originally from Vadodara but stays in London with her father Sameer aka Sam Patel (Ronit Roy), who is a rich businessman. Manisha is studious and is about to get admission in a reputed business school. A day before Navratri, both arrive in Vadodara when their family members trick them. Manisha goes with her family and friends for a Navratri event and there she bumps into Susu. Encouraged by his maternal uncle Rasik (Ram Kapoor), Susu pursues her as he has fallen for her. Manisha too begins to get fond of him. Sam learns of this romance in the making and he tries to manipulate the situation. Susu has a fight with Manisha. By the time Susu realises his mistake, Manisha has already left for London. What happens next forms the rest of the film.
Niren Bhatt's story is too simplistic. There are a lot of interesting characters and even the setting is unique. But the writer doesn't use them well. The biggest conflict arising between the lovers is insignificant but it takes forever for the misunderstanding to resolve. Niren Bhatt's screenplay however is engaging and entertaining. Despite the fact that there aren't many conflicts happening in the film, the script keeps viewers engaged. Niren Bhatt's dialogues are quite nice. Some of them might remind of the WhatsApp forwards but considering the context and theme, it works.
Abhiraj K Minawala's direction is neat and uncomplicated. It's his debut directorial venture but he proves that he knows his job well.
LOVEYATRI begins well with the typical grand hero's entry. His world is well established and also that of Manisha. The sequence where Susu sees Manisha for the first time might seem a bit far-fetched but it surely works. Susu's various interactions with his pals Negative (Pratik Gandhi) and Rocket (Sajeel Parekh) and Rasik mama are quite hilarious. Along with laughter, the film also depicts some tender, romantic moments between Susu and Manisha. But the best in the first half is reserved for the scene where Sam takes Susu for a ride in the giant wheel. Quite dramatic! The showdown in the high end restaurant followed by the intermission point is terrific. In the second half, things continue to remain interesting as Susu tries every trick in the book to go to London. Once in London, the fun gets better although the climax is sans any high.
Aayush Sharma makes a confident debut. The actor surely has spark and is set for a great career ahead. He dances like a dream and most importantly, he does very well in the confrontational sequences. Warina Hussain looks stunning but is not relegated as a PYT in the film. She has an important part and she shines. Watch out for her scene where she opens up about her mother. Ram Kapoor is the 'jaan' of the film. His characterization and performance are such that they lift the proceedings! The scene where he talks about Shah Rukh Khan, Aamir Khan and Salman Khan would be greeted with claps and whistles! Ronit Roy gets the Gujarati accent right and performance wise, he is first rate. Pratik Gandhi brings the house down while Sajeel Parekh also contributes to the laughter quotient. Kenneth Desai (Hari; Susu's father) is fine. Manoj Joshi (Natu Kaka) is great but doesn't get scope. Arbaaz Khan (Jignesh) and Sohail Khan (Bhavesh) are adorable.
Music is of chartbuster variety and utilized very well in the film. The title song is fun while
'Chogada'
comes at an important juncture.
'Dholida'
and
'Rangtari'
are foot tapping.
'Akh Lad
Jaave'
has a nice seductive feel and lastly,
'Tera Hua'
is melodious.
Sanchit Balhara and Ankit Balhara's background score is dramatic and commercial. Jishnu Bhattacharjee's cinematography is too good and captures the essence and colourfulness of Navratri flawlessly. Vaibhavi Merchant's choreography is eye catching and adds to the film's charm. Manish Malhotra, Alvira Khan Agnihotri and Ashley Rebello's costumes are very appealing. Amit Ray and Subrata Chakraborty's production design is simple and real. Ritesh Soni's editing is neat.
On the whole, LOVEYATRI is a feel good and colourful film laced with some lovely moments and chartbuster music as its USP. It's a clean entertainer and has the potential to attract youth and families in abundance!