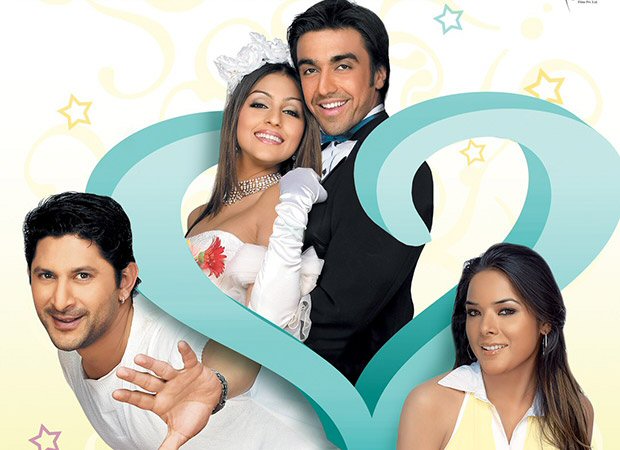 Certain themes worked in the '70s and '80s. But they seem completely out of place in today's times. You can't connect with them, plain and simple. That's the issue with KISSE PYAAR KAROON?.
KISSE PYAAR KAROON? uses every rule in the book to entertain the viewer. It borrows heavily from all masala films that one has watched and admired over the years. To give the credit where it's due, a few scenes are indeed funny. But it comes too late in the day. Ideally, it should've released a couple of years ago.
Sid [Arshad Warsi], John [Aashish Chowdhry] and Amit [Yash Tonk] are thick friends. Everything is going fine till Sheetal [Udita Goswami] enters the scene. She plans to usurp the wealth of John. She entices him and John falls for her.
Realising that Sid and Amit could thwart her plans, she creates problems and hurdles in their friendship. Sid and Amit realize her game and plan to throw a spanner. They decide to drill sense in John, but John is in no mood to listen. He's completely smitten by Sheetal. Sid and Amit embark on a plan to save John from Sheetal.
Director Ajay Chandhok displays a flair for comic entertainers, but there's not much he can really do since the writing [Yunus Sajawal] is archaic and outdated. The same formula has been repeated so many times in the past, you don't react to it any longer. Despite the shortcomings, Chandhok has the potential to strike the right note if he gets the right script. Daboo Malik's music is pleasant. The title track and 'Bechain Saansein' come easy on the lips.
Arshad Warsi, Aashish Chowdhry and Yash Tonk play to the gallery. We don't expect histrionics in a film like this. Instead, we look for buffoonery and that's what they end up doing. Udita Goswami makes her presence felt, while Aarti Chhabria is hardly there. Shweta Menon entertains when she's on screen. Shakti Kapoor and Ashish Vidyarthi are wasted.
On the whole, KISSE PYAAR KAROON? comes too late in the day. Perhaps, this masala film may've struck a chord a few years ago, not today.