Pitta Kathalu is the first Telugu anthology on Netflix helmed by Tharun Bhascker, Nandini Reddy, Nag Ashwin and Sankalp Reddy. All four short stories revolve around the theme of power dynamics in romantic relationships with women as central characters. These are all stories that you definitely do not find on mainstream cinema and all four explore different aspects of romantic relations in very different situations. Tharun, Nandini, Nag and Sankalp have stepped out of their comfort zones and explored themes and settings that they have not done before. Let's go through each short: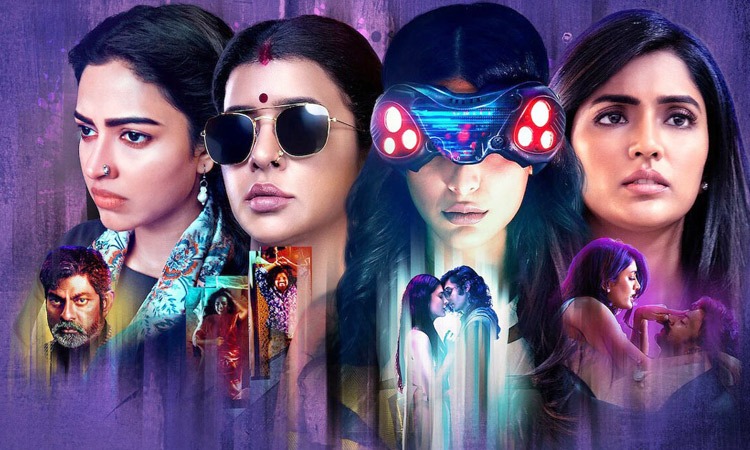 RAMULA:
The first short begins with Tharun Bhascker's Ramula which is the story set in a village in Telangana of a young woman named Ramula (Saanve Megghana) who is exasperated by the unwillingness of her lover to commit. She goes on to take some harsh steps when he breaks up with her but only to cross paths with a female politician who offers to help her but has her own agenda in mind. Tharun, who wrote and directed the short, is usually known for his urban stories. However, with Ramula he has emerged successful in bringing out the raw emotions and nature of people in a rural set up. He lets the audience get acquainted with every character and why and how they react in different situations which all add up to the narrative. Vivek Sagar has done a brilliant job with the music especially towards the climax. The entire tone of the film changes in a jiffy towards the end and is very well presented with the music taking the audience's anticipation to the peak. Sanvee Megghana does full justice to her character Ramula who goes from a feisty no nonsense woman to falling into the trap of her own vulnerability. Lakshmi Manchu is phenomenal as the politician who will go to any extent to have her way and will spare no one and anything in her way to rise above the patriarchal ways in politics. Niketh Bommi as cinematographer captures the rural setting in which the characters thrive very articulately.
MEERA
Meera directed by Nandini Reddy is one of the most impactful shorts of the lot. Meera (Amala Paul) is a writer who is married to Vishwa (Jagapathi Babu) who is the CEO of a company and also 18 years older to her. Things take a turn for the worse when Vishwa reads an excerpt from his wife's latest story and assumes that she is cheating on him. They have two kids and a third on the way and live in a luxurious house in a city.
Nandini along with writer Radhika Madan work with a tight screenplay that explores the different facets of a relationship including loyalty, insecurity, lust, love and also see the female protagonist speaking about marital rape. Considering the time restraint, Radhika has done a great job in keeping the screenplay tight despite all the above said elements and maintains a great flow. Amala Paul puts up a convincing act as Meera who puts up a happy face in front of people despite the domestic abuse that she faces behind closed doors. Jagapathi Babu who has largely portrayed negative roles in his career looked apt for the role. The story largely focuses on how the situations change when the power dynamics in the relationships switch from the man to the woman. Cinematographer Richard Prasad has kept the frames tight by not focusing much on the surroundings but on human emotions. Junaid Siddiqui's editing is very crisp and neat. The use of blue hues on screen throughout helped set the mood of the movie.
X-LIFE
As for Nag Ashwin, trust him to take us to a completely different world. X-Life takes you into a world dominated by a corporation that sells virtual reality and makes people completely switch away from reality. Vik (Sanjith Hegde) who is the creator of X-Life is not your conventional head of a corporation that can potentially destroy humanity as we know it. He wears shorts and a loose sweatshirt with curly hair and geeky glasses. While on the outset the film looks like a story of saving humanity from the ever consuming and dominating power of technology, it is the tiny details that make one understand Vik's behaviours towards humans. He makes use of a homophobic nature of a nation's leader for the benefit of his business and has an absolute disregard for women and looks at them as damsels in distress. He sets his eyes on Divya (Shruti Haasan) who is a kitchen staff and expresses his desire to date her. However, it is his arrogance of power and demeaning others that eventually leads to his downfall.
Nag Ashwin who wrote and directed the film has largely focused on creating a world where advancements in the field of technology overpower basic human emotions and the emotion in focus is love. As a plot, it comes across as very cliché. However, points to the setting and imagination of scenarios in the film. Sanjith Hegde does a decent job as a first time actor and also does a great job as a music composer of the film. Shruthi Haasan, too, puts up a decent performance as a damsel in distress to later showing her true colours. Editor Abhinav Danda and Visual effects by Nagaraj Sappa and Manikantha Senapathi have done a good job in creating the X-Life set up and making it a convincing experience.
PINKY
Next short is by Sankalp Reddy who is known for films like Ghazi and Antariksham. While his previous two films have explored the underwater and space life respectively, the setting and the theme in itself was a challenge for him. The short revolves around two couples and a past that binds them. Eesha Rebba who plays Pinky is the protagonist and is not happy with her husband which she considers a forced marriage and is in love with another married man. The film focuses on the relationship between the characters and captures their uneasiness. What sets this film apart from the others is its climax. Sankalp ends the film at the peak of conflict and lets people decide. The performances are decent but it's take for you to get used to and understand characters and ultimately the climax leaves you with questions, a lot of them.
Sankalp Reddy has clearly stepped out of his comfort zone for this short in terms of the theme and the setting. Emani Nanda Kishore and Sankalp have woven a story around the concept of love being eternal and played around it. They have focused on the impacts of one's past in a relationship and how it can carve the way forward. Pinky focuses on the journey which ends in a conflict; however, from thereon it is completely based on the viewers' interpretation. The complete film is shot in the interiors of a house. Eesha, Satyadev Kancharana, and Srinivas Avasarala are convincing in their parts but it's the plot that largely restricts them. Cinematographer Naveen Yadav does a good job in capturing the emotions of the characters at the same time focusing on the tension in a room between characters, especially when there are no dialogues involved.
On the whole, Pitta Kathalu fairs well in trying to explore different aspects of the power dynamics in romantic relationships, but creates an impact only in parts.
Rating: 2.5 stars
BOLLYWOOD NEWS
Catch us for latest Bollywood News, New Bollywood Movies update, Box office collection, New Movies Release , Bollywood News Hindi, Entertainment News, Bollywood News Today & upcoming movies 2020 and stay updated with latest hindi movies only on Bollywood Hungama.