Classism against individuals based on their economic standing has been going on since time immemorial. A friendship between people of different social and economic backgrounds always comes with its set of problems. We see it less these days than it was earlier, but it exists in some corners of the society nonetheless. Jang Dong Yoon, Seol In Ah and Choo Young Woo starrer K-drama Oasis gives us a peek into how the social and economic differences of two individuals lead to life-altering decisions. Add to it a bit of romance, and we're talking about a whole new set of problems.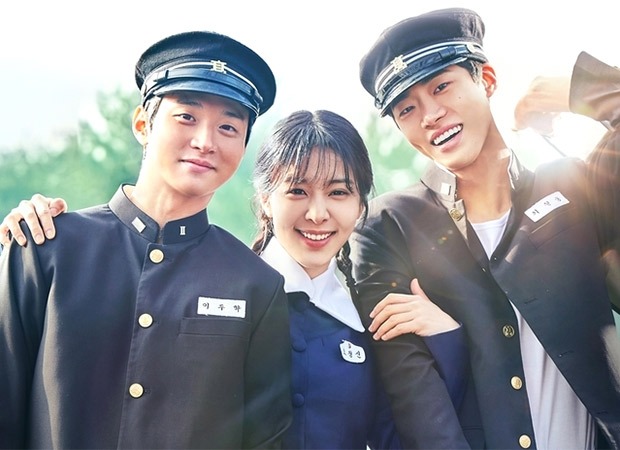 Oasis Review: Jang Dong Yoon, Seol In Ah and Choo Young Woo starrer is an illusion of broken dreams set during political unrest in the 80s of South Korea
The situation in the 70s and 80s in South Korea was full of political unrest and revolts, and it seems like the story is set during Gwangju Uprising. As a country, classism still exists in society. The upper classes rarely mingled with the common folk, and those who did only held onto a facade of niceties.
Oasis tells the story of Lee Dong Hak, Choi Cheol Woong and Oh Jung Shin as they navigate their life and emerge into adulthood during a time of trying political uprising in the Korean peninsula. Our male leads are a foil to one another. Lee Dong Hak is an honest-to-earth son of a poor farmer and Choi Cheol Woong is the pampered son of a man whose father fought in the independence war and has made a name for himself. Lee Dong Hak's family is indebted to Cheol Woong for his family was helped by Cheol Woong during the independence war. Lee Dong Hak is an intelligent and honest school student who grew up on the idea that he should be indebted to Choi Cheol Woong and his family. Dong Hak's father wants the best for his son but not at the cost of rising against Choi Cheol Woong.
With Lee Dong Hak and Choi Cheol Woong, we see a lot of dilemmas about what is morally right and justified. Their relationship also makes us wonder how much a person can and should give up for others in order to show one's gratefulness and pay off a debt. Choi Cheol Woong begged Dong Hak to take the blame for the murder which Cheol Woong committed. He went off about how his (Cheol Woong's) imprisonment would bring ruin upon his family, without even thinking of what it would do to Lee Dong Hak's family. This goes to show how superficial his values were initially. Dong Hak, whose whole life he was drilled to be indebted to the Choi family, agrees to the crime and spends time in prison. That incident changes the lives of both individuals completely.
While Dong Hak is a man of his word, Cheol Woong is easily swayed. Where Dong Hak is ready to purposely rank lower in studies, Cheol Woong is easily miffed when Dong Hak surpasses him. Cheol Woong's nature seen so far is quite fickle and self-centered. He thinks of Dong Hak as his brother but when it comes to telling the truth or throwing Dong Hak under the bus, he chooses the latter. The class divide is not so stark here but it is seen nonetheless. Cheol Woong swiftly cashes in on the gratitude that Dong Hak's family has for his (Cheol Woong's) family.
Our leading lady Oh Jung Shin is a tough-as-nails young lady who is trying to make ends meet after her father's demise. The world during those times was not so welcoming of women doing business like men, but Oh Jung Shin spared no glance at such criticism. Seol In Ah as Oh Jung Shin is a delight to watch on screen. Her spitfire attitude and feisty personality during her school days mellowed a little after she had to look after her father's theatre hall business, but the fire is ever present as she navigates through the matters of heart and life. The supporting cast with each of the male leads reflects the leads' values and morals that they grew up on. The rest of the supporting characters play their roles on par with the story's course.
The drama pans out beautifully, chalking up the set and landscape of retro Korea. Sure, there are certain scenes which are built on a set, but the old-world charm translates beautifully on screen. The showrunners also get the accent and tone of speech right and the difference between the language spoken by the country folk and the city folk is vividly seen. The 70s and 80s were a turning point on a global scale. With cinema reaching beyond borders, women stepping up in spaces where they were earlier not allowed to, changes in the socio-economic structures of countries, the signs of those times were truly mind-blowing. Those were the times when people were still learning to break out of norms set by their predecessors and carve their own paths in the world. All this has bundled up into an interesting plot line so far in the drama.
Oasis as a K-drama works on two levels for the audience. First, we have our lead trio and how each character's decisions affect their own selves and each other. Then, we get an insight into the political situation of South Korea as it had just sought its independence and was fighting another battle within its boundaries, as the nation got divided into two because of a difference of ideologies among those at the upper echelons holding power to move countries at will.
Some could find the drama a tad bit predictable, especially when it comes to the interpersonal relationships of the leading trio. But that does not take away the curiosity from the story as there is a larger political picture at play simultaneously. While the first episode tries to introduce many aspects of the show leading to some kind of confusion, it picks up the pace in the second episode. All in all, Oasis is an interesting watch if you want to dive into a story which gives you political intrigue, moral struggles, and a whole lot of nostalgia.
Also Read:
TWICE is READY TO BE experimental force with new elements of artistry – Album Review
BOLLYWOOD NEWS - LIVE UPDATES
Catch us for latest Bollywood News, New Bollywood Movies update, Box office collection, New Movies Release , Bollywood News Hindi, Entertainment News, Bollywood Live News Today & Upcoming Movies 2023 and stay updated with latest hindi movies only on Bollywood Hungama.