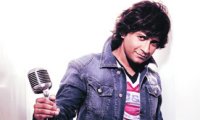 In a field replete with novel voices, vocal gimmicks and calculated song 'takes', here's a guy who has proved that simplicity gets superior results. KK, almost 15 years in the business, has long transcended the tag of being a mere singer and is nearing the league of the greats


Today, the number of your solos completely outnumber your duets and multi-singer songs.

Shall I tell you something? I am happy about this for a very funny reason - and that's the fact that nowadays there are no duets that are recorded live. So while singing on track, the expression of emotions becomes doubly difficult as we do not even know who is singing with us, how he or she will sing and so on.


But yes, I have sung non-solos too, and recently Pritam has recorded a nice duet with Shreya Ghoshal in Tell Me O Khuda. It was a challenging song, with some English and a lot of recall value.


Your equation with Pritam has always been special. He keeps saying that he takes you for a song only when the composition deserves you!

That's really very sweet of him. He does give me great songs and I am proud of our association. It's a very alag bond that mutually agrees on something extra from his side and the same from mine. Luckily we have a great track- record and most of the songs that we have done together have worked big-time from Shikdum in Dhoom to Gangster, Woh Lamhe..., Bhagam Bhag, Fight Club, Bhool Bhulaiya, Life In A...Metro, Billu, New York, Ajab Prem Ki Ghazab Kahani and many more.


Pritam puts in a lot of emotions in his tunes and the lyrics too are rich in emotions. And as a singer, I don't get fed up of the microphone. I never keep looking at my watch and he knows that.


From Saaya in 2003 you began yet another memorable association that also is a brand by itself - your songs for the films of Mukesh, Mahesh Bhatt and Pooja Bhatt. Of course, most of that music too has been with Pritam.

Saaya had oustanding songs like Kabhi khushboo and Har taraf har jagah from Anu (Malik)ji, and I love that man M.M.Kreem - Awarapan from Jism and Maine dil se kahaa and Tere iss jahaan mein from Rog show his genius.


But besides Pritam, your songs for the banner under even Sajid-Wajid, Lalit Pandit and Sharib-Toshi have a certain similarity.

You really think so? But that's not such a good thing! What do you think?


Music lovers have no issues because most of the songs are good. But for a couple of years we seemed to be hearing very little of you, except in their films.

All of them are really fond of me. But I don't know, yaar. I guess I have never been over-ambitious.


You are dangerously low-profile too. Why is that so?

I guess that's because my work is not my entire life! I have always balanced profession with my family. I can't be insecure or be a go-getter at the cost of being with my wife and kids.


Kites is a surprise from you - or a reinvention. What's your take?

I am very glad that you liked my songs. The feedback, in fact, has been unanimous.There are so many, from children to adults, giving me reactions like "Dil kyun yeh mera has finally made you immortal" or that Zindagi do pal ki has taken me to another stratosphere. I was told things like I had done justice to the old kind of melody as well and that these songs were very fresh and different from me. I do think that I was the "bridge" between the classic old-style melody and today's listeners - maybe Rajesh Roshanji thought of me because of this.


How do you look at the Rajesh Roshan experience?

It was fantastic working with him. His compositions and their nuances are different from anyone else, and he is soft-spoken and clear about what he wants. When I heard Zindagi do pal ki, I loved the way the intezaar kab tak phrase went and how Rajesh Roshan expressed those lines. "This is your song," he told me gently. I loved the vibe that was very Kishore Kumar-like in Zindagi do pal ki and like Mohammed Rafi in Dil kyun yeh mera. And I loved the satisfied smile on his face when I rehearsed them.


You had worked together way back in Aap Mujhe Achche Lagne Lage. Why do you think you were called after a gap? Do you think that Hrithik Roshan had a hand, as it was on him that those songs were filmed and you had later sung all of Hrithik's songs in Main Prem Ki Deewani Hoon?

I wouldn't know. Hrithik was there for Zindagi do pal ki but he left after a while. But what I can never forget about Rajeshji is that he gave me my first and only experience of a live recording with a complete orchestra. It was for a song that was to be dubbed by Kumar Sanu, sometime in the late '90s. I was told that my voice would not be kept and the recording was at Mehboob Studios. I did it for that incredible tajurba - it was akin to singing at a concert!


As a singer, how do you feel when a song works or otherwise? And how do you see trends going?

It's impossible to know which song will work or otherwise. Person to person, it's not easy to predict what someone will like - or detest. There have been a couple of critical reviews of Kites too. I can't base my life on the written word. I don't drive myelf into a frenzy if a song is a hit, and if it does not work, that's okay. When I record a song, I have to understand it and give it my best. Like I loved my song Jaane yeh kya hua from Karthik Calling Karthik but there were people who do not like it.


I think that trends are going well - there is a lot of freshness around because of so many new singers.


You put in a lot of soul and emotional richness in your songs, perhaps much more than anyone else today. What is your own perspective on this?

Without intending to sound boastful, I have been told this often and I have pondered on this a lot. I think that I keep life very simple, uncluttered and free from stress. As a singer, when I listen to the new song, I react to the words. I internalise the lyrics of a song first. When I am recording, there are no deviations or digressions. I keep my focus, whether it takes an hour or three hours. I sing a song the way it reads and with the emotions it needs. I don't build a story or an aura around the song. What story can be bigger than life?


Also, I think that my balance of professional and personal lives makes me balanced. The mirror is very clear and there are no gray areas. I don't keep track of how many songs I am getting vis-a-vis what others are called for.


Do you change or modulate your voice according to the actor enacting a song?

I have never done that. Shah Rukh Khan, Hrithik Roshan or anyone else is not my issue. The song is my trip. Dil se kaam karo is my 'funda'. Singing a song well is my life, my junoon. I don't get into what goes behind a song and how and why it came to me. I am a specific spoke in the wheel called the song, and I have to focus on that. I can't be calculating and go into things that have nothing to do with me. While recording a song, that track is my only God. I think that a song represents a singer's persona. If he is not complicated in the head, the song will match!


You began with Maachis, followed by several songs for A.R.Rahman, Anu Malik etc and then broke through with Hum Dil De Chuke Sanam's Tadap tadap. But since then you have hardly sung for Rahman.

I recorded recently for his film 1-800-Love. The reason is very simple - Rahman works after 11 p.m. and I down shutters at 10! I prefer to be honest to myself and fresh and relaxed at work, using the "Early to bed early to rise" principle. The new song was taped because Rahman recorded it in the daytime, that too in Mumbai.


Screen India
BOLLYWOOD NEWS
Catch us for latest Bollywood News, New Bollywood Movies update, Box office collection, New Movies Release , Bollywood News Hindi, Entertainment News, Bollywood News Today & upcoming movies 2020 and stay updated with latest hindi movies only on Bollywood Hungama.