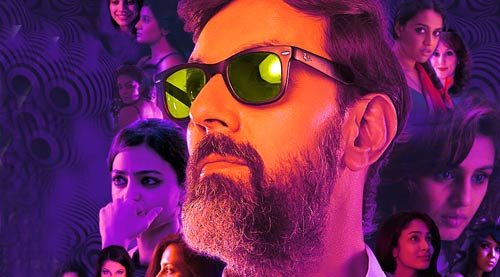 Drishyam Films' X Past Is Present boasts of a format that's never been attempted before. It is the story of one filmmaker, played by Anshuman Jha and Rajat kapoor and his journey through life as seen in his interaction with various women. The film has 11 episodes directed by 11 directors Abhinav Shiv Tiwari, Anu Menon, Hemant Gaba, Nalan Kumarasamy, Pratim D. Gupta, Q, Raja Sen, Rajshree Ojha, Sandeep Mohan, Sudhish Kamath and Suparn Verma. Producer Shiladitya Bora explains the unusual format and why he is not afraid of James Bond and Salman Khan.

Tell me about the genesis of X Past Is Present.
I remember it was in March, 3 years back when aspiring filmmaker Sudhish Kamath called me one night and shared a concept where a 42-year old filmmaker meets a 23-year old girl at a cocktail party at a festival and how this girl reminds the filmmaker of every woman he has dated in his life. I just candidly told Sudhish that this can be made into a film.

He took up your idea?
Yes, the next day morning Sudhish mails me a rough outline of the story. I was a bit surprised and I suggested how we can make this film different from so many other Indies getting made. Sudhish suggested that we do a unique experiment in which we get different filmmakers from different parts of the country to direct a segment like a relay race.

How did you ever think such a concept would work?
I pitched the concept to my colleague Manish Mundra and within 15 days the film got a green light. Then I and Sudhish made a list of potential directors from commercial cinema, Indie cinema, art house cinema, regional cinema. Sudhish took the responsibility of bringing the 11 directors on board while I handled finance and logistics. Within one month we had our first script session in Mumbai.

How did so many directors decide to come on board for one film?
I had worked with a few of them before and Sudhish also knew couple of them. However the selling point for everyone was coming together of all diverse types of filmmaking in one single film to tell one single story.

Segmented films do not work in any part of the world. What makes you think this one will?
Any film if decently made within a recoverable budget and with the right marketing and release can recover its costs. X has been made in a shoestring budget with limited but high impact marketing and publicity. We have already recovered around 20 percent of the cost by pre-selling some rights. Each of the filmmakers, technicians, actors associated with X have their own following in whatever small way and we are expecting a good theatrical run. The trailer has already generated lot of curiosity and buzz and most importantly in spite of many filmmakers being involved; the film works as a single narrative with something for everyone.

Your film comes at a time when Prem Ratan Dhan Payo and James Bond occupy theatres and audiences' mind space. How do you intend to make a dent?
We believe that there is a space for all types of cinema. Also, nowadays there is a big release almost every Friday. So for small films like us it's better to come during a non-crowded week rather than releasing with 10 other small films. Moreover we know where our audience will.Moreover we know where our audience will come from and accordingly we are doing a lot of targeted marketing. With Ankhon Dekhi and Masaan we at Drishyam Films have developed a somewhat loyal audience base.

Tell me a bit about what your production house aims to achieve by producing films like Masaan and now X?
First of all let me explain how Masaan is actually in profit for us. Masaan was made on a budget of Rs. 3.5 crores and we spent Rs. 3.10 crores on publicity and marketing, making the landing cost of the film Rs. 6.6 crores. In India theatrical net earnings was Rs. 3.64 crores of which we got around Rs. 1.5 crores as our share. Pathe is our international sales agent for Masaan and till now we have earned close to Rs. 2.27 crores from International Sales. Add to it income from satellite (already sold), home video (Reliance), Airline syndication, VOD (Video On Demand) and government subsidies our total profit is Masaan is in the range of Rs. 1.5 to 2 crores.

That's quite a staggering way to economize on budgets?
At Drishyam Films we want to make films that have an universal appeal, films that work internationally as well as recover costs. The company strives to produce market and promote extensively-researched films, backed by powerful storylines, irrespective of the genre, language or format. This approach not only provides a professional springboard to the cast and crew, but also ensures commensurate returns to investors and profit participants. The vision to create an integrated global motion picture studio. To build a platform for new and unique voices of independent cinema, a platform to showcase Indian and international talent in storytelling.
BOLLYWOOD NEWS
Catch us for latest Bollywood News, New Bollywood Movies update, Box office collection, New Movies Release , Bollywood News Hindi, Entertainment News, Bollywood News Today & upcoming movies 2020 and stay updated with latest hindi movies only on Bollywood Hungama.