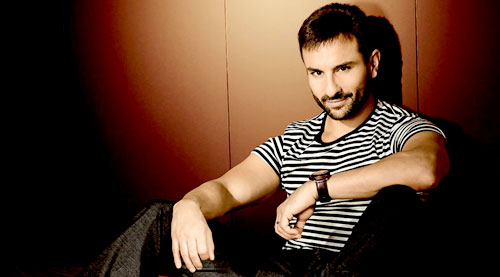 The unexpectedly dismal faring of Happy Ending has shocked Saif Ali Khan fans, many of whom had loved or liked the film. The old maxim 'Films do not

flop, budgets do,' applies even more to this smart and slick comedy, as the janata janardhan not only gave it a poor opening in footfalls but also a continued thumbs-down.

As the fourth Khan, Saif Ali Khan has always had a good standing in his own zone. But to understand why he is in this current un-'Saif' terrain, we have to look back at his 21 year career

and analyze the rise, fall, rise and a second 'fall' of the man who took to Hindi films as a profession despite spending most of his formative years in England and - still! - being

more comfortable off-screen in English than in Hindi!

Son-Rise and Son-Set

After the aborted attempt to make his debut in Rahul Rawail's Bekhudi - Rawail was the man who launched Kumar Gaurav and Sunny Deol - Saif Ali Khan appeared for the first

time with Yash Chopra's multi-star action flop Parampara (1993). In the same year, he made his first mark with Aashik Aawara as solo hero in this average grossing film.

However, some flops followed with other heroes, who were then far more saleable - Suniel Shetty (Pehchaan) and Sunny Deol (Imtihaan) before Saif got his first real taste

of acclaim as well as success - in the Yash Chopra presentation, Yeh Dillagi, and Venus' Main Khiladi Tu Anari. These twin 1994 comedies (one romantic, one action)

established the images of Saif as a suave comic. This despite Akshay Kumar being the (slightly senior and) more saleable hero on both films.

But by that time, Saif had already signed many more movies, some solo and some not, and with no one really around to guide him, a huge chunk of them turned out to be atrocious

both in quality and performance at the b-o. These included three more films (Tu Chor Main Sipahi, Arzoo, Keemat) with his 'lucky' combination with Akshay and an intense

Hameshaa with Kajol - Saif's first dual role.

It is to the eternal credit of the Pataudi heir that, when down for so long, Saif did not panic or take recourse to B-grade movies to remain in the race, like many lesser star kids did.

Neither did he branch into television or show in any fashion that he had accepted defeat.

The Viable Khan

In this long crisis where it needed a 5-year wait to get a success again, Saif stayed remarkably afloat because the industry was less mercenary then, and Saif was never a bad actor.

In 1999, his brief turn in the year's biggest hit Biwi No.1, the successful Hum Saath Saath Hain and again the soft-pedal complement that he was to angst-ridden senior

hero Ajay Devgn in Milan Luthria's Kachche Dhaage - a kind of reprise of Shashi Kapoor in many Amitabh Bachchan blockbusters - helped bring him back in the reckoning.

Creditably, no one now remembered the dozen disasters of this Khan as Destiny swept into action to make him another viable Khan.


In 2000, Saif got a surprise hit as a playboy in Kundan Shah's

delayed Preity-thon Kya Kehna. Stealing acclaim from Preity's author-backed role as the unrepentant-till-the-end rake, Saif, for the first time, was considered someone who could

be much more than the goofy comedian.

In 2001, the resurrection was complete with Dil Chahta Hai, with Saif packing a wallop in a fresh, goofier zone despite the presence of a redoubtable Aamir Khan and an intense

Akshaye Khanna. His twin projects with producer Ram Gopal Varma - Love Ke Liye Kuch Bhi Karega and that ominous character he played in Darna Mana Hai - also met

with decent success.

This, looking back, seems to be the best part of Khan's career till now, in which successes completely dominated over the (now forgotten) flops, and Saif won nominations and awards -

even the National - with seeming consummate ease and regularity in a diversity of roles like Kal Ho Naa Ho, Hum Tum, Salaam Namaste and Parineeta, some solo, some

not.

And these triumphs were studded with three stunning dark turns - the scoundrel of Ek Hasina Thi, the evil Cyrus of Being Cyrus and the vengeful and malevolent Langda

Tyagi of Omkara. Though none of these three films set the box-office afire, they highlighted the powerhouse proficiency of this Khan. Here, these movies demonstrated, was a

versatile actor, not just a star, and Eklavya won him acclaim and Race, more attention because he shouldered these multi-hero scripts with great panache.

With success on his own steam, Saif Ali Khan, the eternal Englishman actor - a la his predecessor in that zone and mom Sharmila Tagore's most frequent co-star Shashi Kapoor - now

dared to chart newer terrain with praiseworthy persistence, just as he had done with his three dark roles.

He provided the voiceover for the Walt Disney-Yash Raj co-production Roadside Romeo's title character, played a terrorist in Kurbaan, and then with good friend Dinesh

Vijan, he entered production with the rather unusual blend of fresh-and-trite Love Aaj Kal and met with success as well.

The Present Crisis

From 2010, the actor went somehow into unSaif (pun intended) zones, signing films he should not have, and making films whose budgets should have been proportionate to their

earning potential. It is crisis time again for Saif because of these errors of perception or judgment.

Yes, there have been two exceptions: the first being the moderate faring of his zany home production Cocktail, though it was Deepika Padukone who stole the show. Here was

where Saif individually failed to make a mark - as he was the predictable Mr Gentleman Goofy all over again.

The only other film in the hit league was the sequel to his 2008 hit Race, Race 2, in which he did essay the central role. But with strong music, a scene-stealing Deepika again, the

force of Tips as brilliant market-savvy producers, and Abbas-Mustan's deft control on direction and script, it could in no way be called a true-blue Saif Ali Khan hit.

And now let us evaluate his wrong moves, as they turned out, because of various reasons. The Ajay Devgn reject Aarakshan was a poor choice, complete with a badly written

role, and Saif should not have touched the film with the proverbial bargepole. Humshakals was also outside his comfort zone, and he should have resisted the temptation to

modify his natural flair for subtle comedy and try out such buffoonery.


This Khan also should not have succumbed to the lure of being

another on-screen Salman Khan (at which so many stars had already tried and failed miserably!) in Tigmanshu Dhulia's Bullett Raja, the zillionth proof that 'different' filmmakers

just cannot make good or successful mainstream entertainers, an art that demands far higher skills than being merely good realistic filmmakers.

Saif again entrusted his mainstream Bond-like caper Agent Vinod to another "different" and realistic cinema maker like Sriram Raghavan - with disastrous results. And his

judgement seemed to be clouded also by his natural desire to try out new zones in the economically wrong way.

Recently, Govinda termed him as "A very generous producer, which is good for all of us, but bad for him!" Which was a perfect assessment, for his partner Dinesh and Saif allotted the

wrong kind of budget to their cult and wonderful experiment, Go Goa Gone (Saif has declared that the film made money because he did not pay himself as an actor, but

footfalls-wise, the film flopped). This is where he should have understood the economics even if the film had to be made!

And instead of learning these right lessons, the two partners again invested much more in the same filmmakers Raj and DK in Happy Ending, making it on a scale and in a

location (USA et al) that should have not even been attempted for this story.

More, Saif has himself stated that if he did the same kind of work that the audience likes him in, they would get bored, and this time, his judgement was spot on!

The Deviance Factor

One more vital point: Saif should now junk his tendency (an ailment that now affects a good chunk of the industry now, including top stars like Shah Rukh Khan and Akshay Kumar) to

target a miniscule and fickle segments of the audiences with outrageous "sophistication" and trendy stuff like expletives, double entendre that the family audience hates, and similar

"modern" examples of the perceived but false future of Hindi cinema.

Such deviant aspects may make a star and his product a favourite on social networks and (maybe) score in film reviews but have zero connect with ground realities, with India being a

nation of varied but demanding audiences of all ages and levels. This can severe the fragile bond a star who has survived for so long has with his audience. When did continued

freshness and true evolution mean distancing the majority of the audience?

For the main reason for the non-performance of Happy Ending is not the budget but also this alienating of Indian audiences with what is perceived as international level

smartness. India is a unique market where stars are kings with a "Conditions Apply" tag. Saif's current assignments - Sujoy Ghosh's next and Reema Kagti's next - we hope, are in a more

mainstream space whatever their basic genre and correct the slide of a Nawab who deserves more.
BOLLYWOOD NEWS
Catch us for latest Bollywood News, New Bollywood Movies update, Box office collection, New Movies Release , Bollywood News Hindi, Entertainment News, Bollywood News Today & upcoming movies 2020 and stay updated with latest hindi movies only on Bollywood Hungama.