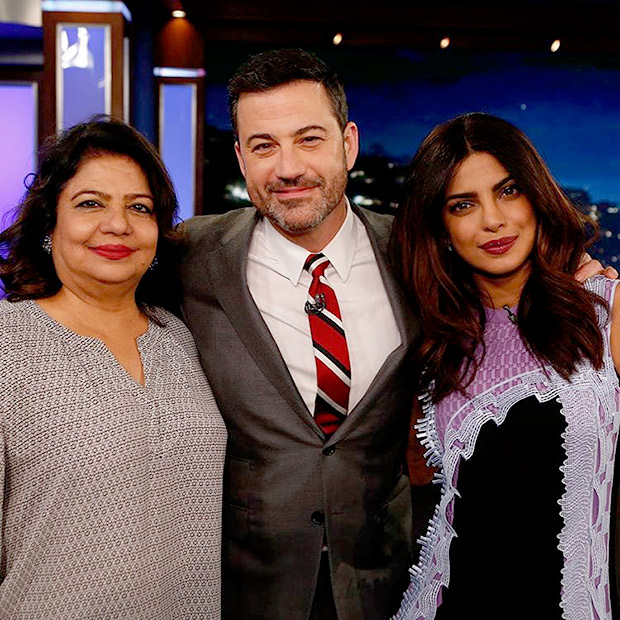 Priyanka Chopra sure is a workaholic. Just a week ago, the actress was rushed to the emergency room after an on-set accident. After suffering a concussion, Priyanka Chopra resumed work just three days after bed rest and headed to Los Angeles to win the Favourite Dramatic TV Actress for Quantico over American actresses Ellen Pompeo, Kerry Washington, Taraji P. Henson and Viola Davis at the People's Choice Awards 2017.
Priyanka Chopra later headed to Jimmy Kimmel Live to promote her show which returns after winter break. Priyanka was at her witty best while answering some interesting questions asked by host Jimmy Kimmel. As she had just won her second People's Choice award, Jimmy congratulated her and asked, "Do you know you are gonna win before you go the People's Choice Awards? Because it seems like people who will lose are never there are and people who'll are always there."
Priyanka Chopra tackled the question with her wit, of course and responded, "No, but you have an inclination because people are like 'Yeah, there are so many people and there are three people who are running forward. I am glad I was there these two years in a row." Jimmy, like always, had a comeback and says, "It seems like you are dodging the question. So, we will just nod and we'll say its show business."
While talking about the concussion Priyanka had on the sets of Quantico, she mentions that when she was taken to ER, the whole felt like an episode of Grey's Anatomy. Once she was back home, her housekeeper had to wake her up every hour as one should be sleep after a concussion. Then, he moves onto Priyanka's mother Madhu Chopra who had flown to LA after the accident. Jimmy cleverly asked her, "Did you know beforehand that Priyanka will be winning the PCAs?" While her mother said no, Priyanka responded, "Listen, she is been in show business for 15 years with me. She knows how it works."
Jimmy Kimmel seemed quite surprised hearing about Priyanka being ion more than 50 movies in Bollywood. She could not stop praising her for always smelling good.
Priyanka Chopra will be back on the TV screens as Quantico returns on January 24 in India after the winter break. Besides this, she will also be making her Hollywood film debut with Baywatch alongside Dwayne Johnson and Zac Efron which releases in May 2017.