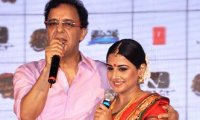 Vidya Balan's rather efforts at performing the traditional lavni has left some of the actress' fans cold. But that's another kahaani. Vidhu Vinod Chopra is miffed when Vidya Balan's much talked-of lavni number in Ferrari Ki Sawaari is referred to as an item song. "There was a situation for a lavni number. We got lavni dancers from Kolhapur. Vidya expressed a keen desire to do the number. She has been a part of our creative team since Parineeta. That's how she became part of Ferrari Ki Sawaari. If people choose to see it as an item song, then that's just a perception."


About the third part of the Munnabhai series, producer Vidhu Vinod Chopra says, "We've been writing Munnabhai 3 for the last four years. Even if we put out garbage it would sell, but no. We will make Munnabhai 3 only when we're convinced and only with the same actors (Sanjay Dutt, Arshad Warsi). Now we've almost locked in the script."


The Big B loved Ferrari Ki Sawaari. So did Vinod Chopra's ten-year old daughter. "She's a writer and a thinker and she told me the film wouldn't have worked with big-names. I'm more convinced than ever that Sharman Joshi is the right choice for Ferrari Ki Sawaari."


We see a lot of Vittorio de Sica's The Bicycle Thief in Ferrari Ki Sawaari.


Vinod admits, "There's de Sica. But his cinema was darker. There's Robert Benigni in Ferrari…and the feel good films of Raju Hirani. Whatever I make whether it's Parinda, Parineeta or Ferrari Ki Sawaari, the audience must be entertained. Ingmar Bergman has said that the primary commandment of cinema is entertainment and entertainment without selling our soul. We in our production house follow Ingmar Bergman's policy. Abhijat Joshi has Bergman's commandment written on his table."


Watch Promo: Mala Jau De (Ferrari Ki Sawaari)