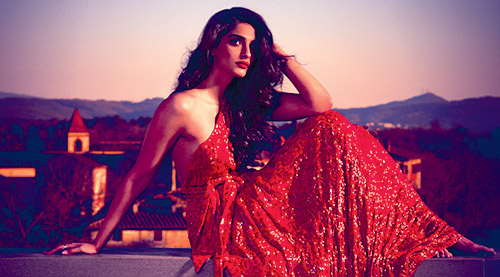 She is young and raring to go. She is Bollywood's 'Miss Fashion Perfect' and she was a part of the last year's mega blockbuster Prem Ratan Dhan Payo. No prizes for
guessing who we are talking about. It is none other than the simply stunning Sonam Kapoor, who is all set to take the silver screen by storm with her performance in this week's release
Neerja.


Satish Sundaresan of Bollywood Hungama met up with Sonam Kapoor for an exclusive interview. Here are the excerpts:


Sonam, to begin with, the year 2015 clearly belonged to you with Prem Ratan Dhan Payo (PRDP). Do you feel that the magic will be repeated in 2016 as well with Neerja?


I don't have those kinds of expectations when I sign a film. Basically, I sign one film a year. If I really wanted a year to 'belong to me', then, I don't think that I will be doing one film a
year. When I choose to sign a film, I think from the perspective of what is it that I can bring to the table as an artist, irrespective of how the film is going to fare at the box-office and the
number of awards that it is going to collect.


What was your first reaction when you heard the script of Neerja?

My first reaction to the script was totally unlike 'Wow! What a cool script' and 'What a creatively satisfying role that I will get to play', and such similar thoughts and feelings. Rather, my
first reaction was that I cannot believe that an ordinary girl like Neerja Bhanot did something so extraordinary. Moreover, I just could not believe that people did not know the story. The second
reason was that the film was being directed by the ace Ram Madhavani. My instant reaction was like 'The whole industry wants to make a film with him and he wants to make a film with me!' (smiles).
Thirdly, the film's script is simply outstanding and extremely realistic.


What kind of homework did you do for the role?

I had to do a lot of homework as this was the first time I am playing a real life character. And since Neerja Bhanot was not alive, I did not have any references. I, then, spoke to her family and
friends to know more about her. I also saw her ads as she was a part time model as well. Besides all this, I got properly trained to be an air hostess. Since we had to recreate the whole incident,
we paid heed to every minute detail, so much so that by the end of it, the whole thing looked so very real. Post the shoot, I felt so emptied emotionally because while Neerja didn't get to get out
of the flight, I did (a bit sad).


What was Neerja's parents' reaction when they came to know that you were playing their daughter's role?

Since Neerja's father had passed away, I had the opportunity to meet only her mother: Rama aunty. When she saw me for the first time, she immediately said, "Yeh toh meri laaado hai". Rama
aunty said that there's lot of me that reminded her about Neerja, which, according to me, is a huge compliment for me. Unfortunately, Rama aunty also passed away a few days back.


The extremely charming and delightful musician Shekar Ravjiani plays your love interest in the film. How was he to work with?

For that role, we needed somebody who was very sensitive and a little artistic. Shekar, besides being all that is also armed with a lot of goodness and positivity on his face. He suited the role
perfectly.


What role does music play in the film?

While the background score is simply incredible, the other songs in the film are outstanding.


Do you feel that you and Neerja are similar in any way/s?

All that I can say is that I can only aspire to be like Neerja. If I were to say that Neerja and I are alike each other, it will be a disservice to her. Neerja was just too good. The qualities that
Neerja had is something that all of us should aspire to have.


If you were to describe the film in one sentence, what will it be?

"Fear gave her courage"


Did you take any 'memorabilia' with you as a memory of the film?

I did not take anything back from the film except for memories. The most amazing feeling was when I was doing the shoot for the poster in the uniform. I felt like a solider going to a battlefield.
While the real Neerja was fondly referred to as 'Laado' in her family, how are you fondly called?

Sona or Seenia (smiles).


Sonam, there are lot many rumors floating about you. Can you please clarify them with the right facts?

That your first ever job was that of a waitress in order to earn your pocket money?

True (smiles)


That it took Sanjay Leela Bhansali a year and a half to convince you to make your Bollywood debut?

2 years (smiles again)


That you are a trained classical dancer?

True.


You are a self-confessed foodie.

True (laughs)


That for all your luxurious designer attire, you pay the bill yourself and not take money from your father.

Very true (smiles). I have never taken anything from my dad


That you hate reality shows.

Yes


That you simply love Nancy Drew and Enid Blyton.

Of course. I loved them a lot during my childhood.


Lastly, after Neerja, what next?

Although I cannot talk about it, all that I can say is that there are two films with my sister.
BOLLYWOOD NEWS
Catch us for latest Bollywood News, New Bollywood Movies update, Box office collection, New Movies Release , Bollywood News Hindi, Entertainment News, Bollywood News Today & upcoming movies 2020 and stay updated with latest hindi movies only on Bollywood Hungama.