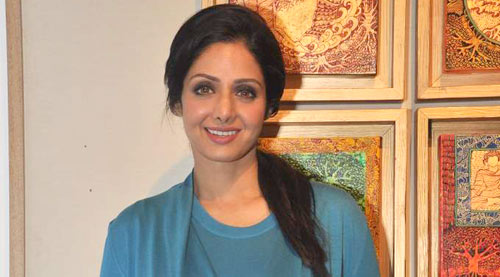 No Bollywood journalist's bio-data looks complete without an interview with the living legend Sridevi. Despite all these years of experience behind her, even today, Sridevi looks as ageless as it can be. Even though she had gracefully quit acting in films while she was at the peak of her career, the film makers and her zillion fans just cannot have enough of her. The resultant? After English Vinglish in 2012, she will be seen in the upcoming Tamil film Puli, which has been dubbed in many other languages. Insiders say that Puli is one film that will blow your mind away. With the presence of the iconic Sridevi, we really do not want to doubt that 'prediction'.

The diva named Sridevi gets candid for an exclusive chat with Satish Sundareshan of Bollywood Hungama.

"The new generation is unbelievably talented" – Sridevi

Sridevi madam...to start with, in a nutshell, what is the film Puli all about?
It is a film that caters to each and every single member of the family, including the children. It's an out and out commercial entertainer.

What is the story/plot of the film?
I cannot tell you anything about the film's plot. All that I can tell is that one has to watch the film in order to find out. The film's makers are not too much keen on speaking much about the film or my character in the film. All will be known (read 'revealed') when you see the film (smiles in her infectious trademark style).



What is your role in the film?
I am playing a queen named Yamuna Rani.

There are reports that Puli has more VFX and graphics than Bahubali. Is that true?
I won't be able to answer this question because I haven't seen Bahubali. During the film's release, I was in the USA and I really missed out seeing the film. But, I have heard a lot about Bahubali. In the same breath, let me also add that it is not right to compare Puli with Bahubali, because, I think Puli is more commercial (than Bahubali). And as far as the graphics of both the films are concerned, I am the wrong person to comment on that because I haven't seen Bahubali.

Puli has been directed by Chimbu Deven, who has earlier directed a handful of Tamil films. Have you seen his earlier films? Which one of them is your favorite film?
Frankly, I have not seen any one of his films. I have heard from others that all his movies have done really well at the box-office.

Even though you haven't seen any of Chimbu Deven's earlier films, you still agreed to do Puli?
I loved the way and the enthusiasm with which he narrated the film's script to me. He was very clear about the film's storyboard and all the characters of the film. All of this attracted me to do the film.

Speaking about Chimbu Deven, his film Imsai Arasan 23m Pulikesi had won the 'Best Costume Award'. Do you feel that Puli will also bag such awards, as it is a costume drama too?
I will not be surprised if Puli bags all the awards, because the costumes in the film are really very unbelievable. I really liked the villain's look especially.

There were reports that you are playing the villain in the film.
(Pauses for a while and smiles). Why don't you watch the film and figure it out for yourself! (Smiles again).



Were there any difficult scenes to perform in Puli?
There were no scenes in the film that I found difficult to do. The only thing I found to be difficult was carrying my heavy costume from the vanity van to the sets. We needed three people to carry the costume!

Your costumes in Puli are definitely the talk of the town. Can you share some details about the same?
My entire costumes in the film have been designed by Manisha Malhotra. He has used real jewellery for getting the desired effect and has not used any kind of artificial or plastic jewelry.

Did you give any inputs to Manish Malhotra while he was designing your costumes?
I did not have to give any inputs to Manish Malhotra because he is such a veteran in the field of costume designing. I just hope that the audiences also love seeing the costumes as much as we loved designing it.

Right from the promos to your look in the film, everything about the film looks so grand. What about the film's music? Do you have any personal favourite song from the film?
The music of the film is by Devi Sri Prasad. And as far as my favourite song in the film is concerned, I love the song that features Vijay, Hansika Motwani and me in it. The music of the said track is very powerful.



Is it true that Puli's hero Vijay plays three different characters in the film: a normal guy, a warrior in ancient costumes and a dwarf with long hair?
No way... not at all...

I asked you this question because there were news reports floating around for quite some time now...
Let it float naa... (laughs). If you see the film, you will get answers to all your questions.

Besides you and the film's hero Vijay, Puli also stars Hansika Motwani and Shruti Haasan. How are they related to the film?
You have to see the film for that. I do not want to reveal everything about the film. All that I can say is that all of them have done total justice to their respective roles. It was really great working with all of them.

The renowned stunt master Super Subbarayan has devised some of the amazing stunts in Puli. Will we get to see you doing any of the stunts in the film?
(Laughs) Satish… Main abhi hi sab kuch bata doongi, toh aap movie mein kya dekhogey (Satish... if I tell you everything here only, then, what will you see in the film!).

But still, will we get to see you doing some stunts at least?
I have tried to do 'something' in the film. If you call it as 'stunts', that will be good enough for me.

How many languages is Puli releasing in?
It is releasing in Tamil, Hindi, Kannada, Telugu and Malayalam.

Have you dubbed for all the versions of the film?
Yes. I have dubbed for all the languages in Puli.

Do you feel that Puli will elevate Tamil industry to an all-time new high?
It is in the hands of the audience to decide that.



Looking back, from your debut (Tamil) film Thunaivan, to Puli, if you were to sum up your career in one sentence, what will it be?
Frankly, I had never really planned my career to be an actress. So, I would like to call it as a 'Dream which I am living till now'.

During the time when you were ruling Bollywood, Hollywood was such a distant dream. Today, actresses like Priyanka Chopra have become names to reckon with even in the west. What do you have to say about that?
It is really fantastic and something to be really proud of. I am sure that this is just the beginning. There are many more things to come.

At this juncture of your life and career, if you were offered a Hollywood film, will you say yes to it?
It all depends upon the kind of character that I will be playing in the film. It is not important to do a 'Hollywood' film. As an actor, what is important to me is my role in the film and what difference can I make in the film.

In what way, do you feel that today's films have evolved from the earlier times?
Everything has improved a lot technically. The graphics that we use now are way ahead of what we were using then.

You have even tweeted the first look of Puli. How socially active are you?
To be honest, one has to definitely become socially active esp. when your movie is releasing. These days, promoting the film has become more than acting in the film. One has to talk about the film because it is your film after all. At the same time, I do not try to be in the media (read 'social media') when I am not doing anything.

What are the social media platforms you are active on?
I am active on Twitter and Instagram.



Who, according to you will be the next 'Queen Bee' in Bollywood, a position that you held during your time?
The younger generation's actors are unbelievably talented. If you see Deepika Padukone in Chennai Express, she was fabulous in the film. Then, there's Kangna Ranaut, who has done films like Tanu Weds Manu and Queen. The kind of growth that she has shown in every film is simply amazing and unbelievable. Besides her, there are other extremely talented actresses like Alia Bhatt, Anushka Sharma, Shraddha Kapoor and the rest of the gang who simply amaze me with their performances in every film of theirs. Everyone is special in their own way. So, it is not possible to pick up and name any one single actress.

Is it true that you were named as 'Shree Amma Yanger Ayyapan' when you were born, which was later changed to Sridevi?
I was surprised myself when I also heard that name. Once, my husband looked at me and asked me, "Is Shree Amma Yanger Ayyapan your original name?". We all had a hearty laugh after that. None of us have any clue about the 'origin' of that name. Right from my birth, I remember my parents calling me as 'Sridevi' (laughs heartily).

Looking back in time, there were news then stating that you were the first choice for Indra Kumar's Beta, Steven Spielberg's Jurassic Park and Abbas Mustan's Baazigar in which you apparently had a double role? Are all these news true or mere rumors?
Sach hai ya jhoot hai.... I believe in one thing... Picture release ho gaya… khatam ho gaya. I do not wish to talk about all this now. All that matters is that the films did well at the box-office. Bas....

On a parting note, is there anything else that you want to add about Puli?
It was great working in the film. I really enjoyed a lot working in Puli. I only hope and pray that the audience should also enjoy watching the film.
BOLLYWOOD NEWS - LIVE UPDATES
Catch us for latest Bollywood News, New Bollywood Movies update, Box office collection, New Movies Release , Bollywood News Hindi, Entertainment News, Bollywood Live News Today & upcoming movies 2022 and stay updated with latest hindi movies only on Bollywood Hungama.