It's been a long and eventful technological journey for Hindi cinema over the decades, though not all technology-driven changes or (r)evolutions have been welcomed, at least initially, with open arms. Proof of this lies in the fact that when Alam Ara, India's first talkie (in Hindi) was released by Ardeshir Irani in 1931, we still continued to make silent films until 1934.
And why was that? Simply because the theatrical style of delivering then spoken lines was found boring after the rapid action found in silent movies! From 7 songs in Alam Ara, we needed to go as high as 71 of them in Indrasabha (1932) and have similar numbers (often more than 20 or 30!) of songs before talkies began to be accepted! Generally speaking, the higher the number of songs, thegraeter was the business!
The use of 3-D with Sanjay Leela Bhasali's Padmavati (an action and dance spectacle) may mean a new life for this format that has reached the skies in Hollywood but has rarely been used judiciously over here. 3D was first used in the 1984 Malayalam film My Dear Kuttichattan that was a roaring hit. It was then dubbed as Chhota Chetan in Hindi and was also a big hit, so much so that they added a few scenes with Urmila Matondkar (then hot at the b-o.) and some well-known artistes like Shakti Kapoor, a couple of tracks by Anu Malik, and released it in 1998 again to tepid success.
In purely Hindi cinema, there was a long gap after Raj Sippy's Shiva Ka Insaaf (the first Hindi 3D film that bombed in terms of budget) and the South film Mahashaktimaan (a complete flop), both released in 1985. Vikram Bhatt's Haunted 3-D (2011) was the first film actually shot in 3D, and did average business. Bhatt's Raaz 3 (2012) and Remo D'Souza's musical dance franchises ABCD and ABCD 2 were the only 3D hits until now. Even Sholay converted into 3-D in 2014 did not interest today's  audiences!
Let us also look now at other technological leaps
The first film for which a music record was issued was Imperial Film Company's Madhuri (1932) with music by Pransukh M. Nayak. Thanks to technological limitations, not all the songs in that pre-playback era were available on the record!
In 1932 itself, the first bi-lingual was also made by Prabhat Film Company as Ayodhye Cha Raja (Marathi) and Ayodhya Ka Raja (Hindi). This too was a tough feat in those days.
Prabhat Film Company's Amrit Manthan (1934) was the first Hindi film known with background music, in which classical-based composer Keshavrao Bhole composed some interesting BGM for those days. On the other hand, J.B.H. Wadia's Naujawan in 1937 became the first 'song-less' talkie.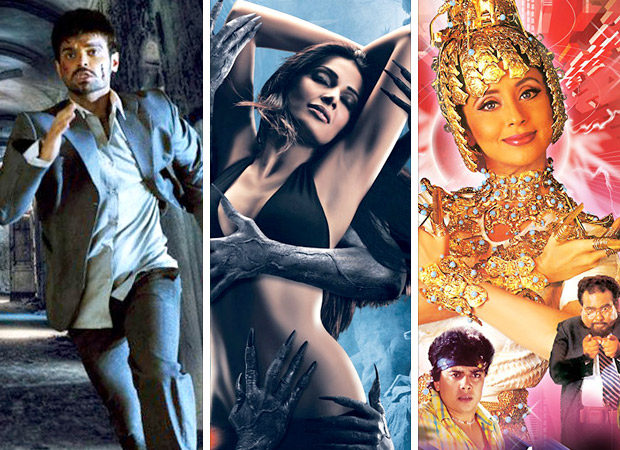 Ardeshir Irani, producer of Alam Ara, also conceived the idea of producing a colour film. Kisan Kanya (1937) made with the Cinecolor process whose rights he obtained from the proprietary American company, was thus the first such film made indigenously.  The film was produced by Imperial Film Company and directed by Moti B. Gidwani.
Although limited in tone, Cinecolor had advantages over Technicolor as the color rushes were available within 24 hours, the process cost only 25 percent more than black-and-white photography and the film could be used in modified black-and-white cameras, unlike with Technicolor.
However, Prabhat's breakaway partner, filmmaker V. Shantaram, had earlier produced a Marathi film, Sairandhri (1933) which had scenes in color, but the film had been processed in Germany.
Ultimately, however, it was Technicolor that triumphed globally, and also in Hindi cinema with Mehboob Khan's Aan (1952). Naushad also used of a 100-piece orchestra for the first time in this film, and the music was mixed and mastered in London. In Hindi films subsequently, Kodak's Eastmancolor came to rule.
S.K. Ojha's Naaz (1954) starring Ashok Kumar and Nalini Jaywant, was the first film to have shots of London and Cairo-but the stars never went there. It was Raj Kapoor's Sangam (1964) that paved the way for stars shooting there, filming exotic songs and also scenes in various countries abroad.
This led the way for several films to be shot abroad, including the super-hit Ankhen (1968), the successes Love In Tokyo and An Evening In Paris and some flops. Among the flops was the Raj Kapoor movie Around The World, which was the first film in 70mm.
However, budgets went through the roof for films shot abroad, and so many such films became either mediocre successes (like Ramanand Sagar's Charas) or flops (like Barood). The film after which shooting abroad actually picked up slowly was Yash Chopra's Chandni (1989), the trend peaking after his Dilwale Dulhania Le Jayenge (1995).
Coming to 70 mm, Around The World was shot with a 7 centimeter-wide (70 mm) film in Technicolor, and when such a film was shown in 35 mm normal theatres, thanks to the ratio of 1:2.20 ratio, the sides of the images would get cut. However, very limited 70 mm prints were made, and in Mumbai, they were shuttled back and forth in cars between the only two cinema halls that deigned to screen Hindi films and had the equipment to screen 70mm films!
Around The World was also shot in six-track magnetic Stereophonic Sound. But until the 1975 Sholay, the 70 mm format with Stereophonic Sound never became popular. After 1975, multiple films were announced in that format but never made, again for budgetary reasons, as they would need a huge assembly of stars to pull in sufficient audiences to recover investment. Incidentally, Sholay too saw prints shuttling between movie-halls in Mumbai and Delhi!
BOLLYWOOD NEWS
Catch us for latest Bollywood News, New Bollywood Movies update, Box office collection, New Movies Release , Bollywood News Hindi, Entertainment News, Bollywood News Today & upcoming movies 2020 and stay updated with latest hindi movies only on Bollywood Hungama.