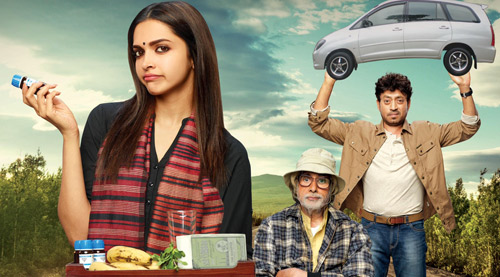 Could this really be happening? The opening credits feature the long-forgotten sound of the Sarod and Sitar mingling into an excursion into a state of enraptured ecstasy which you thought was dead with Hrishikesh Mukherjee.


Pinch me, slap me! Is this really the film that it purports to be? A simple elegant elegiac tale of a hypochondriac over-possessive father and his harassed embittered daughter. Nah! Who makes films about elementary relationships anymore? Who, except a filmmaker who isn't afraid to let his characters discuss bowel movements as though it was the most exciting things to mull over in life.


In Piku Shoojit (Vicky Donor, Madras Cafe) Sircar brings back a quality in our mainstream cinema that seemed to have gone with the whim.


Gentleness.


There is an innately gentle quality to the storytelling in Piku, like a breeze on a humid summer night that blows through your hair while you are sleeping on the rooftop counting the stars.


Speaking of the stars, Shoojit is exceptionally blessed to get the kind of immaculate cast that most directors only dream about. More about that later. Suffice to say at this point that Piku works, as every actor big or small is inured to the director's vision of a world where domesticity is a domain that drives human life forward.


And drive is what Irrfan does with such casual elan that you forget he is in it as a reluctant outsider. By creating a character who can look at the blunt selfishness of a father who won't let his daughter have a life of her own, the script expands the domestic vista without scattering its precious and fragile mundaneness.


Piku is a film with an exceptionally keen ear and eye. Shoojit, with the help of his writer (Juhi Chaturvedi) and a cinematographer (Kamljeet Negi) travels from Delhi to Kolkata (by car, if you please!) without the touristic curiosity of Imtiaz Ali's cinema. There is a charming inevitability to the shifting locations as the car driven by Mr Desi trots across multi-lane highways with a silent and efficient inevitability.


No fuss, no frills, Piku's lyricism flows out without pause for effect. Dinner table conversations in Delhi and Kolkata capture different sounds of the crockery. How does the sound designer do this? And where on earth did composer-singer Anupam Roy find the creative strength to bring back such a homespun sound of music that he injects into the souls of his characters?


I have to confess that at one point in the narration I thought the sheer weightlessness of the drama would overpower the narrative. A miracle happens to the characters' lives every time they threaten to crumble under the burden of their ordinariness. They renew themselves through a karmic cycle which the film's narrative holds close to its chest.



Piku is an exceptionally intimate character study. The three principal characters bare their frailties on camera as though they were part of a reality show that had no cameras. The emotions are raw and unabashed. The three principal actors sink into their roles like monks bathing in the holiest water on this side of the Ganga.


Mr. Bachchan's eccentric Bangla gentleman's patriarchal car-wreck of a character who won't let his daughter breathe or breed could have easily become a caricature. With extraordinary fluency and vigour Mr. Bachchan turns his selfish patriarchal role into an occasion to explore the 'route' cause of the craggy journey parents take when they become over-dependent on their children.


Deepika's Piku is filled with an implosive anguish that blurts itself out unannounced when we least expect it. Even when she isn't doing anything on screen, she makes you look at her. Deepika gets better with every role. Here she imbues her embittered standoffish character with a sense of pride and dignity that no domestic strain-not even a father who obsesses over his bowel movements-- can snatch away .


But I'd say it's Irrfan playing the father-daughter's reluctant driver who has the toughest role. Into the story of domestic disharmony he brings a detached bemusement that somehow makes life seem tolerable even beautiful.


In many ways what Irrfan does to the script is what Shoojit's film attempts to do to the identity of mainstream Hindi cinema. Balancing on the edge of quirkiness, smothered by the sheer ennui of everyday existence, the characters somehow create a spatial harmony for their dreadfully unexciting lives.


This is a world so comfortingly familiar and yet so fresh and vigorous you would want to take it home with you. Piku is as emotionally rich and satisfying as any movie experience can get. Shoojit Sircar again confirms his place among the most invigorating filmmakers we have today. His appetite for nuances is admirable. To cite an example, the way Mr. Bachchan's faithful man-Friday sits awkwardly in the car next him is a posture derived straight from a middleclass household.


The actor Balendra who plays the man-Friday or Moushumi Chatterjee who plays Mr. Bachchan's firebrand (married-thrice-wouldn't-mind-fourth) sister-in-law seems to know he or she is part of a journey whose end is known and yet not the least robbed of excitement by the knowledge of mortality.


Come; embrace the quaint disarming world of Piku and her over-demanding father. If you miss this one you miss a glimpse into lives that live their span without aiming for glory.


That's what makes them so glorious.
BOLLYWOOD NEWS
Catch us for latest Bollywood News, New Bollywood Movies update, Box office collection, New Movies Release , Bollywood News Hindi, Entertainment News, Bollywood News Today & upcoming movies 2020 and stay updated with latest hindi movies only on Bollywood Hungama.