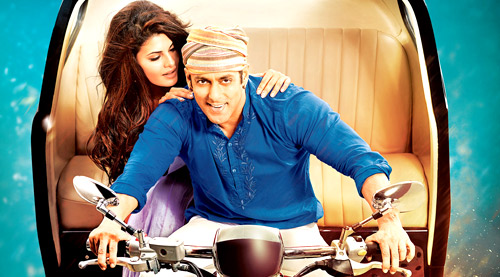 Kick toh banta hai, boss! The number of times the word 'kick' kicks into this heady cocktail of comedy and action, you'd think there's no word in the dictionary that gives our hero a greater kick than...well, kick.


So brace yourself for a hero who likes to get his kick in the unlikeliest ways; and a hero who is as unpredictable, whimsical, mischievous and intimidating as Salman Khan.


Let's pause here for a word on the phenomenon named Salman Khan. His stardom defies analysis... as much as his antics on screen. He is what he is. While writing his character in Kick, co-writers Chetan Bhagat, Rajat Aroraa and Sajid Nadiadwala had to consider Salman's fan-following every step along the way. The script is heedful of but not servile to Salman's stardom.
This time Salman comes across as a far stronger, aggressive and in-your-face character than he did in his recent films like Bodyguard and Jai Ho. Salman sinks into the dual role of the prankster Devil and his Robin Hood doppelganger Devil with the smirky relish that only Salman knows how to muster and master. He makes the dual personality not so deep and dark as fun and enjoyable.


The super-hero's mask when it goes on is sure to bring the house down. 'Debutant' director (he handles the cast and characters and the plot like a veteran) Sajid Nadiadwala has set the core-action, a cat-and-mouse chase plan featuring the dare...um...Devil hero and a determined cop (Hooda, in command), in the striking ambience of Warsaw. It's an exhilarating set-up.


The stunts spiral splendidly into a climax .The stunts are of the kind never seen before in Hindi cinema, decidedly superior in execution to what we saw in Krissh 3and Dhoom 3. Nadiadwala spares no expenses to ensure that his super-hero flick (and in spite of all the masti and mazaaq Salman does play the masked crusader to the hilt) gets going from the first frame. The spectacle is never over-the-top.


Playing the karmic crusader comes easily to Salman Khan who likes to see himself being... well... human in real and on screen. Cleverly the plot weaves the superstar's real and reel persona into a precocious pastiche where you never know where the reel Salman ends and where the fictional begins. While his eyes go moist for suffering children he also becomes a child on the dance floor cavorting to the sound of Saat samundar paar from Rjiv Rai's Vishawatma - Naidiadwala's sly little homage to his deceased wife Divya Bharti on whom the song was originally filmed!


Not that Nadiadwala gives us much of an opportunity to think of anything beyond the on screen happenings. The narrative's pace never slackens. The crucial crossovers in characterization and continents are achieved without much ado. This can be a problem when we are in search of consistency in the characterization of other heroes. But not Salman! We expect him to be whimsical and mercurial. And as he jumps personalities, he lives up to his unpredictable image.
The plot is designed as a flashback conversation between Jacqueline Fernandez and Randeep Hooda who could have been strangers in a train if only they were not engaged to get married. On a journey, they both discuss the man who played havoc in their lives without knowing it's the same character.


Nadiadwala ensures there are enough tailor-made sequences to accentuate Salman's super-heroic persona. An early encounter in a crowded cafe between our hero and a group of eve-teasers is superbly comic and yet reflective of a largely dormant society that allows evil to flourish. Also deftly done is Salman's interview with his future father-in-law (Saurabh Shukla, as brilliant as ever) where audiences familiar with Salman's conduct at press meets would recognize his wry responses.


This is a film that is never short of surprises. The mixture of the real and the reel gambols through a maze of confidently executed episodes. Not all of them work, though. The drunken buddy-buddy bonding sequence between Hooda and Salman falls flat as Hooda goes progressively over the top. Hooda is otherwise very much in control over his character and plays off against Salman very effectively. Salman's scenes with his screen-father Mithun Chakraborty are a scream for all the wrong reasons, mainly because Mithun's Bengali accent comes in the way of his Punjabi character.


And that brings me to Jacqueline Fernandez who has bravely spoken her own Hindi lines. We will ignore her linguistic efforts and focus on how gorgeous she looks while dancing with and for Salman in Jumme ki raat. This film definitely marks her coming of age.


Admirably, the supporting characters are well written. But if you ask me the biggest hero besides Salman is Ayanka Bose's cinematography which makes Salman, Warsaw, Mumbai and Jacqueline look fetching without resorting to accessorized illumination. The colour tones in the frames are eye-catching without going the garish way. In his directorial debut, Sajid Nadiadwala has opted for restrain where he could have unleashed a typhoon of spectacle. The film LOOKS and feels right. Kick is super-slick but never in a show-off way. It is an out and out Salman vehicle but there is room for other interesting characters.


I came away with Nawazuddin's evil laughter ringing in my ears. Not because it's scary, but so indicative of the world of ferocious comic book battles that Salman inhabits so casually.
This Eid, go dance with the Devil.
BOLLYWOOD NEWS
Catch us for latest Bollywood News, New Bollywood Movies update, Box office collection, New Movies Release , Bollywood News Hindi, Entertainment News, Bollywood News Today & upcoming movies 2020 and stay updated with latest hindi movies only on Bollywood Hungama.