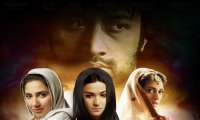 From a country where women are still regarded as second-class citizens, and from a world where filmmakers have to constantly battle the dreaded formulistic cinema, comes this devastating masterpiece on women and their questionable position in a patriarchal society such as 'ours'(India) or 'theirs' (Pakistan).


And the one doing all the questioning is Zainab played by the gloriously deglamorized Humaima Malick. Zainab's audacious challenge to her autocratic authoritarian father (Manzar Sehbai) provides the core to this compelling drama of the doomed gender. Tragically women continue to move on the back foot even in supposedly progressive circles of the third-world.


Brilliantly subtle in his persuasive powers, writer-director Shoaib Mansoor's camera often focuses on Westernized women's faces in the melee of media persons who have come to hear Zainab's story before she hangs for her father's murder. The eyebrows that are raised in protest against women's de-emancipation are duly plucked.


As voyeuristic as the cinematic experiences happens to be, we leave this long sometimes digressive film with a deep sense of guilt, regret and hurt although Shoaib ends the story on a highly optimistic with the women of the family now liberated from patriarchal tyranny, running a flourishing eating joint.


If only real life was about letting women in backward societies use their skills to be financially independent!




Bol is a film that leaves us with a lot of unanswered questions about gender bias. The basic tenet is put across in a scalding monologue where Malick's voice rises to a shattering crescendo to ask, "If killing a child is a crime why isn't bringing an unwanted child into the world a crime?"


Mercifully, Bol not a film suffused in feministic messages in a male-dominated society. Mansoor wants to tell a spanking good story. Unlike Shoaib's raw and real Khuda Ke Liye which suffered technical glitches because of fund crises, Bol is shot in delightfully real and engaging colours that never cross the borders of glamour to become offensively decked-up realism.


In some places, the women playing the sisters tend to appear on screen with a little bit too much makeup. But the tide of authenticity simply overpowers the blemishes of length and continuity leaving us with a piece of cinema that slices the heart and burns a hole in the soul.


While some sequences come across too strongly, some of the film's most compelling scenes have to do with the only non-female child that is born into the patriarchal film. The boy Saifu (Amar Kashmiri)'s gender confusion is delicately woven around the house of women as they pamper the girl-boy child into maturity. The sisters want Saifu to "be a man" in the same Utopian vein that we crave for society where gender would case to motivate the right to equality.


Also delicately-woven into the this hard hitting tale is Ayesha (Mahira Khan)'s ongoing romance with the boy next-door (played by singer Atif Aslam). However, the entire portion in the red-light area and patriarch's procreative bonding with the tawaif Meena (Iman Ali) gets long-winded and after point, irrelevant to the proceedings.




The references to Kamal Amrohi's Pakeezah and other Indian allusions tend to give the film a wider perspective than the one afforded by the immediate story of stifling house of woman in the centre of Lahore.


Every woman breathes her own suffocating air. The actresses are splendid in their unadorned beauty. The actors are in their element, though Mansar Shebai as the father opts for an over-the-top treatment of his boorish character.


Not for a minute does Shoaib Mansoor let us forget that a society based on gender discrimination is a sure road to self-destruction.


What remains beyond the theme of stubborn patriarchy are the faces of those disenchanted but undefeated girls who wait for the day when they are not brought to the world because the Holy Scriptures prevents contraception. But because they are wanted needed and cared for.


Bol is small word, but a big film with large heart. Shaoib Mansoor packs a walloping punch in this reined-in drama. Khuda ke liye, don't miss it. In an era when shirtless heroes vanquishing an army of villains are the order of cinematic entertaining it is reassuring to see a film fight the enemy within with such contoured candour and fluent grace.
BOLLYWOOD NEWS
Catch us for latest Bollywood News, New Bollywood Movies update, Box office collection, New Movies Release , Bollywood News Hindi, Entertainment News, Bollywood News Today & upcoming movies 2020 and stay updated with latest hindi movies only on Bollywood Hungama.