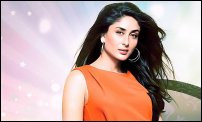 Talking to actress Kareena Kapoor is a crash course on how to live life on your own terms. As if you weren't well aware that she's dating Saif Ali Khan, still has her natural hair colour and is a proud 'Kapoor' who values rituals and
customs. Kareena Kapoor is in a mood for a little round of show and tell. She walks into this small room where I've been waiting patiently for her for three hours... but I'm not complaining. Dressed from top to toe in colourful traditionals, Bebo
looked every bit an Indian princess who doesn't have that desperate theatre-brat need to charm or wow, who doesn't try to be breezy or sexy but instead is able to just be - onscreen and off. She's clearly arguing about the fact that her last two
films with Salman were a let down because of the scripts and yet she asserts that this one (Bodyguard) will bring that lost glory back. Welcome to the beautiful world of Kareena Kapoor - an adrenalin artist and a self professed world class
lover. There is a conscientious quality to Kareena, who seems to have a healthy handle on her priorities - which may also help explain how she has managed to pull off an almost half a decade relationship with Saif Ali Khan. She has cracked the
code to having fame and a relatively normal life, till a few men walk in our room and hand her over a big fat rectangular book with exclusive stills from her recent film Bodyguard. It's called the 'Bodyguard Book' sent by her producer Atul
Agnihotri to have a sneak peek at. Knowing Bebo, she takes her time flipping and adoring the stills. I sit quietly observing her every little movement and think - at 30, she still hasn't lost anything: she is an ever-smiling, booty-shaking, leg-alicious
movie goddess but she has also gained a palpable sense of calm of consistency - consistency in her smile. Kareena's smile is the smile of a woman who unselfconsciously enjoys her life. She lives it regardless of the paparazzi, the cell-phone
snappers, the autograph seekers or me who is sitting in front of her asking the cliches. But thanks to her smile my wait was worth it! The clichés start to fade out and a fresh round of talk continues all on a grey rainy day at Mehboob Studio in
Bandra. UK's Harrow Observer columnist and Bollywood Hungama's London correspondent brings you Part One of the two part special on Kareena Kapoor's latest obsession after Jab We Met - Bodyguard, that she reckons will
even break records of 3 Idiots at the box office.


"After Jab We Met, this is one of my best roles in my career"
It's not very important to choose between a creativity and commerciality. What's important is to choose between a
good movie and a bad movie. There is a fine line between a good and a bad movie. You don't have to do an art film to perform. In that regards, Bodyguard is a very performance driven film and that's why I did it. After Jab We Met,
this is one of my best roles in my career.




"We've seen that the Indians living abroad are suckers for a good love story and Bodyguard is that story"
I was there in London
doing some interviews this month and I think this is more of an overseas film. I say this because this isn't a comedy or a thriller. This is a beautiful love story. We've seen that the Indians living abroad are suckers for a good love story and we are
giving them exactly that.


"My transformation from a naughty girl in first half to being an anchor in the second was challenging"
Bodyguard is a remake of a
Malayalam film and the director has also made the same in Tamil too. Obviously, we've tweaked it around a bit because the South palette is very different from that of the Bollywood. My director Siddique was very much aware of that. I've seen the
Malayalam version and I am proud that my role wasn't changed. It bears a lot of similarity with the roles in other versions but I definitely played it my style. I've done it the way I'd like to do it and how my fans would like to see me - like more
naughty and mischievous in the first half and in the second half it transforms into how she is the emotional anchor of the movie.


"When I'm waxed at Tussauds, my Bodyguard's already there who's waxed"
When I'm waxed at Tussauds, my Bodyguard's already there who's waxed. But yes, the whole feeling still hasn't sunk in. There is a
new Madame Tussauds that's going to open in Blackpool and they are going to tour an exhibition of all their statues to six different cities from Australia to Berlin to Hong Kong to Singapore and finally come to London. I'm honoured.


"The twists and turns in the second half will leave you shocked"
The story of Bodyguard is about this girl who falls in love with the bodyguard. The twists and turns in the second half will
leave you shocked. Salman Khan hasn't done a love story since quite some time now. All we've seen him doing is comedy and action. So this is a good departure for him. There is action and comedy in this because we do have to compensate
his fans too (laughs).



"In my earlier films, the scripts have let both me and Salman down"
In our earlier movies we did together like Kyunki and Main Aur Mrs Khanna, the scripts let us down big time.
That's why the chemistry wasn't working. An actor cannot save a bad film. People are really awaiting our togetherness in Bodyguard.


"It's strange but the truth that my fans like to see me in a traditional avatar"
My fans react very strongly when it's the traditional desi avatar, overseas or India. They like to see me in a particular way and I
think that's why we stuck to such costumes. Jab We Met was more whites and simple in colours but Bodyguard has a bit of fashion statement. There is this passionate and a glamorous song that I've done in a black saree that
I've done after a long time. The last time I wore a saree in a song was from 3 Idiots.


"Salman Khan has this amazing quality about him that makes him really heroic"
Salman Khan comes across as a laid back, naughty, bratty, brash, etc. But what people don't know about Salman is that he is a very intelligent
guy. Some of the things he tells me are very hard hitting. There are things that he tells me about life that are just amazing. He spreads positivity wherever he goes and he brings that vibe too that he spreads across. He has this amazing quality
that makes him really 'heroic'. He is a religion in himself. The kind of fan following he has is hysterical. He is blessed to have this kind of loyalty and it rarely happens.


"I'm competing with my own self and I hope Bodyguard breaks all records of 3 Idiots"
As far as box office collections are concerned, people should know that I am competing with my own movie 3 Idiots. It's my
highest grossing film till date and I hope Bodyguard breaks that collection. Bodyguard should break all records and it's good for our industry too. We are in need for some good grossing films. 2011 so far is the best year we've had
at the box office.


Part 2 of the interview with Kareena Kapoor coming soon. Watch this space!
BOLLYWOOD NEWS
Catch us for latest Bollywood News, New Bollywood Movies update, Box office collection, New Movies Release, Bollywood News Hindi, Entertainment News, Bollywood News Today & upcoming movies 2021 and stay updated with latest hindi movies only on Bollywood Hungama.