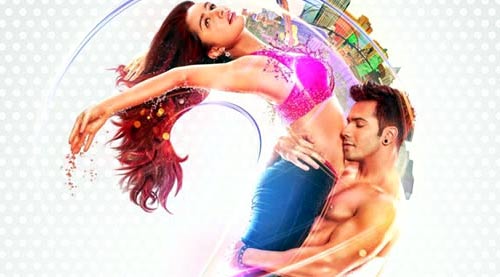 This, you've got to see! It is one of those life-defining moments in our cinema when that dancing deva Prabhu gets on his drunken feet in a pub to do what he does best.


Dance! Boy oh boy! Does Prabhu dance!!! It is nice to see other accomplished dancers including the film's official leading man the understated and effective Varun Dhawan gawk and cheer as the man who could give MJ a run for his moonwalk, takes to the floor.


No where does Varun try to upstage the other chorus dancers.


This is what Farah Khan's Happy New Year could not be: a bonafide dance film about the team spirit celebrated through a spellbinding fusion of compelling choreography and committed storytelling. Sure, the drama is secondary. But tell me honestly, do you really want to watch a Prabhu - Remo - Varun film for anything but the dancing?


Thrown into the gorgeous grooves where the earth, wind and fire moves in sync with the dancers' skilled moves, are the two lovely hip-hoppers Shraddha and Lauren who do a rather cute version of Yash Chopra's Dil Toh Pagal Hai. Remember Karishma Kapoor breaking a leg just before a big dance event with Shah Rukh Khan? Here it is Shraddha who injures her leg while Lauren steps in, Madhuri Dixit's style. And for the record, the basic plotline of a bunch of losers on a redemptive dance trek is enormously echoic of Farah Khan's Happy New Year.


Great choreographers think alike?


But don't fret over the replication. ABCD2 never allows us to feel the weight of derivation and inspiration. It glides through its 2.5 hours of playing-time with fluency, grace and virility leaving little room to quibble over the dos and don'ts of déjà vu. It's all done up in gorgeous colours of life's most cherished rhythms taking us from Maa to Bharat Ma from the chawls of Mumbai to the swanky clubs of Las Vegas, leaving us bewildered, breathless and satiated at the end.


The actors including Varun Dhawan and Shraddha are natural-born dancers. They imbue an intuitive rhythm to the narration, ensuring that the rough awkward edges get swept under the wow-to-wow carpet of song and dance, and then some more dance. The frenetic climactic ode to Bharat Mata, with the Indian flag occupying a pride of 'pace', is a choreographic marvel.





The film owes its resplendent aura to the way the characters move to the rhythm of life. Dance here is not just a way of life. It's a life-long commitment to excellence. Remo's film captures the passion, sweat, tears and yes some blood too, that goes into making dance reality shows a reality.


To their credit neither Varun nor Shraddha Kapoor attempt to seem larger than the script. Apart from an ill-placed romantic duet shot scenically in the Colorado mountains, their liaison is never accentuated. What we get are acres of competitive acrimony, the heartache of winning and losing in full camera view and the agony of knowing that those 4 minutes on the stage can make or break your life and the ecstasy of winning against all odds.


Such are the dreams that navigate Remo's airy plots to its heart-in-the-foot climactic dance. While Remo's choreography is the real star of the show, Vijay Arora's cinematography and Sachin-Jigar's music add pulse and power to the rush of unadulterated adrenaline.


ABCD 2, which is a far slicker and sexier avatar of the first ABCD film in 2013, is filled with moments where the life-force is expressed and asserted through dance. When the film's fallen hero, caught duplicating international dance moves, retreats to dance alone to a beat that fastens him to his dead mother's heartbeat, you are in for a treat.


You know instantly that the film's director understands the language of mainstream Hindi cinema and how to yoke it into the grammar of hip-hop dance moves with affectionate energy.


ABCD2 is the happiest film of the year. Remo's coming-of-'edge' dance-and-drama razzmatazz is suffused with a steep quotient of what the French call joie de vivre and what we down here refer to as cheez badi mast mast. Despite its patchy portions the storytelling is so infectiously endearing you'd be seriously tempted to spring out of your seat and groove with the onscreen revelers.


There is never a dull moment here. Even when the characters are bored and tired of dancing, we are not.


As Remo is fond of saying while judging a dance contest, THIS IS IT!
BOLLYWOOD NEWS
Catch us for latest Bollywood News, New Bollywood Movies update, Box office collection, New Movies Release , Bollywood News Hindi, Entertainment News, Bollywood News Today & upcoming movies 2020 and stay updated with latest hindi movies only on Bollywood Hungama.