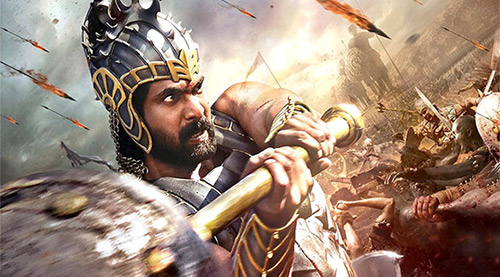 Move Over, Mr Cameron. Rajamouli is here.

Everything you thought would one day happen to Indian cinema is finally happening ...right here right now.

So you thought our films can never compete with FX-driven films from Hollywood?

Think again! S S Rajamouli, that man who created a hero out of a fly in Makhee not too long ago, is back again to create the kind of spectacle which Indian cinema is financially and aesthetically unequipped to handle.

Bahubali with its harvest of breathtaking images all shot in the great wide outdoors with furiously flowing rivers and vertiginous mountains, is more marvelous than any movie created from the Marvel comics. It is a fable told with the kind of flourish that makes anything attempted in the genre look feeble and unkempt.

S S Rajamouli's command over the epic language is worthy of deep analysis.

Yes this movie maker loves the visual medium. He makes love to the camera, nurturing nourishing and edifying every frame to the point where brilliancy is no longer a pursuit but a foregone conclusion.

Bahubali with its pastiche of pristine images conveying courtly intrigue, political ambitions, sibling jealousy, virginal romance and filial bonding is so riddled with the luscious images, you stop counting the blessings after a while and just flow with the divine spirit of a creator who makes cinema situated in the empire of the epic not to show off, but to let the audience know that the orbit of opulence still exists, just a hop skip and waltz away from the kingdom of the crass that mainstream Indian cinema seems to have adapted.

Rajamouli structures an elemental tale with comic book compulsions. The film is flush with flamboyant visuals which take the fairytale narrative to a level of lucid expression never experienced in our cinema. It's hard to see Bahubali as a 'regional' film. So elevated is its aesthetics and so steep is the director's appetite for weaving fantasy and drama that we are left gaping at the narrative's mastery over the language and grammar of mass-oriented filmmaking.

To those inclined to view cinema about kings queen and other fairytale subjects as juvenile, Bahubali is an epic revelation. While retaining a core of innocence at the heart of narrative, the director ignites a spark of scintillating sensuousness in every nook and corner of the film. Every frame is a work of art, thanks in no small measure to art director Sabu Cyril and cinematographer K K Senthil Kumar who imbue every frame with sparkling sublimity. Not that the individual scenes stand out in a look-Maa-I-can-jump kind of bravado. While swinging from one astonishing optic experience to another, the audience is also treated to a drama of a doomed kingdom so filled with heroic valour and mythical villainy it would have been laughable were it not so lovable.
Rajamouli's love for grandiosity is enchanting and endearing. His hero Bahubali is royalty in exile. A rogue in the mountains whom you can't help feeling warm towards, Prabhas plays the role with a compelling candour. Prabhas' Bahubali is destined for royal greatness. But before he gets to his kingdom, Rajamouli takes us through an epic journey saturated with romance drama and a battle scene in the finale lasting more than 25 minutes which makes 300 and Hercules look like glorified video games.
It is no exaggeration to say Bahubali redefines the fantasy-adventure drama. It pushes the envelope so far, only the director's stamp remains imprinted. Rajamouli's imagination is a playground of incredibly lofty images. In one romantic song Prabhas shoots an arrow across rivers and mountains to make a ropeway to the top where his fantasy woman (Tamannah, part warrior, part-seductress) awaits.
It is a moment that defines not only Rajamouli's steep aesthetic value; it also brings to light the cogent connection between valour and courtship. Frequently the film selects sequences that spotlight the hero's mythical dimensions while bringing to the table the kind of heart stopping narrative nubility and nobility that constitute the highest level of kitschy art.
Rajamouli could be faulted for generating opulence in a purely fantasy format. He doesn't aspire to change the world. His morality is straightaway from the Amar Chitra Katha comic books. Ek tha raja, ek thi rani...And no one lives happily after until such time when the characters flush out their penchant for bitter battles.
Bahubali presents the kind luscious and lavish cinema that transports us into the era of courtly intrigue without any of the characters faking their old world charm.
Prabhas and Rana Daggubatti playing the main protagonists and antagonists play off against each other without snarling and snapping in every frame. Paradoxically while entering world of larger-than-life heroics, Rajamouli succeeds in keeping the situations in the script remarkably restrained.
Bahubali is not a film. It's an event. Every frame whispers a saga of tasteful reined-in aesthetics. The scale of visual grandeur seen in Bahubali is unprecedented.
Wait. There is more. Rajamouli promises a sequel next year. I can't wait to see where this old fashioned morality tale takes us next.