Since their debut in 2017 with 'Hellavator', South Korean group STRAY KIDS has been largely associated with the foot stomping music. They cemented their reputation with songs like 'Easy',' Levanter', 'Miroh', 'God's Menu', 'Back Door', to name a few. The octet also proved that they are a versatile bunch with songs in the R&B, dance, and even ballad genres. Their latest album NOEASY is just a testament further to their reputation of being a talented bunch of artists. The album features 14 tracks, including the group's previous hit singles 'Wolfgang' and 'Mixtape: OH'. Playing a smart pun on the word 'noisy', through this album Stray Kids want to tell a story of their journey which has not been easy, because of using a different music style.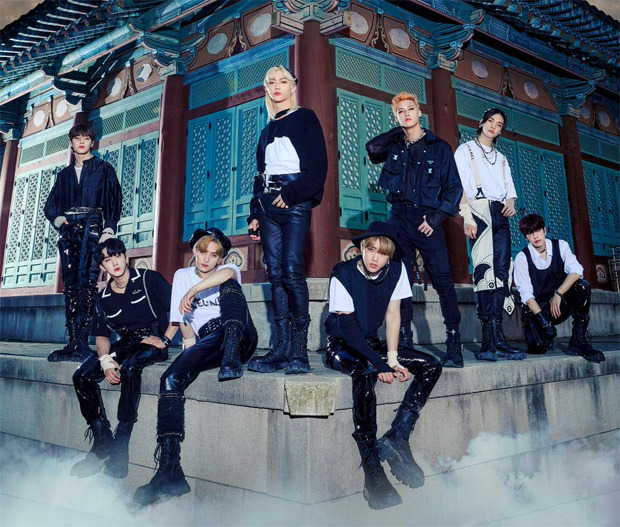 STRAY KIDS makes luscious harmony and storms through thunderous creativity and 'noisy' glory with NOEASY – Album Review
Producer trio 3RACHA (Bang Chan, Chang Bin, Han) largely wrote and produced the album, with their contribution in 9 songs out of 14. Additionally, members Lee Know, Chang Bin, and Felix worked on the song 'Surfin'', Chan and Hyun Jin contributed for 'Red Lights' whereas Han, Seung Min, and I.N. worked on 'Gone Away'. Han also contributed to the making of 'Secret Secret'. With contributions from the members yet again, STRAY KIDS have stayed true to their identity of being a self-produced group.  Each with a vibe of its own, the subunit tracks 'Surfin'',' Gone Away' and 'Red Lights' (first created during Howl in Harmony) showcase that each member and each subunit carries its special strain of talent, which when clubbed together produces stellar results. The album comes 11 months after the group's repackage album In Life. STAYS (fandom name) were highly anticipating the next comeback from STRAY KIDS, and the hype was equally matched with tasteful teasers revealed periodically, leading up to the album release on August 23, 2021.
Let's take a deeper look at the second studio album NOEASY. Get your headphones on, because it is about to get a lot more noisy!
CHEESE
'Cheese' is replete with bass, electric guitar riffs, and thunderous claps and goes all out on the energetic front. Using the different types of cheese (blue cheese, parmesan cheese, mozzarella cheese) and the expression 'CHEESE' as metaphors, the group calls out the machine nature of the industry where one is told to smile in front of the cameras, regardless of how one is feeling at that moment. CHEESE is also a diss track at the people who spread hate and make fun without any reason – "Is it funny that we have a headache? (Cheese)/Are these A-grade vibes funny to you?"
THUNDEROUS (소리꾼)
The group has once again shown that they can club traditional Korean music with modern genres like noise and punk, seamlessly. Earlier, the group stunned us by using the Ganggangsullae dance form, and this time they used pansori to do the same. The Korean title of the song translates to Sori-kkun. Sori-kkun is a person who sings pansori, a traditional Korean art form of storytelling. Playing on the Korean word yet again, they also give a nod to Jansori-kkun, meaning a person who often nags. Through this song, the group is calling out those who keep on nagging them with lyrics like – "Yeah, everybody's talking nonsense / Tired of this and that, shaking my head/ You talk too much, stop meddling." The beat drop just before the chorus heightens the level of anticipation.
The moment the music video begins, the audiences are introduced to what comes next on the screen. The group, dressed in matching traditional-looking outfits belts out one perfect note after another. They even incorporate the pansori singing in the song, which adds a delightful flavour to the track. The confluence of culture and their heritage has been executed beautifully, both in the song as well as the music video of Thunderous.
DOMINO
After a powerful track like 'Thunderous,' it is only natural to have an equally energetic track. The lyrics of 'Domino' – "Setting up my ambitions/Completing them one by one, I made it / Now it's time for ignition/It starts with me, they follow me, the domino effect" expresses the group's ambitions and achievements and how they have scaled the new heights of success.  Powered with fast-paced rap, and followed by hip hop verses, 'Domino' acts as a huge beam of music and lyrics that entrap your attention completely.
SSICK (씩)
Taking a slightly slower pace than 'Domino', STRAY KIDS presents a peppy track with 'Ssick.' The staccato beats clubbed with hip hop give an overall enjoyable feel to the song. In modern slang, 'Ssick' means being 'cool' and 'talk of the town.' They bring in this terminology and unapologetically bask in the glory of their success. This feeling is captured in the lyrics – "Excuse me for a moment/ My phone's ringing non-stop / So along with my modesty /I'll put it inside my pocket". There will be naysayers everywhere, we just have to ignore them and carry on with our goals.
THE VIEW
Want a song that just makes you groove? 'The View' is the one for you. The song will make you feel refreshed and fused with newfound energy. Parting from the classic STRAY KIDS vibe, the group opts for a light-hearted song with synth-based electronic beats for the chorus. Reading the lyrics that go – "Now I feel comfortable, I like it, this feeling/ And I'll never ever let it go" – will remind of a quaint memory you have or even a Ghibli movie.
SORRY, I LOVE YOU (좋아해서미안)
STRAY KIDS takes a path down the ballad road and presents us with a bittersweet track 'Sorry, I Love You.' Like Changbin said in INTRO: NOEASY, the song is about the untold feelings, the fear of losing a friend, and the frustration that comes with it. The lyrics are simple, yet hold a deep meaning – "I know I'll regret, so I decide to express my feelings/ I want to be more than just friends I like you too much". For a song that speaks about heartbreak, a sprinkle of mellow piano tunes along with light percussions is just apt.
SILENT CRY
This is an R&B track with soft vocal verses along with hard-hitting rap verses and chorus. The song is a signal to those who are hurt, that there is someone to listen to their silent cry. One can say that 'Silent Cry' is the group's message to their fans that they will always listen to their fans. The song's lyrics don't beat around the bush, and give a direct nod with lyrics that go – "There is a silent cry that only I can hear/ The silent cry that you've been hiding for a while".
SECRET SECRET (말할수없는비밀)
Transport yourself into a slice-of-life movie with 'Secret Secret.' The song begins with soft acoustic guitar riffs and transcends to mild trap beats. The members stay true to the emotion of the lyrics – "I can't say anything / Words just linger in my mouth / Sometimes I get scared / Will someone notice?" – and belt out a melancholic number. They sing about the unspoken words that are spoken in the rain, the secrets that no one but they (and the rain) know of. If you have ever found solace in the rain, then this song will speak to you.
STAR LOST
'Star Lost' begins with retro video game-like music and takes a turn towards a song of hope. A loved person can be a huge source of solace and strength, and The song just cements that idea further. Imagine this song being in a playlist for a book that is about hope, love and strength. The lyrics –"Don't matter, even if I lose everything right now / I'd endure it by thinking of you / I'll go anywhere" – fit this picture perfectly. A trance-like upbeat melody resonates beautifully with the imagery of being lost in a starry sky.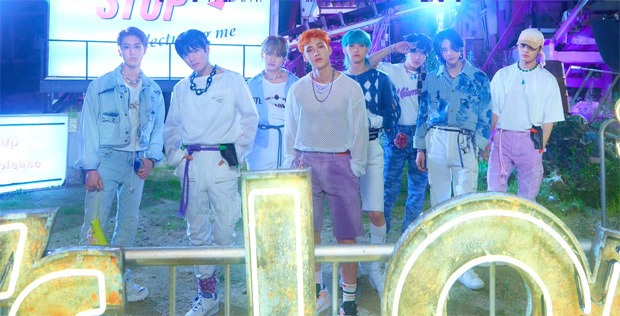 RED LIGHTS (강박)
Sung by Bang Chan and Hyun Jin, 'Red Lights' is a sultry track. It speaks about an obsession and a great desire that blinds a person. The song is half in Korean and half in English, with lyrics like – "I'm going crazy now, out of control, I / I spend this night again / The moment when I close my eyes / All I see is red lights." The 'red lights' are symbolic of the danger signals. The breathing sounds, the alternate guitar riffs clubbed with violin tunes, add a sensual feel to the song. The video teaser itself set the anticipation higher with never-seen-been bolder visuals of the members. 'Red Lights' leaves the listeners wanting more.
SURFIN'
When the title itself speaks of beach activity, the song, sung by Lee Know, Changbin, Felix, is going to be beach playlist-worthy! 'Surfin'' begins with a low chatter that sets the scene of a beach with people milling around and engaged in talks. The song is about shedding all your stress and visiting the beach to get a needed dose of rejuvenation. With lyrics like "I got ninety-nine problems but the sea ain't one / I'ma go out healing/ Getting clеansed by the sea breezе" shows us what we all long for – a calming day in the sun and sand. The chorus sung by the trio Lee Know, Changbin, and Felix add a burst of pop to this funky track.
GONE AWAY
A huge diversion from its predecessor, 'Gone Away' is a heartbreak ballad. It speaks about lost love, and the hurt and pain it brought along. Han, Seungmin, and I.N did a magnificent harmonization of vocals. The whole song has the feel of a movie soundtrack that plays when the leads are apart. 'Gone Away' features a blend of piano tunes and percussions, with a guest feature from the electric guitar. The song paints a painful picture of heartbreak with lyrics like "Burn the most painful traces of you / I try to blow it all away / Pretend like nothing is wrong".
WOLFGANG
The song that shook the K-pop community and brought newfound worldwide fame to STRAY KIDS, how can one forget Wolfgang? First presented at the reality show Kingdom: Legendary War, 'Wolfgang' was undoubtedly instrumental in bringing the group closer to victory. This song expresses the group's desire to be as great as the composer Wolfgang Amadeus Mozart – "We are the maestros who lead the world/Replacing our souls at every moment". They smartly use the imagery of a pack of wolves who are fierce and relentless. The song originally featured only seven members, but the album version features all eight members, bringing in an overall new feel to the song. 'Wolfgang' shows the group playing to their strengths when it comes to rapping and vocals, and at the same time blending genres like punk rock and hip hop with ease.
MIXTAPE: OH (애)
A stunning conclusion to NOEASY, 'Mixtape: OH' is a smooth R&B track. The song still packs the same feel, even though it was released before the rest songs. It is a song about the silly and uncertain feelings one has when in love. It expresses the child-like personality underneath the stern adult persona. One can call it a love song, and one can even call it an ode to the bond between STRAY KIDS and their fans. We always act a little silly, a little needy around the people we love, don't we? The song encapsulates this image with lyrics like "My heart wants you, I want your heart more/This heart is poisoned, only you are the antidote". The song uses the usual blend of string and percussion instruments to lend a 'baby-like' feel to the song.
Overall, STRAY KIDS have said that it is not easy to make music, and it is not easy to make music that is different from the rest. There is always going to be criticism, sometimes hate, and even blatant dislike, but despite all the struggles, what keeps one going is the honest desire to achieve one's dreams. The album NOEASY has something for every listener – be it ballads or punk rock genre. NOEASY is solid proof that STRAY KIDS is much more than a group that produces songs in the noise and punk genre. The group has is multi-faceted and with several talents encapsulated in each member.
Watch the music video for 'Thunderous' here:
Also Read:
Stray Kids makes 'Thunderous' comeback with power-packed NOEASY album
BOLLYWOOD NEWS - LIVE UPDATES
Catch us for latest Bollywood News, New Bollywood Movies update, Box office collection, New Movies Release , Bollywood News Hindi, Entertainment News, Bollywood Live News Today & upcoming movies 2022 and stay updated with latest hindi movies only on Bollywood Hungama.