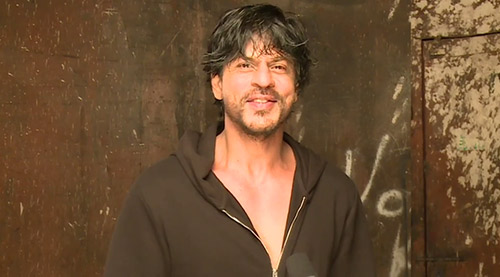 We all know and can blindly vouch for the fact that when it comes to being 'politically correct' in Bollywood, there is no competition to the undisputed 'King of Romance'. By now, even the best of mathematician must have lost count on the number of interviews that he must have given to the media. But, recently, we came across one of his 'heartfelt' interviews that was conducted by CNN's much celebrated journalist Fareed Zakaria on his show 'Fareed Zakaria GPS'. In this interview, among the many things, Shah Rukh Khan also spoke about Hollywood competing with Bollywood.



When asked about his take on 'today's Bollywood' and its competition with Hollywood, that are essentially made for a global audience, Shah Rukh Khan jovially) said, "Thankfully, unless they (Hollywood) have 6 songs in their films, they are not competing with us (laughs), which I am sure does not happen. I always had this worry that if we are not able to change our cinema quickly enough, then, we will be kind of overtaken... like Hollywood has. The principle movies all around the world are all Hollywood films. India is the only country where the local cinema does better than international cinema. I heard Mr. Quentin Tarantino say it in the Cannes probably, that the reason for the local movies to survive is stardom. There is still a huge balance of stardom in this country. As long as the star system is retained in this country, it will be sometime before the international cinema takes over. But yes, the international stars are also becoming local stars. The Indian cinema is changing so fast. I think that it will be quite a while before international cinema becomes a competition."


When asked about his global fan base, Shah Rukh Khan said, "It never ceases to amaze me. The last film that I did (Dilwale), we released it in Peru. We are releasing in markets like Finland and Sweden. We never thought that a Hindi film will go out, even with sub titles or dubbed. The business has increased seven to ten folds. The two different kind of cinema that is coming to India is also helping. We are having some of the really artistic cinemas that are also being taken in. These are small steps towards creating an international market for Indian films. We are fortunate to be in these times when such acceptances are happening. When I am tweeting, more than half of the people are from the places that are not in India. When I talk about something, I suddenly get a shout out from Japan, which really amazes me. They say the Hindi dialogues and they do the Dubsmash. It's new and really very encouraging. WE still have similar cultures in UAE or South East Asia. So, you assume that they will like an Indian film. They are conservative. The other day I was doing a show in New York, out of 8000 people, we had about 500 to 800 Americans watching an Indian show. I spoke to some of the ladies and they said that they loved Indian films and we love you. We have travelled so many miles to see you, which is really nice. It's a new phenomenon. I think it's also telling that Indian films are progressively making footprints outside India. I am happy to the present generation of Bollywood (the young filmmakers) have a new wave of thinking as they are exposed to western cinema and western culture and that they are armed with the technique and the technology. The Indian youth today understands diverse cinema because of their exposure to different mediums like internet and television."



When asked about if he thought of doing the same in the coming ten years, pat came the reply from Shah Rukh Khan saying, "I thought of doing it for more thirty years. When you say ten, I am a little scared and paranoid. There will be a new knee, new shoulder and they are finding new body parts (laughs). I always tell everyone that my life shot has to be with a 'Cut' and an 'OK'. (smiles).
BOLLYWOOD NEWS
Catch us for latest Bollywood News, New Bollywood Movies update, Box office collection, New Movies Release , Bollywood News Hindi, Entertainment News, Bollywood News Today & upcoming movies 2020 and stay updated with latest hindi movies only on Bollywood Hungama.