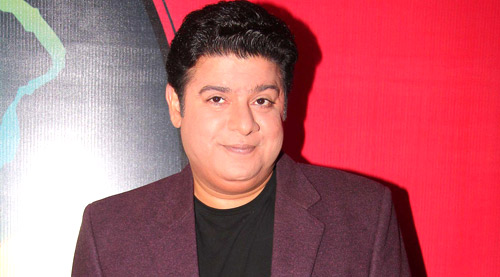 "I don't think it's such a bad idea (being roasted on an AIB Knockout), Yeah, if the money is right, why not?," said Sajid Khan in a no-holds-barred video interview with
Bollywood Hungama's Faridoon Shahryar. This is one of the very few interviews that Khan has given in the last one year. "I never wanted to achieve success, I wanted to achieve recognition
which came with success," said Khan. He explained how his films don't get reviewed, he gets reviewed. He shares his thoughts on how he has done introspection and how the nonperformance of
Himmatwala and Humshakals has led to a "lot of growing up". Sajid also shares his thoughts on Talibanisation that is affecting the film industry in the form of the Censor Board
dictates. He also talks about his next film.


Many a times people from within the industry bitch about each other, bitch about journalists but when they meet them in person, they are sweet. It seems you didn't do that…

I never wanted to achieve success; I wanted to achieve recognition which came with success. Films were getting successful as a filmmaker; recognition was not coming my way. Because that host and
dost tag, are you understanding? Arrey yeh toh Bollywood ka mazaak udata hai, iskim picture kaise hit ho gayi? Doosri picture bhi hit ho gayi, teesri picture bhi hit ho gayi. Woh recognition as a
filmmaker nahin mil rahi thi. I was a little foolhardy in my head. Himmatwala and Humshakals not working exactly made me realize and made me grow up and not getting angry and upset
with others, example critics but look within myself as a person ke what is it that has irked them of at the first place that no other filmmaker has the distinction which I have that my films don't
get reviewed by them, I get reviewed. Film iski achi ho ya na ho who alag baat hai, yeh hume pasand nahi, toh hum iski film ko half star denge. I am not making a genuine effort ke "nahi mujhe
pasand karo, main bahut acha hoon." But yes I've done lots of growing up, and I've understood that it's better to be quiet and be little more diplomatic and politically correct and mature in the
way you talk rather than shoot your mouth just for attention.


Does it bother you that there's hell lots of criticism for Humshakals but the fact is that it has recovered its money and that's an achievement in itself.

Yes it did, people don't want to see that aspect. It did 65 crores in India, had it done 10-15 crores more it would have done 75-80 crores, people would have said it's an above average film. 65
crores is not a small amount. I don't want to make comparisons, but somewhere people have not liked the film, I think kids have liked the film. General families have liked it; the youth has not
liked it. Youth toh did not like it. Himmatwala was not based for the youth; it was based for the masses. Masses liked Himmatwala, single screens. But the single screens collections
weren't enough to match up to what it could be a hit film. And with Humshakals youth disconnected because I don't think it was my best film. Personally I feel it was mu funniest film, but I
think kids liked it most. So the attempt from the last one year is to write a screenplay which is again universally loved by everyone and to stay away from slapstick comedy.


How do you react to the censorship that is taking place right now? Many people from within the industry have issues with Censor Board chief Pahlaj Nihalani.

I am the last person to talks about it, because all 5 films of mine have been passed without any cuts. My films don't have bloodshed, violence, cuss words, profanity, sex, but I can understand
things from other people's point of view also that why is this whole sense of Talibanism coming in. Somewhere censor is also aware that jo hum kar rahe hai woh galat hai, lekin unko bhi upar se
phone call aaya hai. They are very normal people, they are not backward people. They know ke Kutta Kamina kaise gaali ho sakta hai. Biggest example happened in 85 in Hollywood, when the most
anticipated film was a huge flop and critics have written the film off saying that the whole screenplay was only finding new bad words. The F word comes more than 241 times in the film.
Scarface, can you believe Scarface had to be re-censored completely to be shown on television but they did it in such a way that the film did not look offensive. So there are so many
movies that get re-censored for television. Jo theatre mein aapko objectionable lagta hau ke adults hai, who TV pe woh kaat dete hai ab censor bolegi yeh bhi mat kaato. Yeh thodi si zyaatti hai
mere hisaab se.


Would you like to get Roasted, as in AIB Knockout and why?

I don't think it's such a bad idea; I am one of those people who have the ability to laugh at himself. Yeah, so if the money is right, why not? But there has to be money, there has to be a price.
Bhand Marasi, Bhand Marasi wahi karte hai na , aapko tamasha chaiye hum tamasha karenge magar paisa toh do.


Are you missing the fact that you're not directing Housefull 3, it has been your baby?

I am missing the fact that I am not going to be with the boys. But there will be Housefull 4, which I'll not let anyone else direct it, I'll only direct it. Sajid and I've spoken of making a
film next year. My film with Disney happens early next year, after that I'll make a film for Sajid Nadiadwala.


You've taken a year to write the script of your next film.

Yes, that's with Disney and the casting of the film should happen in the next 3-4 months and film should go on floors early next year. It's not a comedy, it's a remake of a Korean film - My
Girlfriend Is An Agent and I've got some of the best screenplay writers. What I felt was missing in Himmatwala and Humshakals was good writing. I felt good writing was missing
somewhere, good plot point or good script was missing. I've worked very hard on getting a good script. A good script is basically your main course, then how you serve it out is what a director has
to do. So I've got a damn good script this time.


Who has written the screenplay for you?

I've got Akarsh Khurrana on board. I've got Hussain Dalal on board (writer of Yeh Jawani Hai Deewani, Two States) so I've got very good writers this time, we have spent a lot of time.
Changing, rewriting, rewriting, six draft, seven draft, eight draft, ninth draft, this is I think twelfth or thirteenth draft which we finally got. It's a good and interesting script and it's a
very unlike a Sajid Khan film. There are no slapstick jokes, hamming. We've not yet locked the star cast; Siddharth Roy Kapur and me are meeting within this week and well take a call.


There were rumors that you're looking for a new starcast?

No, I never said that. Somebody asked me that kaun hoga film mein so I said 'One of the new boys'. Toh woh negative period chal rha tha na, Ohh he's going to be working with new comers. No, I am
not working with new comers. I mean I love new comers, I respect them, it's a good thing new comers are coming to this industry but subject material of the film is written in such way…


New boys like Varun, Sidharth?

One of the new boys, I never said new comers.
BOLLYWOOD NEWS
Catch us for latest Bollywood News, New Bollywood Movies update, Box office collection, New Movies Release , Bollywood News Hindi, Entertainment News, Bollywood News Today & upcoming movies 2020 and stay updated with latest hindi movies only on Bollywood Hungama.