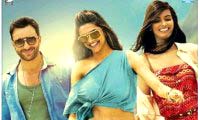 Do you remember the Last Barman's Poem from the 1988 classic that Tom Cruise delivered?
>
"I see America drinking the fabulous cocktails I make, Americans getting stinky on something I stir or shake: The sex on the beach, The schnapps made from peach, The velvet hammer, The Alabama slammer. I make things with juice and froth: The pink squirrel, The three-toed sloth. I make drinks so sweet and snazzy: The iced tea, The kamakazi, The orgasm, The death spasm, The Singapore sling, The dingaling. America you've just been devoted to every flavour I got but if you want to get loaded why don't you just order a shot? Bar is open".
Cocktail was declared an overnight hit in 1988. But after 25 years, will it taste the same with Saif Ali Khan mixing it up in Bollywood?
Recall Being Cyrus? Well yes, both - Saif Ali Khan and the director Homi Adajania. The producer - director duo are back after seven years. We hear there was quite a bit of stir between the two on finalising their next together but thankfully, this time, they'd prefer it shaken and not stirred in Cocktail: a love triangle shot in the U.K. last year with Diana Penty making headlines as the latest entrant in Bollywood opposite Saif Ali Khan and Deepika Padukone.
Interestingly, not much has been known about Diana Penty and her debut movie in Bollywood but along with Sunny Malik - a fellow U.K. free lance reporter, I bring you some exciting information from the city of London where the film was extensively shot, Kareena Kapoor's visit on the sets, Deepika Padukone's shopping spree, the pretty Penty and plentiful more.
Diana Penty will make her debut in Cocktail in an important role. She is a well-known model and was originally approached to star in Rockstar but she was ousted from the film without any explanation. Imtiaz Ali then recommended her to Saif Ali Khan and the next thing in her lap was Cocktail.
Many scenes were shot indoors however, the crew primarily filmed on the streets of London.
Locations of the filming in London include Borough High Street, Borough market, Portobello Road, Leicester Square, Piccadilly Circus, Mayfair, Clapham Junction, Battersea Park, Bank Station, St. Pauls London, Colville Gardens (Notting Hill Gate), and Brick Lane.
The songs have been composed by Pritam and choreographed by Bosco-Caesar. One is a beautiful friendship song, is sung by Neeraj Shridhar. The makers have also bought the rights of a famous Pakistani song, which has been revised slightly for the film's soundtrack.
Boman Irani, who was in London to shoot for Priyadarshan's Tezz also has a small role in Cocktail and finished filming his scenes in a couple of days, right after finishing his earlier schedule of Tezz.
Kareena Kapoor joined Saif Ali Khan in London for a few days and surprisingly, also bonded with Deepika Padukone. Saif and Deepika have been getting along like a house on fire, which proves that their friendship has grown since their awkward Love Aaj Kal days.
Did you know that Deepika had the need of a bodyguard at all times during her stay in London while shooting for Cocktail? Whether it was on locations for the film shoot or on days off, Padukone was always accompanied by her bodyguard. She was often spotted shopping in Selfridges and on Oxford Street with him. Nobody who was not a part of the film crew or knew her personally was allowed to approach the sexy lass.
Funnily, neither Saif nor Kareena had bodyguards with them while they were in London and often just walked out of their hotel onto the streets and started shopping or walking around, without being mobbed.
Watch Promo: Cocktail