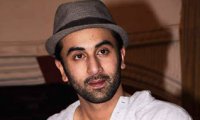 At Mehboob Studios in Bandra, Ranbir Kapoor has just arrived from hectic promotions of his most ambitious film Rockstar. Dressed in Indian traditional - colours that cannot exactly be described - a pink and purple coloured dhoti with a brown and cream kurta, he welcomes me with a warm hug and something that goes, "My mother loves you a lot. She can't stop talking about you". I'm speechless. Then he lights up his cigarette and sips his nespresso. That's a new form of espresso coffee that Ranbir's mother, Neetuji, offered me the first time I met her at her house in Pali Hill. I felt something personal was connecting but not my network. My blackberry is almost crashing after I've uploaded my status that says - 'With Ranbir. Do not Disturb'. He looks right in my eyes and says, "Ask me whatever you want to ask today". I ask and he talks. His words flow. He's got one crazy, free-floating, head-spinning way of expressing himself, and though he could say more, explain more, he doesn't. He's already moved on to some other rabbit hole and can't be brought back. But that's just how his mind works. And come November 11, the minds will be at work again - of the critics, of the audiences and of the box office and suddenly Ranbir will be sitting pretty once again. Then I look at him again and he looked casual in his traditionals yet immaculate, an expensive version of himself. I stare at him to make out how serious he's being. Beneath that silken cool-cat exterior, I catch a small flash of the foxy, radar-jamming contrarianism that has got him where he is today. Where he is today is pretty much where every young actor in Bollywood dreams of being. And yes, very few people are born with that. So, after spending an hour with Ranbir Kapoor, I discover that he is one cool cucumber - dry, concise, charming in a feline way, with a high tolerance for silence that turns every answer into its own punch line and flushes people into reactions they didn't even know they had. UK's Harrow Observer columnist and Bollywood Hungama's London correspondent takes you on a journey of love, despair, ego, angst and destruction, a journey of a rebellious 'rockstar'.
When was the first time you remember picking up a guitar or even playing one?
I remember when I was young, around five or six years old and we were in London. I, my mom, my dad and my sister were walking on the street to go to a restaurant. It was raining very heavily. While we were walking, I saw a musical store with a medium size guitar, and as a kid I recall forcing my father to buy me a guitar. Well, my poor father had to go to the music store and buy me a guitar because I was refusing to enter the restaurant. I was very destructive as a child and I broke the guitar the next day. That was back then. I actually picked up the guitar two months before shooting for Rockstar. So my fascination for guitar continues.
Millions are singing the rock n roll ecstasy called 'Sadda Haq'. Are you tripping on it too?
Well, yes of course. I had the good fortune to be a part of the entire music making process since I play the musician in the film. Imtiaz encouraged me that I go with him to Chennai to Mr. Rahman's place. So I've seen all the songs being conceived in front of me, how the lyrics were written, how Mohit Chauhan has sung these songs, the instruments that have come in use for the making of the music. For me, it's a big part of my journey as this character. It was important for me to see the creation in front of my eyes. 'Sadda Haq' has a lot of meaning because it comes from the character, it comes from his angst. The character wants to express him by the songs he sings. I never wanted a hit song to attract more eyeballs. Imtiaz too believed in that.
We missed you at the Teesri Manzil screening at the Mumbai Film Festival
Yea, I know. I so wanted to be there. But we came back from Jaipur the same night at 11pm and so couldn't make it in time. The sad part is that I still haven't seen Teesri Manzil on the big screen. I am a big fan of Mr. Vijay Anand and the way my granduncle Mr. Shammi Kapoor played his character was just phenomenal.
Have you ever felt blessed and proud of the fact that you were a part of Shammiji's final journey in movies?
My grandfather, Mr Raj Kapoor died when I was very young. I was around six year old then I think. I don't remember him much. So, I've grown up with Shammi Kapoor being my grandfather. I became even closer to Shammi dadaji when he gave us an opportunity to work with him in Rockstar. Yes, I miss him and felt a great loss for the first time in my life by losing someone. But I wasn't angry or sad because I knew that he lived his life to the fullest. He is the original rockstar of Indian cinema. No regrets. At this age he was driving his car, he was travelling the world, he was flirting with the assistant directors on the sets, etc. That kind of made me feel proud that I was a part of the man's final journey who really lived his life and how!
Janardhan, Jordan, Rockstar, Ranbir. You're leading many lives than just one buddy. So, who exactly are you?
I am just an actor. There is a wrong perception of what you're seeing on screen is me. What you're seeing on screen is an amalgamation of lot of people's efforts. There was a marriage of effort and thought and that's when Jordan, my character, was created. If you tell me to hold the guitar and play it, I can't do it. I need help and support of the crew around me. There are many phases in this character's life that keep changing because the film spans over eight to ten years. Every phase was interesting. In fact, we went backwards while we were shooting this film. I really enjoyed the phase when my character is in the college because the rest of the film is a little hard for me, to go down that zone and live that experience. I like the college parts because he was that wannabe rockstar and somebody tells him that to become one you had to break your heart. He meets Heer, played by Nargis, and how he impresses her thinking that she will break his heart one day is the best phase of the movie according to me.
Janardhan, your character, stands in front of the poster of Jim Morrison questions himself. But is Ranbir a fan of Jim?
I am a fan of Jim Morrison. But I have always been a bigger Hindi music fan. I'm a bigger Kishore Kumar fan, a bigger Lata Mangeshkar fan, a bigger Mohammed Rafi fan. Having said that, my exposure to English music isn't that bad. All the rock bands like Led Zeppelin, U2, Pink Floyd, etc, I'm exposed to all of that. My father is a big world music fan. Yes, Janardhan likes Jim Morrison and wants to be like him but doesn't know how to be. But at the same time, my character isn't based on Jim Morrison. He is a fan for sure.
And who gave you the name Jordan?
Nargis gave me that name (smiles). Her character gave me the name. Janardhan Jakhad is a 'jat' boy from Delhi. Jakhad is a very 'jat' name. His name is a little off so the girl gives him the name Jordan and he keeps it from there on till he becomes a rockstar.
What was that one line before Imtiaz signed you on board that made you jump?
Well, it's actually funny but Rockstar happened because of me. I'll take credit for it. I remember when I was working in Saawariya, I had started shooting and I had heard of this film being made with another actor. My friend and I used to go for long drives in the night discussing Indian cinema, as usual fans of Hindi films, and that's when he told me that Imtiaz Ali is making a film and told me a one line of this story. He said that it's a musical journey of this artist who finally becomes a rockstar after he suffers a heart break. Three years passed and that film never got made. Imtiaz came to me with another script and we interacted on that for a couple of days. One night while he was going home I asked him what's happening with his 'Rockstar' film because it was really interesting. He said that there were script problems, budget problems, etc. He left, and after two to three weeks he called me and said that he couldn't get his mind away from the 'Rockstar' movie and that he wanted to give it one more shot at the writing. After three months of working on the script, he came, narrated me the story and it was my good fortune to work with Imtiaz and Rahman sir who was on board. I loved the character of Janardhan Jakhad.
Watch this space for Part 2 of Ranbir Kapoor interview where he answers questions from his fans on twitter and much more!