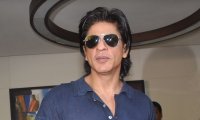 Yesterday evening I was dining with a bunch of friends and within no time, the conversation veered towards Ra.One. I was amazed to observe how these folks, with no connection whatsoever to the film industry, and mainly belonging to the corporate world of IT and banking, were totally clued into the business prospects of the Shah Rukh Khan starrer. Not just that as they were also more than glad to share the innumerable jokes around Ra.One which have been making rounds of internet and the other media forums. A few who had seen the film had mixed opinion around it while those who hadn't seen it had even stronger opinion.


Now that wasn't really surprising considering the fact that just like Shah Rukh entered everyone's household and hard sold his product till the day of the film's release, even his audience had decided to create an opinion within a weekend of it's arrival. While there were statements being made in the film's defence, what has continued to perplex me till this moment is the way some out there were carrying forward the entire negative campaign. The point was proven once again - 'Negativity, whether with or without any basis, travels fastest and in case of Ra.One it has turned out to be monumental, no less'. This is what exactly led me into keying down this week's 'Reflections'.


Some facts first


Whatever is the reality (through some genuine word of mouth - either good or bad) or the perception (through an outright negative campaign) that has been created amongst 'junta', the fact remains that Ra.One has turned out to be a profitable venture for it's makers. Of course no huge records are being broken here while the film too comes nowhere being an unforgettable/classic affair that many had believed (before its release), it would eventually turn out to be. Still, despite huge money being pumped into making of this extravagant affair, there has been a recovery for sure. Profits being scored aren't gargantuan but when it comes to Shah Rukh's successful run at the box office, it remains intact. There are and there would be debates around gain/loss of prestige and reputation here for Shah Rukh but at the end of it all when academics come into account, Ra.One has managed to keep its head over water during last one week gone by.


Frankly speaking, all comparisons with the likes of mega downers like Roop Ki Raani Choron Ka Raaja or Ram Gopal Varma Ki Aag or Tashan have been totally uncalled for as Ra.One has not just managed to do much much much better than these aforementioned biggies (that totally failed to impress) but even managed to find company of supporters who have a good words to say about this multi crore effort by director Anubhav Sinha.


Shah Rukh isn't alone though


If at all one has to draw any comparisons here, the closest one can think of is Chandni Chowk To China. No, Ra.One hasn't crashed at the box office like the Nikhil Advani directed film. However, when it comes to negativity, I am severely reminded of the heartbreak and heartburn that Akshay Kumar had gone through two and a half years ago. The film had arrived when Akshay was at the peak of his success and delivered back to back hits like Welcome, Singh Is Kinng, Namastey London, Bhool Bhulaiyaa, Garam Masala etc. However, one wrong move in the form of Chandni Chowk To China and Akshay was pulled down by his detractors in a major way. Akshay had himself lamented the fact that even though the first preview show of his film hadn't been concluded, there were SMSs (which were outright negative) that had started floating across the industry.


There were also reports around how there was an ulterior motive about the entire negative campaign which had gone through strategy, pre-planning and some deft execution. Of course the film wasn't without its flaws and once that flaw was there for all to explore, it became far easier for the film as well as its leading star to be pulled down. I remember how at that time Vipul Shah had come out rather strongly in defence of Akshay and shared quite a few pointers around how an all around negativity had badly affected Chandni Chowk To China and Akshay. Today in retrospect when I revisit that piece, each and every word sounds so true even for Ra.One that it almost sounds like a prophecy.


Chandni Chowk To China failed at the box office with an all-around negative campaign pretty much spoiling whatever little chances it had to succeed. Today with the advent of technology, the intensity behind spread of negativity of Ra.One is even stronger. However, so far the film has managed to survive but then this could well be the beginning of something worse for other films to come.


What led to the spread though...?


Let's face the fact here, if a film is picture perfect (say for example, 3 Idiots) then no amount of negativity can really bring it down. However, this hasn't really been the case with Ra.One which does have its own flaws. Of course it does have its positive aspects as well which is the reason why over Rs.100 crores have already come in for the film. Nevertheless for the detractors, a job becomes much easier when there is a chink detected in the armour.


In case of Ra.One there are quite a few areas that one could discuss, debate, mock and ridicule, something that was taken complete advantage of, due to which every Tinku, Deenanath and Haria came hammers and tongs at the film. Now this is what reminds me of the classic statement made by Ram Gopal Varma after the release of his Aag. He had said that 'If only all those who are criticising my film would have actually bought a ticket, watched the film in theatres and then criticised it, Aag would have been blockbuster due to sheer ticket sales.'


Moreover, sheer love for negativity only ends up making it all the more engaging and entertaining for many out there. This means that while reviews were mixed (and that is fair since every professional is entitled to his opinion) and same holds good for word of mouth as well (fair enough again for those who saw the film and then decided whether it was good for them or not), what is indeed painful (for any responsible member of the fraternity) is to find people gossiping around a film WITHOUT watching it.


No wonder, when you come across comments like 'Picture bekaar hai', 'Iska business bahaut kam rahega', 'Distributors ko toh pucca nuksaan hoga', 'God knows why Shah Rukh did this movie' or 'Sirf VFX hi theek they' and those mouthing these words unabashedly confess that 'No, I haven't seen the movie but HEARD about all these things from others or read about it on Facebook and Twitter', it only makes one wonder whether a fair call is being taken. After all, it is okay to form an opinion based on word of mouth but spread it further without having an opinion of your own is irresponsible to say the least.


It's a cycle nevertheless


As mentioned above, a chink in the armour and it could well prove to be disastrous. Shah Rukh will eventually survive that though he could have been better off without such huge backlash coming its way; after all some of the biggest blockbusters in recent times haven't been flawless either. In fact it is nothing short of ironic that for a film which is now his biggest grosser till date, he is a victim of highest negativity that has ever surrounded a film. However, this could well be attributed to a circle of life. Other superstars (or lesser) have gone through this too. Akshay Kumar (as mentioned earlier) went through this during Chandni Chowk To China, Salman Khan was just not doing anything right during the Yuuvraaj part of his career while Aamir Khan's Mangal Pandey had rewritten records on it's release. And this, when they had a couple of decades of experience each to show for their efforts.


Thankfully for Shah Rukh there is Don 2 coming in a matter of few weeks. Now that could well dilute all the negativity that has been spread around him and his films. Well, one wishes that is exactly the case not just for his sake but also industry as well as trade unless there are some master strategists already on the job to unleash something unthinkable this Christmas!


Shall I just say, 'Beware'?