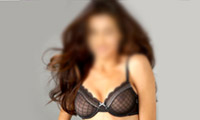 Love Sex Aur Dhokha may not really be a thing of the past if the current trend amongst viewers as well as filmmakers is any indication. Top actresses being morphed with their nude pictures hitting the world of internet is sending out clear signals that voyeurs are having a field day letting their imaginations run wild. Though this is not really a new trend (Pooja Bhatt would agree, after all she was the first Indian celebrity who became a victim of morphing when commercial internet in India was in it's infancy), the manner in which Vidya Balan has reacted strongly against her morphed pictures has only ended up opening the Pandora's box all over again. This week's 'Reflections' looks at the act of a voyeur and how an average person is no lesser than the one who initiates it all.


Some history here


It was close to a decade and a half ago when internet for most was restricted to cyber cafes. Floppy discs were the order of the day and Google wasn't spoken about in the same breath as 'roti, kapda aur makaan'. Still, there was some 'forward thinking' guy out there who felt that for many of his ilk, watching his favourite celebrity in nude would be one enticing sight. He may have chosen a dozen odd Indian actresses to test his photo-shop skills but the one which spread like a viral was that of Pooja Bhatt.


Known for her 'bindaas' image, Pooja was an easy target and though it would be wrong to say that her nude picture became a rage per se, it did fetch a widespread attention for itself once it found itself on the cover of a reputed national film glossy. Those were the times when not many souls could differentiate between fact and fiction as a result of which, half the world thought that it was indeed Pooja who had willingly posed in nude. Instead of the voyeur, it was Pooja who became the target and it was only after a mandatory round of protests and 'morchas' from self styled activists that the dust eventually settled down.


It's a different scene today


Vidya Balan though got on an offensive mode instead of taking things lying down. The moment she realised that her morphed pictures were making rounds of internet, she got her team going on an overdrive while issuing a denial around the woman in the two piece bikini indeed being her. Things have changed in last decade and a half and in the times of Twitter and Facebook, celebrities can enjoy their own spoken word to be heard. Vidya didn't have to wait for the mischief goers to make a first strike; she herself had enough capabilities, both on the personal and the technical front to react (or rather proactively act) at the situation she found herself in.


The counter effect


Having said that, many would still argue if Vidya's act here was indeed in the best of her interests. That's because it was the case of an action preceding news since even though the entire world was yet to be informed about what had really entailed, Vidya's fight in the open meant that now most Bollywood followers with a personal computer in tow had unfailingly checked out what the brouhaha was all about. Silence here could well have been a fight in her own personal space but her very public outburst meant that the viral effect was even more widespread. This has only taken an exponential connotation which means the damage control, if any, has become far more difficult than what it could have been had she let the sleeping dogs lie.


What it means for a voyeur


How many voyeurs out there would ever think of spending their time and energy on morphing pictures of say, a Kashmera Shah or a Sherlyn Chopra? Practically nil because these women are anyways living up to the fantasies in their own smart way. Of course Sherlyn did cry hoarse a few years back when her nude MMS was all over the internet. But then many in the know-how did express doubts around the how-s and the why-s behind the supposedly 'leaked' MMS. On the other hand, Kashmera's scandalous quotes, as talked about in 'Reflections' itself a couple of weeks back, were an ample proof of the lady's desire to be known and seen by one and all.


However, when it comes to a Vidya Balan or a Sonakshi Sinha or an Asin, the voyeur is pretty much convinced that none of these women would ever be seen in their bare minimum anywhere in their film career. The credibility built by these ladies means that the only option left for a voyeur is to invent things on his own for his own personal gratification (and then further spread it to the outside world) rather than wait for a miracle to happen. So there he gets hold of a laptop and an image is ready in the form and shape that he wishes to see.


The days ahead


A few years ago when tabloid journalism was yet to make it's presence felt in Bollywood, paparazzi clips, intimate details of celebrities, the many link up and break ups and the inside gossips used to create a stir amongst the readers. It was something which was new and though it took time for a reader to take it all with a pinch of salt, it has continued to stay spicy with newer angles being explored week after week. This could well be the trend when it comes to morphed pictures as well. In the West, this has been an ongoing phenomenon for years and frankly, celebrities out there are hardly heard complaining about it or filing cases against the voyeurs. Disappointing as it may sound but this could well be the case in Bollywood as well.


Vidya here may have stood up for the cause and while she must be hoping that the voyeur behind it all actually gets nailed, one wonders if her successors would be taking a similar route in months to come. They may do that but it may only benefit them if they do it discreetly rather than turning it all into a public outcry.


After all, the purpose is hardly met if in the process of reading this piece, you have either already checked out Vidya's morphed picture on the net or are just about to do that. Are you?
BOLLYWOOD NEWS
Catch us for latest Bollywood News, New Bollywood Movies update, Box office collection, New Movies Release , Bollywood News Hindi, Entertainment News, Bollywood News Today & upcoming movies 2020 and stay updated with latest hindi movies only on Bollywood Hungama.