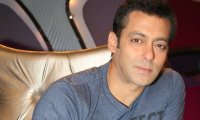 Salman Khan recently tweeted that he hates the word 'Bollywood'. By doing this, he has joined the likes of many out there who aren't too pleased with Bollywood as the chosen "name" for Hindi film industry. While Amitabh Bachchan is another top celebrity who has made his displeasure quite clear about the industry being made to look like a poor cousin of Hollywood with it being addressed as Bollywood, Salman Khan has opened the debate all over again. No wonder, it is also the topic of discussion for this week's 'Reflections'.


Is it really an issue?

If Amitabh Bachchan and Salman Khan are the select few who have expressed their displeasure about 'Bollywood' being in circulation, it is fine as they are entitled to their opinion. However, the question that comes to one's mind is - 'Other than the fact that it is made to sound like Hollywood and hence presumed to be a poorer cousin of the films coming from West, is it really an issue if Bollywood continues to be the chosen word?'


After all, at the end of the day, Bollywood is just a word and the one which has given Hindi film industry its identity. It may have borrowed from its Western counterparts but how does it actually make a difference? At the end of the day, the term is in circulation for decades now and generations have called the Hindi film industry by this name.


Will a change really make any difference?

Bombay was changed to Mumbai and there was much cry and outrage amongst those who loved the city by the name which was around for decades. So did the same people who swore by Bombay actually started calling it Mumbai? I suspect.


So why a reference to Mumbai v/s Bombay? Well, the reason is simple. Even if Bollywood changes to anything else, it is impossible to imagine it being called by a different name for many more years at the least. Moreover, for the world (a few million and that's about it) which uses the word 'Bollywood' in their day to day vocabulary, one can't expect the change to settle down in practical terms.


Why an outrage?

There are some against the name Bollywood. Fair enough. However if at all there is an initiative that comes into force to actually change 'Bollywood' to anything else, it would be a little too far fetched. It is a name after all, and the one that has been around for decades now. People have accustomed themselves to this term and for the 'aam junta', it really doesn't matter at all if the industry is called Bollywood or Delhiwood.


That's because other than a select few in the industry, not a single soul can be considered to be sensitive around the background of Bollywood coinage. For them, it is just a word that takes them into a world where they wish to be seated in darkness and enjoy an outing on the big screen. Now whether this finds its base in Hindi film industry, Western film industry or any other film industry is of least importance.



Widespread change? An impossible task!

If Bombay changes to Mumbai, it is still (theoretically at the least) possible because there is a certain diktat that was set around it. However one can't expect the film industry to take any such drastic steps because first and foremost, the term Bollywood is hardly a 'listed' one. This also means that there is no one person or organisation having an authority over the word. Just like no one can force anyone to use the term Bollywood in their conversation, same holds true vice versa as well.


Resultantly, even if tomorrow there is a body which is formed that mandates stoppage of Hindi film industry being addressed as Bollywood, there would be many out there who would follow their own path and won't really have anyone commanding them to stop doing that. Hypothetically speaking, even if the industry in general stands up to call Bollywood by a different name, there would be other bodies that may have their own reasoning.


Now that would include media for sure which can't be expected to stand in unison for this 'cause' (if at all it can be termed one). Everyone in Indian media at the least can well be expected to have his/her own agenda and one can well expect factions to be developed here. And not to forget the global media which anyways knows the Hindi film industry by only one name - 'Bollywood'.


Are we hesitant to change?

Of course people would say - 'Change is good'. Yes, it indeed is. But when the change by itself is based on a foundation which is questionable and sounds like the one which has been established just for the sake of it without any real need, purpose or objective, it just ends up being the kind that can be relegated to the background with the industry concentrating on something far more important.


Really, for all practical purposes, the entire exercise is futile and at the end of the day just a fodder for debate. There would definitely be pros and cons but when it comes to practicality, feasibility and most importantly, acceptability of the change, it is impossible to see that truly happening.


So yes, I truly believe that Bollywood is as sweet sounding as it gets, isn't derogatory at all, gives Hindi film industry it's own identity in the way it is addressed, is the much used and loved word for many out there (whether belonging to the industry or outside it) and should just be left as it is without any thought being given around making a change.


That's my thought, what's yours?
BOLLYWOOD NEWS
Catch us for latest Bollywood News, New Bollywood Movies update, Box office collection, New Movies Release , Bollywood News Hindi, Entertainment News, Bollywood News Today & upcoming movies 2020 and stay updated with latest hindi movies only on Bollywood Hungama.