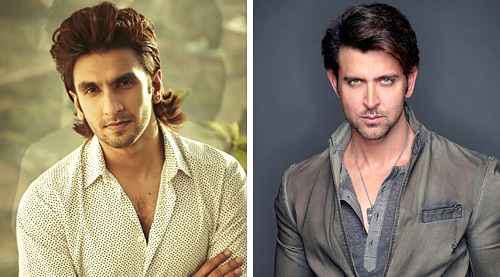 Hrithik Roshan gave his 'Bang Bang Dare' to Ranveer Singh by asking him to step out of his car and pose in front of 'aam junta' on a busy road. The rock-star that he is, Ranveer took it to an altogether different level by not just staying there for a full 100 seconds but even dancing to the tune of Hrithik's 'Main Aisa Kyun Hoon' with 'Krrish' attire intact.



Game, set, match - Ranveer Singh won over not just Hrithik Roshan but also Hrithik's fans, hence earning a few for himself too. In a rare display of solidarity amongst Bollywood celebrities, the whole 'dare' challenge has ended up bringing some positive camaraderie amongst those belonging to the film tribe. Okay, so Shahid Kapoor was a sport too by asking Hrithik for a dare of his own. Perhaps it was an oversight on Hrithik's part but as far as I can see in the world of social media, Hrithik hasn't come back on that to his Haider rival yet.



Well, let it go, as the two share good vibes otherwise. They have already exchanged pleasantries about each other's films and haven't made that deadly statement yet - 'Main teri picture ka murder kar doonga'.



Thank you!



In another world, the likes of Varun Dhawan and Sidharth Malhotra are happy sipping colas while exchanging a friendly banter. Both on as well as off the screens! Cho chweet indeed. Now why can't there be more of such instances? Really, in a world which is dominated by cut throat competition, it is always a pleasant sight to have an Arjun Kapoor state that he loves the fact about youngsters stepping into the industry and making it big.



'It is better that main apni energy kaam karne mein lagaun instead of thinking ki competition kitna hai. Arrey itna kaam hai sabke liye, there is space for all us' - is something that he said to me during a conversation that veered towards a welcome sign of seeing him, Varun, Sidharth, Aditya and Tiger arriving in quick succession and finding good audience for themselves.



Frankly, each one of them is maintaining the same stance. For someone who has been speaking to quite a few newbies as well as the ones who have been around for last 10 odd years, it is easier for me to make out how much of it is fake and what is truly genuine. Of course, when phrases like 'I enjoy healthy competition' is thrown in, it is a straight forward giveaway that a regular/canned answer is being put to display. However, with the kind of fondness that a Ranveer comes up with while 'paying a tribute' to a superstar like Hrithik Roshan, one can make it out that there is genuine affection on display.



'But then he is a decade senior to him, usske liye toh accha bolega hi; aakhir koyi comparison hi nahi hai'!



Well, if you are thinking on these lines while suspecting Ranveer's jig for Hrithik then well, you haven't possibly come across some of the real cocky youngsters out there who claim to be all set for hitting a six outside the stadium and be that single person who can actually replace a 11 member cricket team. I particularly remember a young one (who stepped into television soon after a failed stint in Bollywood, and then faded from the small screen too) tell me before the release of his debut film (which was moderately successful) - 'You see, I guess new actors are just about filling in the blanks. I want to be a complete sentence'.



He said it on record!



I chose to edit it though and mellowed it down. That would have made for a great headline but then the backlash for the young actor, who perhaps totally knew what he was saying, would have been a little too difficult to absorb for him.


As for the women folk out there, all of a sudden there is this whole new lovely and affectionate syrupy-sugary demeanor on display. The day a news piece around a cold vibe/cat fight made it to the papers, it was a matter of hours that Priyanka Chopra clicked herself indulging in a mock fight with Anushka Sharma, hence mocking those who had spent considerable time behind the keyboard to be on time with his/her gossip tale.


Someone senior like Kareena Kapoor could well claim that she is above all such petty talks but the ones fighting for the top slot - Deepika Padukone and Katrina Kaif - are, well, not really fighting. It is all civil between them and though none of that 'we are best friends' banter a la Jacqueline Fernandez and Sonam Kapoor is on display here, there aren't any pot shots taken either.


Now that could have been possible due to the Ranbir Kapoor factor but aaah, this is 2014 baby; everyone has a job to do and exes, current beaus and future eye candies don't quite come in between.


No wonder, even newbie like Alia Bhatt, Shraddha Kapoor and Parineeti Chopra - who are perhaps 'fighting' for just the same roles can be found celebrating in each other's parties. Well, professional of course as they haven't really been known to feature in each other's friend's circle (something that the boy-folk could perhaps stake a claim to).


Still, they are there for each other at least.


As for Sonakshi Sinha, who at an average has three to four films of hers in different stages of production, it could well be the adage of 'apne kaam se kaam rakh na yaar' that comes into picture. She plays it simple by mostly featuring in films that promise good commercial returns and while doesn't really fret much about being choosy when it comes to performance oriented parts (while occasionally doing a Lootera), she does collect a 100 crore biggie and displays its certificate right up there on her 'achievements shelf'.


Her best friend is her work and the best camaraderie that she possibly shares with is the camera. She doesn't cheat with it, she doesn't fake it and her relationship is for the keeps.


And then there is Salman Khan who states without any provocation whatsoever that 'in his mind, Akshay Kumar is the best actor out there and the only one amongst his ilk (of all other 40-plus-and-soon- approaching-50 actors) who has actually grown over last quarter of a century'. Akshay Kumar too reciprocates and says that he is touched. It isn't an industry secret though that while they may not be exchanging a drink or two at each other's abode every weekend, they sustain that mutual respect for each other.


Well, now that's mature camaraderie indeed, and while a select seniors are keeping that spirit alive, one only hopes that everyone else follows Arjun Kapoor's thought process ki 'Aakhir ladne ka time kahan hai'!
BOLLYWOOD NEWS
Catch us for latest Bollywood News, New Bollywood Movies update, Box office collection, New Movies Release , Bollywood News Hindi, Entertainment News, Bollywood News Today & upcoming movies 2020 and stay updated with latest hindi movies only on Bollywood Hungama.