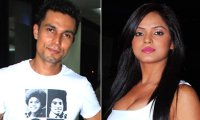 >
The Saheb Biwi Aur Gangster celebration bash last week turned out to be quite an eye-opener for the invitees since Randeep Hooda chose to step out publicly for the first time with the love of his life Neetu Chandra.


That the two have been seriously involved for more than a year now is a known fact. What remained a mystery was why they've chosen to keep their relationship under wraps so far.


A friend of Randeep let the cat out of the bag. "It was a mutual decision between them. Randeep wanted the entire media focus to be on his career until he got a grip of the box-office. Randeep didn't want to be written about for the woman in his life. He had enough of that during his Sushmita Sen phase. With Sahib Biwi Aur Gangster doing well he's now confident enough to step out into the open with Neetu, though not yet ready to talk about their relationship."


At the celebration held at the Kino Cottage on Yari Road, friends of the couple were surprised to see the couple entering together.


Says an eyewitness, "They both looked very much in love and Randeep who isn't too comfortable with too many people seemed very relaxed. Neetu looked slightly tense, but relaxed once the evening got going. After coming in together, they did make an effort to separate and mingle with guests. However, soon they were back on the dance floor together and they couldn't keep away from one another then onwards. Every eye in the room was on them because this was the first time they were seen together. It was obvious that they didn't care of they were being closely watched."


So is this throwing of caution to the winds an indication of the wedding bells to come?
According to Randeep friend, not quite. Randeep told this friend. "All women are special. But there are some who more special. But we aren't thinking of marriage at the moment."


When I had asked Neetu Chandra about her relationship with Randeep some time ago she had replied, "Why don't you ask him about it?"