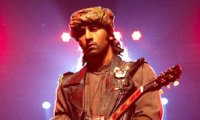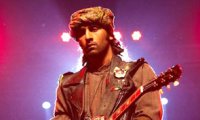 As it happens with majority of biggies, as they come closer to their release date, all sorts of speculations and rumours start making the rounds around the film's subject as well as content. Rockstar hasn't been spared either; what with a few wondering whether the film seeks it's inspiration from its Western counterpart. The movie in question here? Walk The Line, a musical that saw quite a few awards and immense international acclaim coming its way.


Says an industry observer, "When you see the promos of Rockstar, you end up remembering Walk The Line. Just like Rockstar, that film too featured a pop-star who turns big out of nowhere. However on finding success, he gets involved in drugs and women before the love of his life saves him from complete downfall."


For the uninitiated, this Oscar winner film with Joaquin Phoenix and Reese Witherspoon in lead roles was a chronicle of country music legend Johnny Cash's life. Though movies of this genre generally revolve around the quintessential theme of rise, fall and rise, as seen in Madhur Bhandarkar's Fashion as well which dealt with the life of a model (played by Priyanka Chopra), the common factor between both Rockstar and Walk The Line being musicals only ignites the speculations further.


Film's leading man Ranbir Kapoor denies any such similarities though. He says, "Rockstar boasts of a very original screenplay and characters. By no stretch of imagination does it get influenced from the West."


On questioned whether he has seen Walk The Line, Ranbir says, "Yes, I have seen that and it was a biographical film about a certain musical artist who lived abroad. On the other hand, the character I play in Rockstar is hardcore Indian, desi and quite rooted."
He goes on to add in defence of his writer-director Imtiaz Ali. "Look at any of his earlier films like Socha Na Tha, Jab We Met & Love Aaj Kal and they all have been original works", he says, "Moreover his characters are very rooted as he always talks about people who come from our own country. He doesn't get influenced by Hollywood movies. After all, he has grown up in Jamshedpur and studied in Delhi University. His sensibilities show in the work that he does."


Correct!