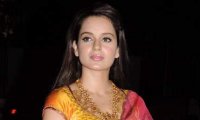 There is good news for Kangna. The pretty woman seemed to have lost out on her list of friends once her friction with Sanjay Dutt and Ajay Devgn was all over
the place. One wondered how the future would look like especially post the Rascals fiasco. However, at this moment of low, she is getting support from
the unlikeliest of co-stars - Chirag Paswan.


"Together they would be seen soon in Miley Na Miley Hum and Chirag has told Kangna in no uncertain terms that her earlier experiences, especially the
ones that were not so good, don't quite matter to him. He feels that Kangna did a huge favour to him by agreeing to act in his film when he was just a
newcomer while she was a star in her own right. Hence a Rascals or miniscule roles in Double Dhamaal or a No Problem don't really matter
to him", says a close associate.


Such words of reassurance coming from a male co-star could well be a sign of relief for Kangna who has been mostly off-media for quite some time now and
letting this phase pass away when she has to answer all the accusations coming her way.


"There is no point for her to respond to every other person. Films come and go but talent remains", says a friend of the actress, "People keep forgetting
that her Tanu Weds Manu was the first big hit of the year and that too when World Cup was on. Audience stepped in because of the kind of vivacious energy she
brought on screen. It is about time that she gets that back on screen with Miley Na Miley Hum, I Love New Year and other films."


"I don't know about all of this but I can tell you that none of the negative stories surrounding her bothered me at all", says Chirag with a smile, "Every
project is different and how something goes right or wrong in another film is none of my concern. I know that in my film Kangna is phenomenal and that is
what that matters. Success or failure of any other film can't affect my film."


He also goes on to add that never once did he and Kangna converse around Rascals whether during the shooting of Miley Na Miley Hum or the film's
promotion.


"All we spoke about was our film", he laughs, "We have all been so busy ourselves that there was no time for anything or anyone else. As for Kangna then
well, she is a thorough professional and can handle her lows and highs quite well. She doesn't need me or anyone else to support on that."