Warning: Spoilers ahead
Let me clear at the very onset that I have thoroughly enjoyed this week's big release Raazi. The film kept me engaged especially thanks to its gripping script and excellent performances. However, the film has quite a few cinematic liberties and at places, it stood like a sore thumb. And this is particularly with regards to the way the members of the Pakistani army have been portrayed. While director Meghna Gulzar has been claiming that the army men of the neighbouring country have been showed 'with a lot of dignity' in her film, we beg to differ. Big time.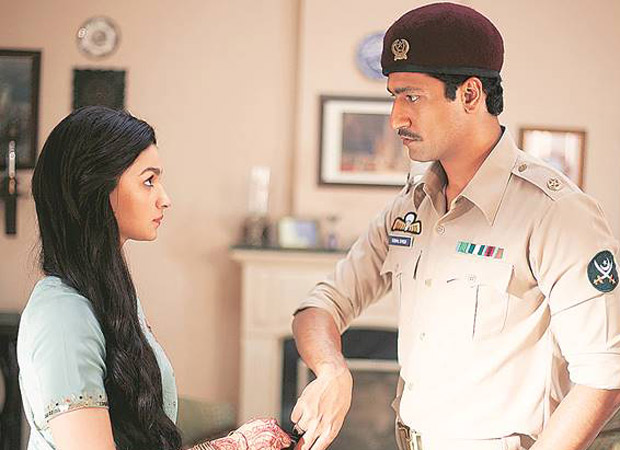 Raazi is a story of Sehmat (Alia Bhatt), a young collegian in India whose father Hidayat (Rajit Kapur) claims to be on the side of the Pakistani army but is secretly working for the Indian intelligence. After he is diagnosed with a terminal illness, he devises a plan – he decides to get Sehmat married off to his 'friend', Pakistani Brigadier Syed's (Shishir Sharma) younger son Iqbal (Vicky Kaushal), also in the army. After getting adequate training, Sehmat gets hitched and moves to her in-laws house, which is a grand mansion in a cantonment area of Rawalpindi. Secretly, Sehmat installs the transmitting machine in her bedroom's washroom so that she can send sensitive information to her Indian counterparts.
Trouble begins for Sehmat when the long trusted cook in the Syed household, Abdul (Arif Zakaria), spots the transmitting machine in her washroom at night when the male members of Syeds were at the general's house for a meeting. Sehmat fears that her game is up. Abdul leaps out of the house to inform Brigadier Syed. Sehmat follows him and she comes across a stationery jeep. In one of the most chilling and well executed scenes of the film, she knocks down Abdul mercilessly.
Miraculously, Abdul survives and this is where cinematic liberties come to the fore in all its glory. Abdul is barely able to speak but somehow manages to ask the nurse to call Brigadier Syed's older son, Mehboob (Ashwath Bhatt), who also is an army man. In the presence of Mehboob, Abdul tries to take Sehmat's name but is only partially successful. Abdul then passes away. Shockingly, Mehboob takes this bit on information quite casually. It doesn't occur to him that Sehmat is from the 'enemy country' and she might be responsible for the mysterious hit and run of Abdul. Mehboob even smilingly blurts out to Sehmat how Abdul might have taken her name and walks off! Sehmat now has no option but to eliminate Mehboob and she does it successfully.
Things get more difficult to digest from here on. A decorated army officer, with no history of ailment or depression, has died all of a sudden. Alarm bells should have rung and the army should have started immediate investigations. They should have realized two not-so-usual things have happened in the Syed household off late – a cook has died just as mysteriously and at the eve of war, an Indian has married into their household – and both these instances might be linked with Mehboob's death. But again, nobody cares a damn! Maybe Brigadier Syed would not have connected the otherwise demure and feminine Sehmat to the twin murder. But the rest of the army officers should have, ideally.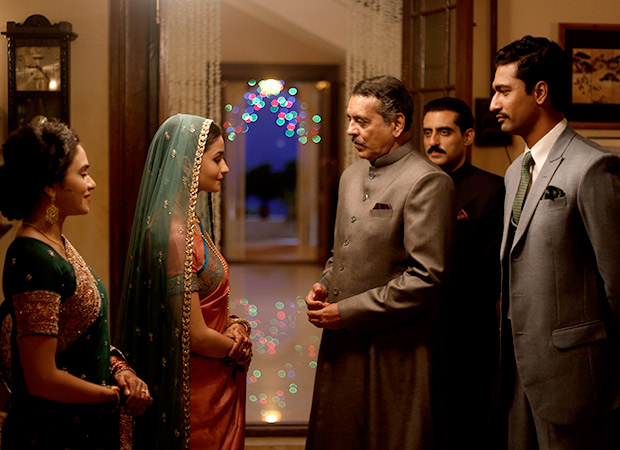 Funnily, the army smells a rat only when they get reports that some kind of transmission has happened from the house of Syeds. It's only then that they descend to the house and start questioning and checks. Again, they don't find Sehmat's Indian connection as something that should concern them! All family members and staff are told not to leave until the investigations are over. But Sehmat devises a plan and leaves in the car of the general. A soldier dutifully stops the car but has nothing to say when he sees that it's the car of the general. Yet again, not even once does it occur to him that the war is about to start and even when asked not to leave the house, an Indian girl has defied the orders!
Finally, it's Iqbal who finds out the truth about Sehmat. He spots a tiny part of Sehmat's anklet in the room of Abdul. That's when he gets suspicious. But very strangely, he picks up the broken anklet piece and keeps it in his wallet in the transparent portion along with Sehmat's picture. For some reason, he keeps the wallet open and goes to the toilet in his room, as if he wanted his murderer treacherous wife to see it and have an upper hand. And that's what happens. Throughout the film, Iqbal seemed like a complete gentleman who never forced himself on Sehmat and gave her all the space. He respected the fact that she's from a country with whom they are about to indulge in war. He brought Indian classical music for his wife and also the anklet. Everything was so nice about him. But alas, in the end, that one foolish act marginally took away the charm of his character.
We again repeat – we enjoyed the film. Reportedly, the film is inspired by true events and we don't know whether all these difficult-to-digest episodes of the film actually happened in real life. However, these scenes were so glaringly unconvincing and amusing that we couldn't help but write about it. At the same time, we commend director Meghna Gulzar for having so many plusses and for keeping the narrative so tight that despite these minuses, we were satisfied by the whole experience!
Also Read: RAAZI: 5 Reasons why Alia Bhatt will BREAK all stereotypes attached to women superstars in Bollywood
BOLLYWOOD NEWS
Catch us for latest Bollywood News, New Bollywood Movies update, Box office collection, New Movies Release , Bollywood News Hindi, Entertainment News, Bollywood News Today & upcoming movies 2020 and stay updated with latest hindi movies only on Bollywood Hungama.