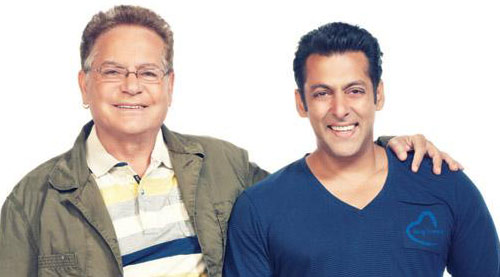 He is the 'man' of all seasons and all reasons. He is the 'man' whom every guy wants to be like and every girl wants to be with. He is the 'man' who not just rules, but also governs the box-office. We are talking about none other than Salman Khan, the very man who is all geared up to take the box-office by storm with his upcoming film Bajrangi Bhaijaan.



Satish Sundaresan of Bollywood Hungama met up with Salman Khan for an in depth interview. Over to the Bhaijaan himself…



Salman, to start with, is Bajrangi Bhaijaan yet another film, in which you, once again play the 'super hero'? Or does it have something different to offer as compared to your last films?

The character that I play in the film is that of a simpleton. At the same time, he is a true 'hero', in the real sense of the word. Look, there is one hero who beats up (the goons) and then becomes the hero. And then, there is a hero, who gets beaten up for someone else, despite the fact that he is aware that he can very well stand up and bash the opposite person. This person is very well aware of the fact that if he beats up the opposite person, he will only mess things up. That's why he prefers to get beaten… only for the sake of someone (close). Even though my character in Bajrangi Bhaijaan is that of a simpleton, the backdrop in which the story of the film has been set is so large that gradually my character in the film becomes as large as the film's backdrop. Bajrangi Bhaijaan is basically my character's journey towards becoming a better person and in a very positive manner.



What is that one thing that will always be etched in your mind from the movie Bajrangi Bhaijaan?

Whichever movies that I am doing now, if my character is a noble one, I ensure that I try to retain as much as 70-80 percent of (my character) in my real life personality. The characters that I do are always larger than life... larger than my life I mean! The films that I am doing right now have definitely helped me and others to be a better person in life. Having said that let me also add that, amidst all this, the naughtiness of my characters and the entertainment factor just won't go away! (smiles).



Has your father seen Bajrangi Bhaijaan? If yes, what has been his reaction?

Yes, my father has seen the film and he absolutely loved it. His reaction was 'I haven't seen a film like Bajrangi Bhaijaan in the last 20-25 years.'



This is the first time when you have shot your film in Kashmir. How was the 'Valley experience'?

Yes, this is the first time when I shot a film in Kashmir. The last time I had been there was during the Kargil war. It's rightly said that 'Kashmir is definitely heaven on earth'. I just hope that life opens up for the people staying there. The Kashmiris are absolutely lovely people, who deserve a real lovely life. One just cannot live in heaven and experience hell. The people out there are very simple and are extremely down to earth. One could simply look at their faces and their expressions to distinguish between a Kashmiri person and a non-Kashmiri. People say that 'one should go to Kashmir before you die.' But, I would say that one should go at least 10-15 times to Kashmir.



Will you shoot your future films in Kashmir as well?

Yes, very much.



Is it true that Kashmir doesn't have theatres?

Yes, it is true that Kashmir doesn't have any theatres! That is the first thing that I asked them at the press conference which was held there. I was shocked to know that while the full family likes to watch movies together, still, they don't have theatres. I feel that with the advent of theatres, Kashmir will surely and definitely progress. They will start getting entertainment tax and there will be growth.


Please tell us as to how the cute and adorable little girl Harshaali came on board for the film?

She is a lovely girl. Back then, we always knew that if we did not get the girl of our choice, we can always fall back to Kabir Khan's daughter Sairu. Speaking about Harshaali, she came to me without any inhibitions and said that, 'Please make me a superstar like you'. I said, 'Beta, let me become a superstar first!' (smiles). After the selection, the film's makers did some classes and workshops with her. She used to freak out only when she used to see action and aggression.


Unlike your usual regulars, Bajrangi Bhaijaan has music composed by Pritam. Any specific reason for this?

Kabir Khan had promised to work with Pritam in his next film. That's why. As far as he gives us good music, it is ok. At the end of the day, it is all about the music.


You are working with Nawazuddin Siddiqui for the second time. How was it?

Nawazuddin Siddiqui and I used to work out together and spend time if we weren't shooting. We had a nice time working with each other.


Recently, Kareena said that 'Salman doesn't know how big of a superstar he is'. Don't you consider yourself as a superstar?

No, I don't consider myself as a superstar at all! I am only doing my job and the director's only enhancing your performance and the DoP's enhancing you and your look 10 times more, and the efforts and the hard work of the technicians. Since I am in reality check with all these factors, I don't consider myself as a superstar at all.


How true are the rumors about Sajid Nadiadwala getting all you three Khans in a film?

No (smiles).


Do you think that such a film is possible anytime?

Economically, it won't be possible, unless he (Sajid Nadiadwala) plans to have one or two shots of all three of us (the Khans) in the film!


Speaking about economics, can't you all come down on the remuneration for such a film?

It has taken us a whole 27 years to reach where we are today!


You are someone who effortlessly excels in portraying the strong characters with as much ease as the simple ones. Do these 'personalities' come naturally to you?

In my own space, yes, they do come naturally to me. I am pretty capable of taking stands and no matter what; I will take a stand of the things that I firmly believe in. My characters are basically all of these things put together.



What's your take on Raees and Sultan coming together? Do you think that it will affect both the films' business?

I think it is affecting you guys (the media) more than me! (smiles).


Any plans to sing in any film?

I have tried my best in singing and I am still trying. I enjoy a lot when I sing, but people around me hate it (laughs).


I had read somewhere of late that, you were ready to do an arranged marriage. Is it true?

That was then. Now, I am ready for a love marriage (smiles). It is going to be like this. I am a very fickle minded person as far as these things are concerned.


Will Sonakshi Sinha be doing Dabanng 3?

If Dabanng 3 happens, which we are in the process of writing now, then, yes…


What's happening on the No Entry's sequel front?

I have said yes to the film. Anees Bazmee is working on the script right now. Let's see how it goes.


Can you please confirm if Kick 2 is happening or not?

I am doing another film with Sajid Nadiadwala. I am not sure which film.


Lastly, what's the status on Prem Ratan Dhan Paayo?

The film is almost complete, with just a bit of climax and a song to be shot. It is being readied for a Diwali release. I wish I had a release for Christmas as well, but… (Laughs).
BOLLYWOOD NEWS
Catch us for latest Bollywood News, New Bollywood Movies update, Box office collection, New Movies Release , Bollywood News Hindi, Entertainment News, Bollywood News Today & upcoming movies 2020 and stay updated with latest hindi movies only on Bollywood Hungama.