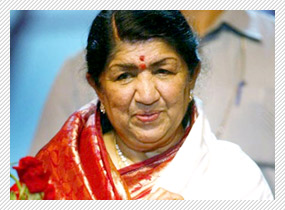 The Nightingale Lata Mangeshkar is profoundly shocked by the death of Bal Thackeray. Says the concerned songstress, "I will tell you something very honestly. Balasaheb Thackeray tthey toh Maharashtra ttha. Woh nahin toh kuch nahin hai. No one can equal what he has done for Maharashtra. We needed him to be with us for many more years. Look at the kind of turn-out his illness invited at his home Matoshree! He had a knack for forging enduring relations with people. It's indeed a very rare gift he had. And his gift of oration! Oh, My God! Bahut kamaal ke insaan tthey."
Says Lataji fondly, "When I heard he was unwell, I went to meet him on November 4. He told me on the phone, 'Tum aao mujhse milne.' I went the very same day. When I reached Matoshree no one stopped me from going straight to where he was resting. When he saw me he said, 'Arrey zindagi bhar main alag-alag shehron mein ghumta raha hoon, logon se milta raha…ab mujhe bistar mein pada achcha nahin lag raha.'(I don't like to be bed-ridden). I told him to eat something with the familiarity and affection that one exercises only on those very close. He said he wasn't hungry. I insisted. Then he agreed to have soup which was brought for him. He had very little of it. He complained of a bad throat. I suggested a mixture of water and honey. Before I left I put my head on his feet as I usually do. He showered me with blessings."
Lataji was close not just to the patriarch of the Thackeray family but the entire clan. "Raj and his wife, Uddhavji and wife and their son Aditya are all close to me. Aditya writes good poetry in English. He has published a book of poems and also done a music album. Raj sings and also plays the violin. His father was a music director. Mohd Rafi Saab had sung a Marathi song for Raj's father. That song was a big success."
Recalling her long association with the Shiv Sena Supremo, Lataji says, "He gave me a lot of love and respect. I knew him for a good 25 years and we were very close. I knew him from the time when he didn't live at Matoshree. Pataa nahin kyon, Balasaheb mujhe shuroo se achche lagte tthey (I liked him right from the start).We were both very busy those days. But he would call me up regularly to ask me what I was doing. Once when I fell ill he called every single day to ask about my health, advising me affectionately on my medicines and my diet."
Lataji can't thank Balasaheb enough for keeping her out of politics. "He knew I am apolitical. He never discussed politics or politicians with me. He never involved me in anything political. He could've asked me to join the Shiv Sena and I would have not have refused him. But he knew I am not comfortable with politics. So he graciously kept me out of it. Perhaps being an artiste himself he understood the sensitivities of another artiste. Our conversations were always about the world in general. He talked to me like any member of my family and felt the same sense of protectiveness towards me and my family that my brother Hridaynath does. When I went to his house we talked about our families and friends and yes, food. One of his most enthusiastic questions to me during every visit at Matoshree was, 'Tum kya khaogi?...Tum kaun si chai peeoogi."

Lataji's fondest meeting with Bala Saheb was the one years ago when he called her up and asked her to check out the auditorium that the Shiv Sena had built in her father's memory.
Recalling that incident with a chuckle Lataji says, "Bala Saheb called and said, 'Tere Pitajee ke naam se maine hall banaya hai. Tum aao aur bataao kaisa lagaa'. The auditorium named the Pandit Dinanath Mangeshkar hall is in Khar. I had gifted Balasaheb a painting done by my father. That is seen hanging in the front foyer of the auditorium. When I saw this, I was deeply moved."
Sighs Lataji, "Bala Saheb had a long way to go. He had just published a new Marathi book which is selling exceedingly well. He had a very sharp mind and a terrific sense of humour. He could converse on any topic under the sun. During my most recent visit to Matoshree, Balasaheb ordered me to visit him every day. I wasn't able to fulfill his wish. But I was going to meet him as soon as the crowds in front of his house thinned out. Maharashtra had come to a standstill because everyone was worried. People all over Maharashtra were holding yagyas and prayer meetings for his recovery. There were thousands of worried people standing under Matoshree. Aisi zindagi bahot kam logon ko milti hai. I prayed for him to recover again. My prayers are with his family."
BOLLYWOOD NEWS
Catch us for latest Bollywood News, New Bollywood Movies update, Box office collection, New Movies Release , Bollywood News Hindi, Entertainment News, Bollywood News Today & upcoming movies 2020 and stay updated with latest hindi movies only on Bollywood Hungama.