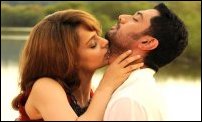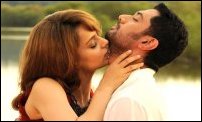 Is Ranbir Kapoor's Bachna Ae Haseeno an inspiration for Chirag Paswan's Miley Naa Miley Hum? That was the buzz making rounds of the industry circles even as the debutant gears up for his first ever stint on the big screen.
Says a source on condition of anonymity, "The basic similarity lies in the fact that there is one boy with three girls around him. While Bachna Ae Haseeno narrated the chronicles of Ranbir who was in romantic rendezvous with Deepika Padukone, Bipasha Basu and Minissha Lamba at different stage of his life, Miley Naa Miley Hum has Chirag finding attention of Kangna Ranaut, Neeru Bajwa and Sagarika Ghatge."
If one begins to read between the lines, Kangna's love story seems similar to that of Deepika, Sagarika appears to be a smart-n-happening urban woman as was the case with Bipasha while Neeru is playing a Punjabi 'kudi' just like Minissha had in Bachna Ae Haseeno.
"There has been so much secrecy around the film's plot ever since it went on floors", the source continues, "The makers have revealed only the songs that feature Chirag and Kangna while the item number with Shweta Tiwari is also seeing some eyeballs. However from the story line perspective nothing has been revealed so far. One wonders it is the Bachna Ae Haseeno factor playing in the minds of the makers here."
Question Chirag about this and he responds after a hearty laugh, "Arrey come on, how could you get such a wild thought? Our film has absolutely nothing to do with Bachna Ae Haseeno. In fact when you would see the movie, you would realise that none of the three girls is there as eye candy. They are there because of some very solid reasons."
Well, even Bachna Ae Haseeno didn't have Deepika, Bipasha and Minissha as just eye candies, isn't it?
"But then Miley Naa Miley Hum doesn't get into a love triangle zone or anything", continues Chirag, "I can't tell you much about the film because whatever little I say would reveal a lot more than what is required before the release. What I can confirm though is that Kangna, Sagarika and Neeru are there in the film because without them the script can't be completed. They are not there just for the heck to it and have pretty interesting parts to play. As for Bachna Ae Haseeno then well, we don't even come anywhere close to it."