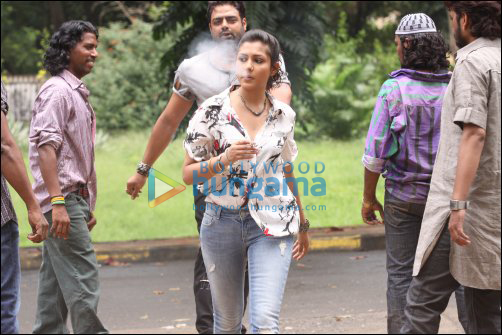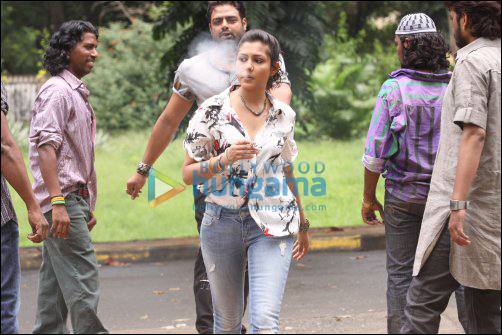 All of 20, Madhu Shalini plays a female gangster in Ram Gopal Varma's Department. According to the director, this is the most
interesting character he has ever written. Ramu apparently, conceived this Telugu actress' role as a male version of Manoj Bajpayee's Bhikhu Mhatre in
Satya. Preparations have been on full-swing with apparently Madhu meeting up with women who have served a term or have been caught on the wrong side
of the law.


But efforts to actually connect with a real female gangster have so far met with no luck.


Madhu Shalini's role and character have shaped up so spectacularly that Ramu has apparently resolved to sign her for his next film as well. The director says
he is "blown away" by Shalini's performance.


Giggles the 20-year old,"Ramu Sir never tells me these things. In fact he hardly says anything. And we have no monitor, not even a cameraman on the sets to
let me know how I am performing. So I'm quite lost. On my very first day of shooting I had to face the camera with seasoned actors like Vijay Raaz."


Madhu Shalini comes from a non-film family. "My mother is a classical Kuchipudi dancer. So at the most they thought I'd become a classical dancer. Acting was
way out of league."


Madhu is in no mood to deny her alleged linkup with her director.


"What is the point? No matter what I say people will think what they want to think. The truth is, Sir (Ram Gopal Varma) and I hardly exchange a word on the
sets beyond what he has to explain to me for a shot. Most of the time he's quietly sitting on sets thinking. I keep wondering what's going on in that head of
his."


For Madhu Shalini who has two films each in Tamil and Telugu in the past, working with Ram Gopal Varma is a dream come true. "I always told my friends if
I've to do a Hindi film, I'd like it to be directed by RGV. I've been a big fan of his. I've grown up watching sir's film. I'm a big horror buff. So getting
Department is like a dream. When sir selected me, and that too on the basis of just some photographs and without seeing my films, I was over the
moon."


Madhu Shalini liked her "edgy" role. What's more 'Sir' will actually allow Madhu Shalini to speak in her own voice. "Yes I'll be speaking my own lines. I'm
from Hyderabad and I speak fluent Hindi."