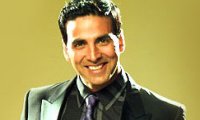 Akshay Kumar is back. Well, one can pretty much say so for an actor who till last year was arriving with 4-5 films a year at an average. Now with only two films of his seen in the first half of the year and Desi Boyz being his third and the last film this year, it almost seems like there was a huge break that Akshay took during last six months of being away from theatres. As he drowns himself in the promotional activities of Desi Boyz, goes through multiple city tours and participates in numerous press conferences and other events, Akshay Kumar shares a quick word with Joginder Tuteja about Desi Boyz and more.


I guess a break after Thank You worked in favour of everyone involved, isn't it? While audience are now thirsting to see the next Akshay Kumar film, for you too it must have been a welcome break.

Yeah (smiles), it gives you the thirst to come back with passion. I have been doing my city tours for Desi Boyz and it has been fun. It has only been six months since my last released but I miss my fans already. Promoting a film is exhausting but so rewarding, not because it brings awareness about your film but because you get to touch the hands of your fans all over India. That's what makes you pick your feet up even when you have been going for almost 20 hours a day. You say to yourself that 'if our fans can show us this much dedication, then we owe them every breath we have'.


I loved Garam Masala for its naughtiness and madness but then I love Desi Boyz for its fresh reality and our manly 'Bromance'

I am sure you know that many are looking at the film crossing the magic created between you and John in Garam Masala. What can we expect here?

I loved Garam Masala for its naughtiness and madness but then I love Desi Boyz for its fresh reality and our manly 'Bromance' (smiles). Of course both me and John pray that people love us even more than before but then the fact remains that our reuniting has meant a lot to us. If it could mean as much to our audiences then we really would feel like we have cracked the 'magic' after all these years.


Well, the bromance and chemistry due to that is quite visible...


We are lucky that we are so brotherly because I don't think you can pretend to create what we have made in Desi Boyz. Everyone wants to have a friend like how we are in the film; that's how I know people will connect with us. That protective bond is going to touch people and even the coolest guys are gonna want a piece of our magic! It's amazing how the two of us have been apart for so long and yet there is so much care and respect between us that you really can see us come alive in this film.


Can one credit (director) Rohit (Dhawan) for all the chemistry created on screen?

Of course yes; Desi Boyz is for sure Rohit's baby. He tried so hard to make us his puppets on a string. To think of it, he is the same boy who as a kid I used to bounce on my knee and drown in his pool (laughs). Cut to present times and we actually got along quite famously. In fact I remember once I taught him how to relax on set and let his actors breath in the scene.



All said and done, this is Desi Boyz and not 40 year old Disco Boyz
Coming back to the film, Desi Boyz has you and John playing much younger characters. So how does that transformation work for the film?
Don't worry, we're not pretending to be that young; this means no weird wigs or glasses or fake acne (smiles). We are just two characters who are not so fresh out of college. The story is about how they try to work hard until recession kicks them in the head. All said and done, this is Desi Boyz and not 40 year old Disco Boyz. We had to be young, fresh and fancy free in the film.


Talking about the year in general then Patiala House saw quite some good critical acclaim for you. Also, Thank You too was a reasonable success on its release and managed to recover its costs over a period of time. When many out there are ever so willing to shout from the rooftops despite their films not really doing as well as expected, what made you go quiet?



You know me, I am not one to scream and shout about anything. Even for my successes, I will put my head down quietly and say 'thank you very much'. I may have one party for everyone to enjoy and then move on to what I have to do next. In any case, another reason for lying low was because I needed to step away from things as I had had back to back releases for eight months straight. I had done so much publicity for all my films that sometimes one needs to go quiet once in a while. Anyways, now that I have come back, I am sure that people will want to look up and enjoy my newer releases.
BOLLYWOOD NEWS
Catch us for latest Bollywood News, New Bollywood Movies update, Box office collection, New Movies Release , Bollywood News Hindi, Entertainment News, Bollywood News Today & upcoming movies 2020 and stay updated with latest hindi movies only on Bollywood Hungama.