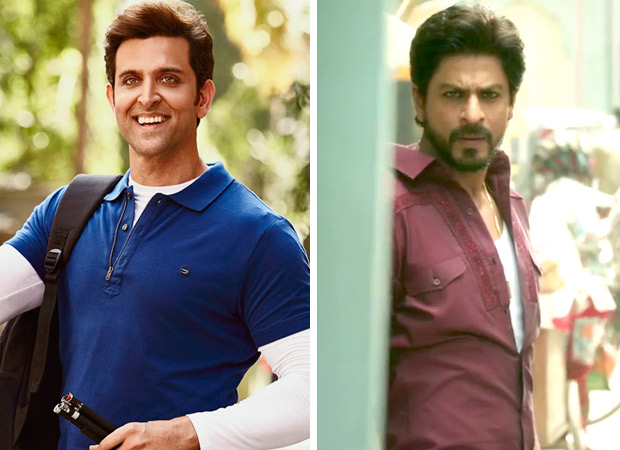 The fact that Shah Rukh Khan and Hrithik Roshan have been such good friends, to the point of celebrating occasions together with joint jaunts abroad with spouses, has lent a piquant emotional touch to their professional face-offs this week in Kaabil and Raees.
While both admit it was a business decision that will not affect their friendship, Hrithik's father Rakesh Roshan, after blowing hot at the rival producers, who came in after he had fixed on the date, has also come round and stated that he bears no animosity against Shah Rukh (who also did three films for his banner—King Uncle, Karan-Arjun and Koyla) and his production partners.
However, for obvious reasons, the media and film buffs (including obviously fans) have been sharply polarized on the films. Fans have made it a kind of war, and the media has tried to extract juice from both with a forced and fake neutrality.
Advantage Kaabil
Nevertheless, certain facts are clear. Kaabil has not been bombarded in a media blitzkrieg like Raees. On the face of it, this should theoretically work in favour of the 'rival' film, but over-publicity has been known to kill a film by raising expectations—if it does not measure up to the hype. The advantage of surprise, best seen in Hrithik's debut film Kaho Naa…Pyaar Hai in 2000 despite being sandwiched between Aamir Khan's Mela and Shah Rukh Khan's Phir Bhi Dil Hai Hindustani, gives an instant edge to the film with a lower profile.
Another distinct advantage, though not very well-exploited, is that Kaabil has decidedly better music, especially the title-track, 'Kuch Din' and the (well-)re-created classic Rajesh Roshan numbers from Yaarana and Julie. But its biggest advantage is the presence of hands-on producer Rakesh Roshan, who has his fundas and experience bang-on so far as the (ever-changing yet not really changing!) audience is concerned, with a track-record of multiple blockbusters from 1987 to 2013, including fresh genres like Koi…Mil Gaya and Krrish. And here, a blind man is taking revenge—something novel for a mainstream film.
Advantage Raees
That said, Raees is aimed at the masses, and thus the single-screens will be dominating. The punch-lines in the dialogues, the kind of role Shah Rukh Khan has, and the strong marketing will all give an edge as far as the masses are concerned.  And though Hrithik too is among the top superstars, the Khans are a different thing altogether in their star status.
It has also been awhile since an action drama has been successful, and if the film is well-made, it will be welcomed by those who have missed this genre for a while. And even if the music is weaker, the re-created 'Laila Main Laila', 'Udi Udi Jaaye' and 'Zaalima' have been aggressively promoted and have caught on.
Hit needed
However, both films are crucial for their leading men and directors. Shah Rukh Khan has had Dilwale, Fan and Dear Zindagi not making it, while Hrithik Roshan has had Bang Bang! and Mohenjo Daro as their last films.
Sanjay Gupta, in mainstream land now thanks to the Roshans, comes from a different sensibility and has two films that have underperformed to live down—Shootout At Wadala and Jazbaa, while Rahul Dholakia, who had a disastrous commercial beginning with Kehtaa Hai Dil Baar Baar 15 years ago, has never succeeded in his niche zone either with Parzania or Lamhaa.
The Trade Perspective
Agrees trade analyst Vinod Mirani, who points out: "All of them need hits now. Also, both films have small heroines, though bigger actresses do matter even in a film with superstars. Kaabil has an advantage among the two with Yammi Gautam, who was liked in her first film, Vicky Donor. Personally, I feel that Kaabil has the biggest advantage of Rakesh Roshan, who is one of our best filmmakers."
He adds, "And I do not know why a bootlegger, who had political affiliations and periodically caused trouble to the extent of riots in Gujarat, has to be glorified through a film inspired by him in Raees. And as per what it looks like, even Kaabil is not a family entertainer, as both films do not have universally appealing themes."
Agrees trade analyst Amod Mehra, "I think that Shah Rukh Khan should not do such roles at this stage. But both films will be safe for their producers, but we cannot say the same for all their distributors. The claimed budgets, minus the fees of the heroes, are Rs. 48 crore and about Rs. 70 crore respectively, so they are not exorbitant."
Mehra feels, however, that clashes should have been avoided, as this is not a prime season for films, with examinations either coming up or going on. "I think that both films will open with lower collections because of all this and the fact that January 25 is a working day. There will be a boom in collections on January 26, but after that it will be a normal Friday and weekend. While we cannot gauge either film from the promos, word-of-mouth will decide which film scores, or both do."
Trade analyst Taran Adarsh, while pointing out that both films are important for the industry, says, "This is a 5-day weekend, and naturally that means more business. Producers want to extract the maximum revenue. Raees was to come with Sultan, but the producers wanted to work on the film and probably sought the next special weekend."
He adds, "But on principle, since there are 52 weeks in a year, the clash could have been avoided. All the more in today's times where the first few days get a film the bulk of its business. Since the stakes are so high, we can do without the fans' negativity on social media and the division of business. When two big films release, the footfalls get divided, and so do the screens and shows at multiplexes. However, the promos look good, so I think both films will measure up to expectations."
Taran, while admitting that word-of-mouth is all-important and also influenced and impacted by social media, says that the long-term performance of a good film will not be influenced by competition with another film. "This has been proved in the past when two big films did well when released together, Remember also that many people thought that Bahubali-The Beginning's Hindi version would be affected by Bajrangi Bhaijaan coming in the next week. But that did not happen and both films did extraordinarily well."