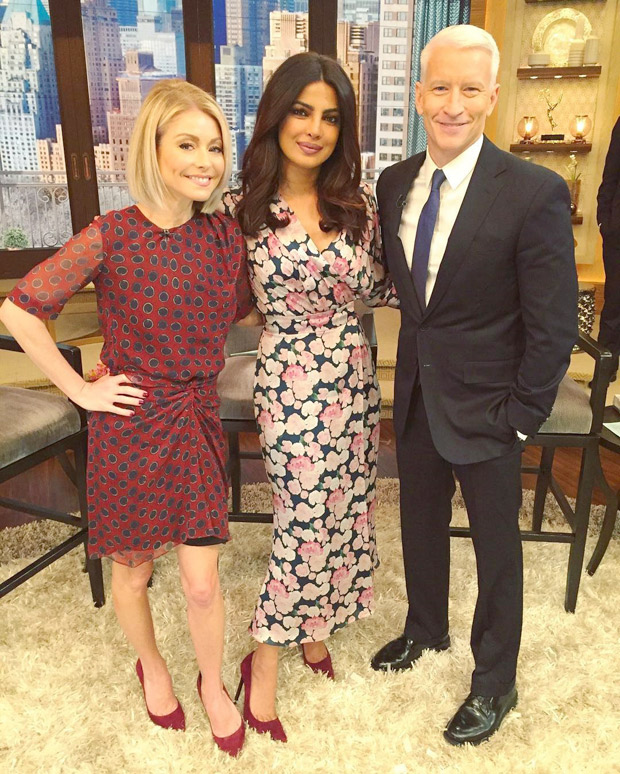 Priyanka Chopra is back on Television screens with her show Quantico after a month long hiatus. The promotions are on in full swing and Priyanka's first stop was early morning chat show Live with Kelly with co-host Anderson Cooper.
Kelly Ripa and her guest co-host Anderson Cooper jumped right into the interview asking her about her recent on-set injury that led to a concussion. Priyanka finally revealed, "I wish I had a better story to tell, where I would be like, 'I was doing these stunts, and, you know, somebody hit me in the jaw,' but I just slipped on a rainy day. It was such an anti-glamorous way of getting a concussion. So I was rushed to the ER — but I still finished the scene," she joked, earning an "Attagirl!" from Ripa.
When Kelly asked whether Priyanka could sleep during the three days bed rest, she explained that although it's apparently an old wives' tale, her doctor did recommend not go to sleep after suffering the brain bruise. "I did have someone waking me up every two hours to see if I was fine. I wasn't supposed to watch TV or read anything. So I couldn't do anything. So I had a weekend off with just Amy Schumer in my ears, listening to her new book, because I couldn't do anything else. Which was great. I love the book."
Priyanka later talked about how much misses doing Bollywood films especially speaking in Hindi and dancing. When Anderson Cooper talked about musicals being back in Hollywood, she said, "Yes. Look at La La Land, winning all the awards. Hollywood has always had such an incredible culture of musicals. But, they are so far away from each other. There need to be more. I love musicals. In India, storytelling happens with music. It's not like storytelling breaks when you go into song and dance. It's an experience. People need to experience Indian films to understand how songs are incorporated within the stories." Kelly admitted to loving taking Bollywood dance classes.
For her appearance, Priyanka wore an Ulyana Sergeenko floral wrap dress with a plunging v-neckline and cutout on the side showing off a hip-high slit. She donned burgundy suede pointy-toed pumps from Stuart Weitzman.
Quantico returns tonight in India. Apart from her TV show, Priyanka Chopra's big break in movies will feature Dwayne Johnson and Zac Efron with the reboot of Baywatch.