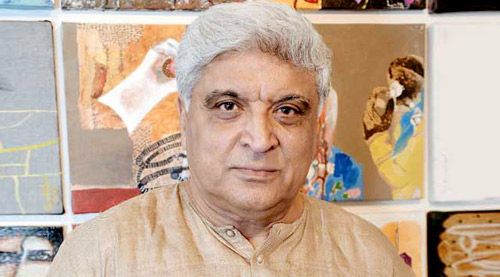 During an event that was held at Filmcity Goregaon, Javed Akhtar came together with Rajkumar Hirani to share some interesting insights about religion, God and democracy in the country. Answering questions of varied people after he along with the director Rajkumar received backlash over portraying scenes that allegedly offended the Hindu audience in their film PK, Javed Akhtar took over the mike to respond to these accusations and further talking about his own belief in religion and God.
His opening line in itself took the audience by a shock as he continued to say that he is an atheist. "I am an atheist and I am not hiding that fact. I say it out loud on TV as well as in my interviews and I have also written that I have no religious belief. I don't believe in the existence of God. I don't believe any voice comes from anywhere because there is nowhere, nobody." Also further elaborating that the NRI community are a tad bit more sensitive when it comes to matters of religion, the veteran writer-lyricist strongly condemned the act of using Hindu or for that matter any religion as a business.
Reminiscing about a scene that was a part of the most iconic film in Bollywood, Sholay, Javed said, "There is a scene in Sholay where Dharmendra hides behind the statue of Lord Shiva when Hema Malini enters the temple, Dharmendra starts talking from his hiding place and Hema assumes that it is the statue of Lord Shiva who is talking to her and she continues to fold her hands and pray. And if the film is made today, then I may not write that scene because it will create problems. However, this wasn't a problem in 1975."
Appreciating Hindu culture, Javed also added, "It is such a precious gem that one shouldn't let go off. What is so beautiful about Hinduism and Hindu culture is that it allows a person to practice, follow and do whatever one wants without binding them in the name of religion. And this is the tradition and value system that forms the premise of democracy in the country and even if you travel till Mediterranean Coast you won't find this kind of democracy. But I am appalled that I meet people who ask if I would have taken the same liberty when it comes to Muslims, the way I took for the portrayal of Hindus in the film. (He questioned) So do you want to become like Muslims? In fact, I am of the opinion that Hindus should strive to make Muslims like them (accepting other religions) instead of trying to be vice versa."
He continued, "Whom are we competing with? Go and have a look at the societies which are considered intolerant. I assure that you do not have to travel far, just a look at our neighbouring country. It is our virtue that we can say, do whatever we want without any restrictions. There was a movie named Sanjog which depicted the entire story of Krishna and Sudama's friendly bond through filmy songs. There have been so many variety of scenes during those days, weren't Hindus not following their own religion then? They followed their religion with equal faith even then. There was a film named Daag which had a scene picturized on Dilip Kumar aka Yusuf Khan, where he did the role of a drunkard. The scene has him drunk as he picks up the idol of the Lord from a temple saying, 'this is not my God and he is just a God of the rich and I'll throw it in the gutter'. This was the scene and the film was a superhit. Can you imagine this kind of a scene today? Hindus have taken up the narrow-mindedness of Semitic religion and it will destroy them."
He further asked the Hindus to change other religions and their view towards life saying, "You have to make them like you. You shouldn't change your faith or religion. We have become so competitive bringing in names like Taliban and Al Qaeda who murder people. Our country is great, rich in traditions and we were always different from others who were intolerant and we shouldn't take up those bad habits from them."
BOLLYWOOD NEWS
Catch us for latest Bollywood News, New Bollywood Movies update, Box office collection, New Movies Release , Bollywood News Hindi, Entertainment News, Bollywood News Today & upcoming movies 2020 and stay updated with latest hindi movies only on Bollywood Hungama.